Black Love
Chinonyerem Odimba, with music by Ben and Max Ringham
Paines Plough and Belgrade Theatre Coventry, in association with tiata fahodzi
The Roundabout, Victoria Park, Swinton
–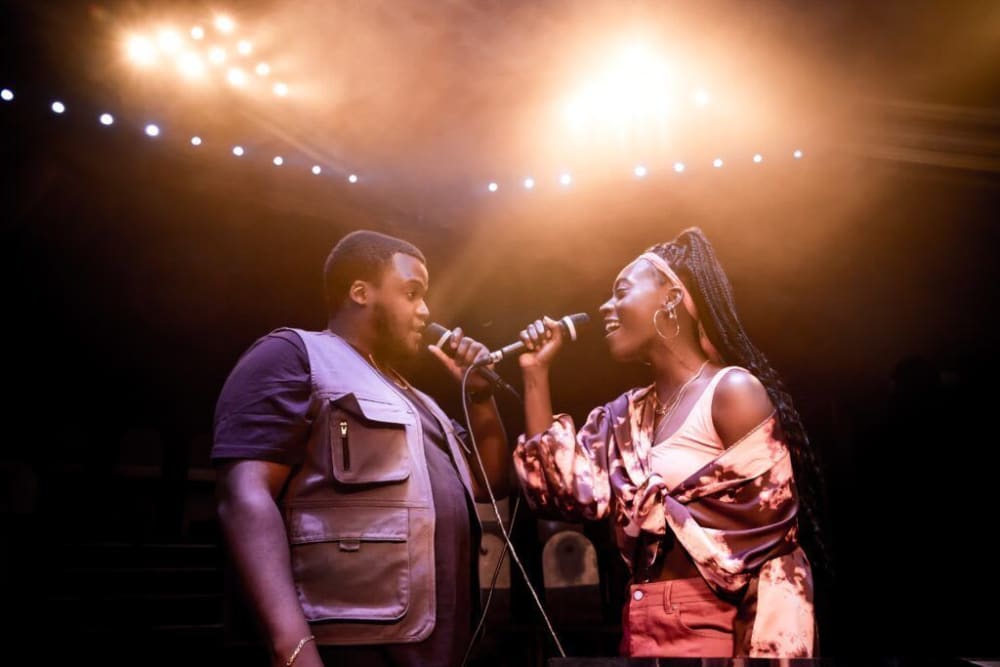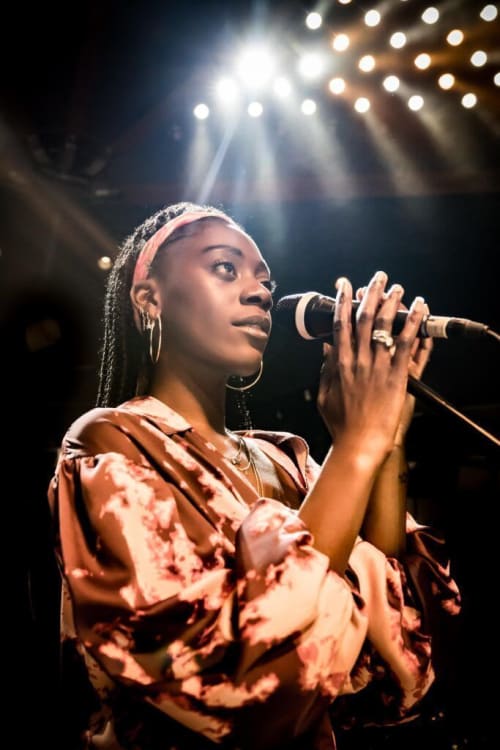 The Roundabout, a mobile facility used by Paines Plough to bring reasonably priced theatre to parts of the country where live entertainment is in short supply, reaches my neighbourhood. Days of warm, sunny weather end with a thunderous crash, rain pours down, and the show starts half an hour late. Welcome to Swinton.
Black Love is the first musical produced by Paines Plough and is hardly typical of the genre. Except for occasional bursts of percussion, the score by Ben and Max Ringham is super-smooth soul / R&B that slips from the memory without leaving a trace. Far from being a feelgood experience, Chinonyerem Odimba's script is confrontational and angry. The songs, rather than moving along the plot, are statements of opinion so at times the show becomes a collection of provocative musical monologues intended to stimulate racial or feminist awareness.
Aurora (Leah St Luce) and Orion (Nathan Qeeley), black brother and sister, share a flat. Both are committed to the ideals of their late mother, but Aurora is more extreme in her hedonistic lifestyle than her brother, an aspiring actor, who worries about compromising his ideals to further his career. When Orion starts a relationship with Lois (Eleanor Sutton), a white woman who is dismissive of black culture and hippy ideals, the siblings begin to move apart.
Chinonyerem Odimba's script is dense and challenging including issues such as cultural appropriation, the need to challenge preconceptions and the relationship black women have with their bodies. Highly subjective definitions of 'black love', voiced by Ayo-Dele Edwards, echo around the theatre.
In such a crowded script, the characters become representations of viewpoints rather than actual people. Part of the maturing process involves children rejecting the opinions of their parents, yet Aurora and Orion remain obsessively committed to the vague hippy ideals of their mother to the extent of using her clothing as a fetish. Leah St Luce gives a tremendous performance—the personification of 'life force'. Even when not speaking, she twists around the stage embodying Aurora's highly sensual nature. Yet we know so little about the character it becomes hard to regard her as a person—Aurora's hard-living lifestyle and her extreme views make it unlikely she is able to interact with conventional society and, say, hold down a job.
Eleanor Sutton brings a predatory, calculating hint to Lois's plans for promoting Orion's career. But only the tormented, self-doubt of Nathan Qeeley's performance suggests a convincing character rather than the articulation of an opinion. St Luce and Qeeley have a warm relationship realistically capturing the affection and frustration experienced by siblings.
Characters in Black Love employ florid, poetic praises but a potentially pretentious atmosphere is undercut by co-directors Kate Posner and Chinonyerem Odimba bringing in a welcome sense of mischief. Leah St Luce's lascivious tribute to her lady parts is interrupted by Nathan Qeeley dryly pointing out she has been shouting 'pussy hole' for ten minutes.
Black Love is a challenging production that does not conform to the narrow norms of the musical genre.
Reviewer: David Cunningham