Blackbird
David Harrower
Those Two Imposters
The Other Room at Porters, Cardiff
–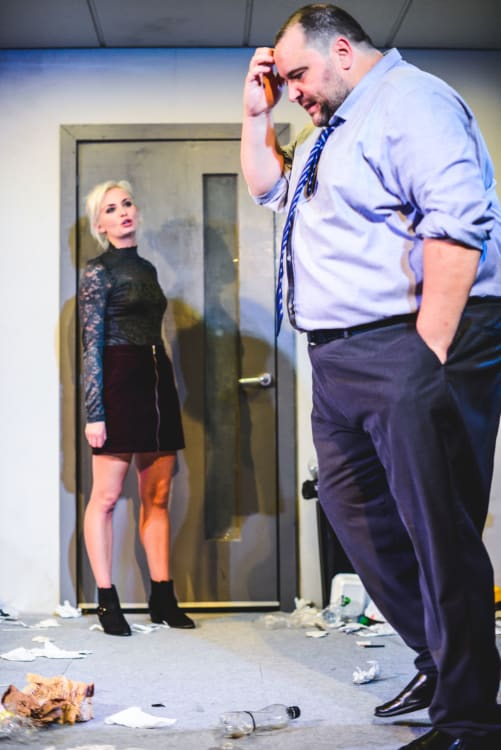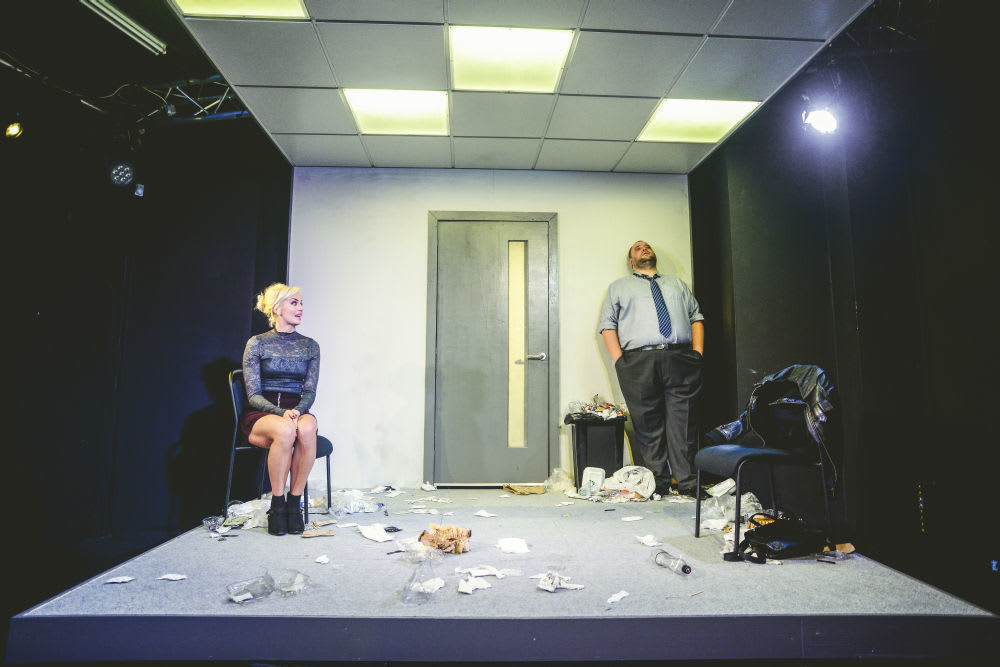 The latest play in the autumn/winter season curated by The Other Room comes from new company Those Two Impostors. Blackbird, by Scottish writer David Harrower, won the 2007 Olivier Award for Best New Play and has enjoyed a number of high-profile productions, including on Broadway.
The premise sounds like a writing-class exercise: a troubled woman tracks down and confronts the middle-aged man with whom she had a sexual relationship when she was twelve. Needless to say, the quality of the dialogue elevates it beyond melodramatic mundanity, but the play is still somewhat problematic.
Ruth Hall's set situates us in the litter-strewn (to an intentionally ridiculous extent) break-room in a small factory; it is immediately clear that the characters will be sifting through emotional as well as literal detritus. The lights flicker ominously (lighting design is by Alia Stephen) and it is clear that we are not in some high-end location.
Una has tracked down the man who had a destructive impact on her young life, having seen his picture in a trade magazine. Ray has changed his name, but seems to have rehabilitated himself after a relatively short prison sentence. Una, however, feels that there is unfinished business between them.
Sophie Melville (multiple award-nominee for her solo turn in Gary Owen's Iphigenia In Splott) is Una, edgy and combative in a short skirt and leather jacket. Her performance is compelling and full of nervous energy; the portrayal is of a damaged woman who doesn't quite know what to feel or think.
Christian Patterson (Melville's recent co-star in Insignificance at Theatr Clwyd) is saddled with by far the more awkward role. Harrower's script makes it clear that Ray is not the stereotypical serial abuser of children; thus he cannot come across as sleazy, brazen, manipulative or inadequate. Therefore, Patterson and director Rupert Hands have little choice other than to make him sympathetic, which places the audience in a dilemma.
The problem is not with the text itself, which moves elegantly from Pinteresque uncertainty to full-blown emotional incontinence via painful autobiographical fragments. My issue is that by making the protagonists' former relationship entirely consensual, the author chooses to entirely skirt issues of adult responsibility, and comes close to blaming "society" for their subsequently broken lives.
Once we accept the premise, the play doesn't really take us anywhere unexpected until the climax, when there is a lighting-based coup-de-theatre, and a surprising intervention (hats off to Millie Davies).
This is a handsome production of a play which haunts the mind long after the 75-minute running time. This is possibly, however, because one is troubled by those issues which it blatantly fails to address.
Reviewer: Othniel Smith