BLAM!
Created, produced and written by Kristján Ingimarsson
Neander
Peacock Theatre, Sadler's Wells
–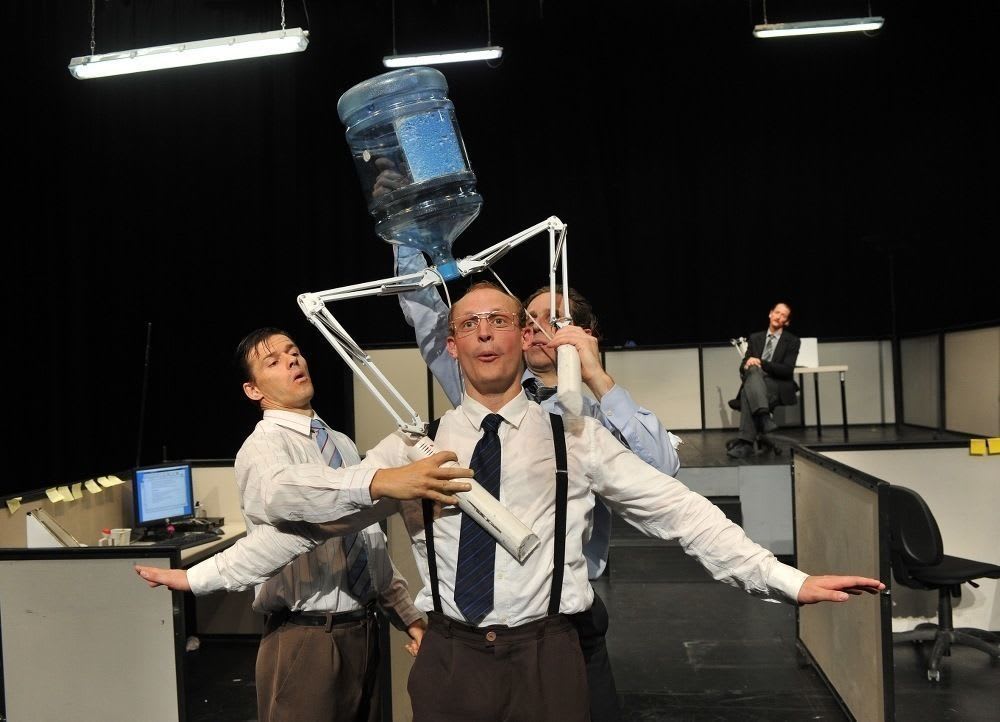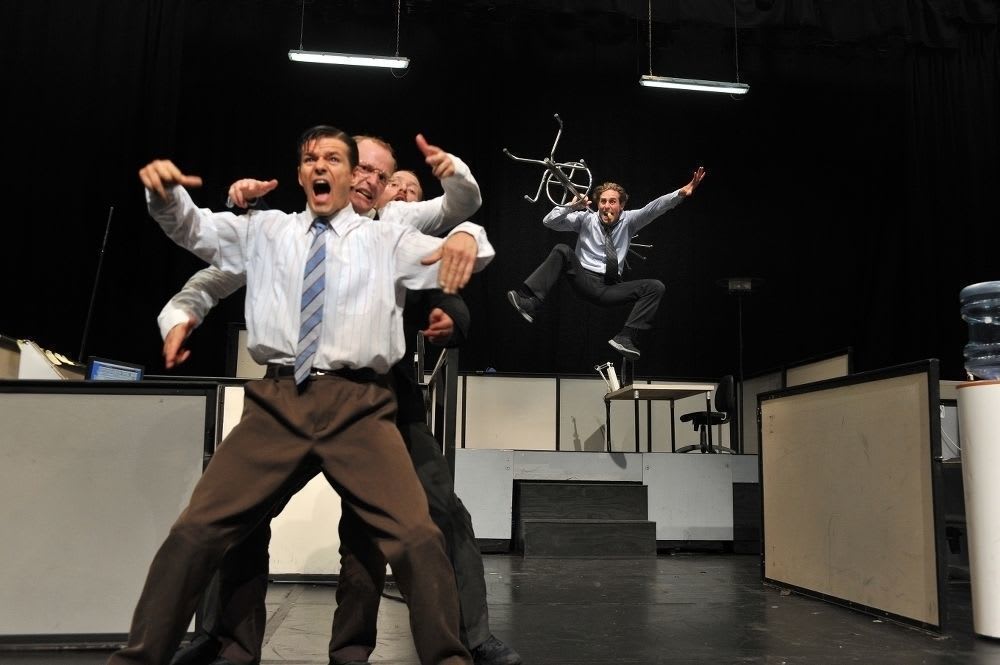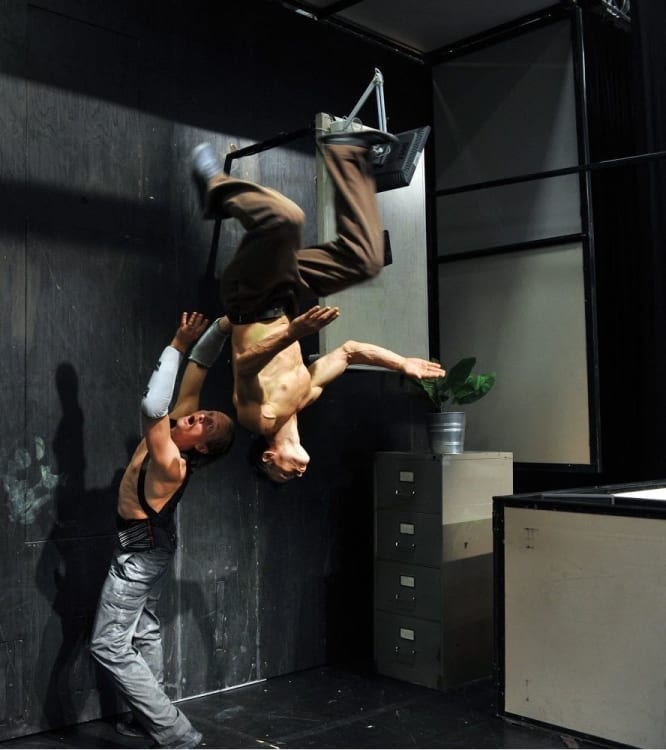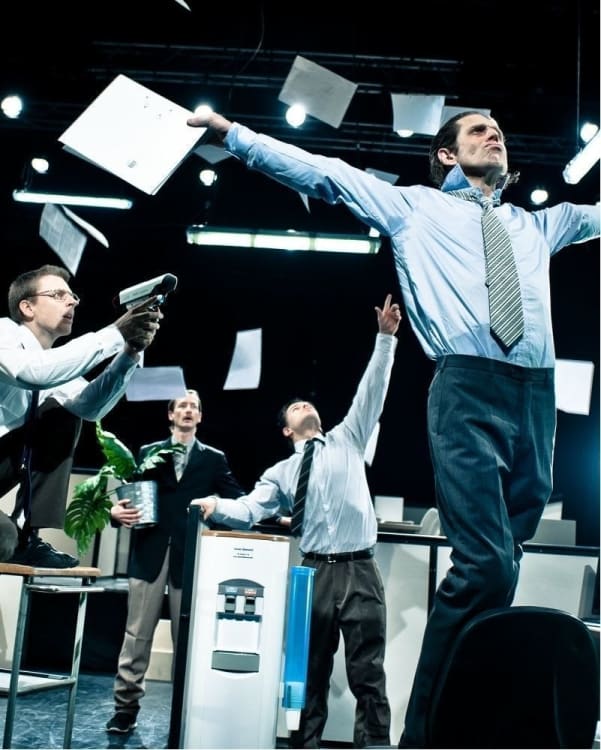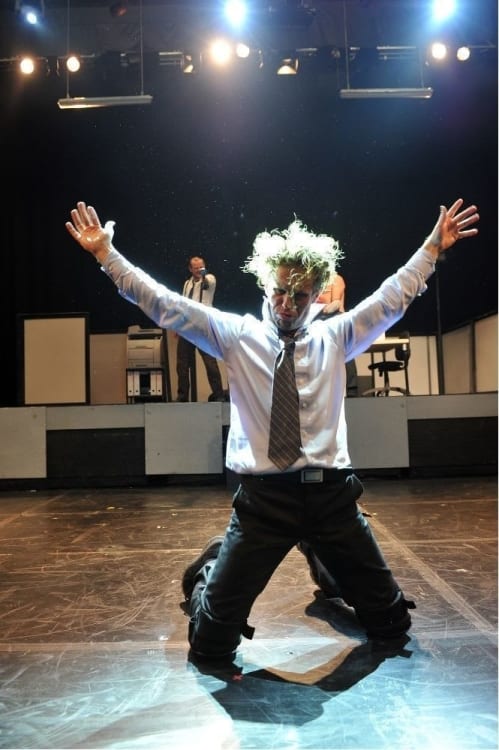 Boys will be boys whatever age they are. Stuck in a nine-to-five job, what do four male employees fantasise about during boring office hours? Why, comic strip superheroes in action movies... Blam! Blam! Kapow! Krunch!
Do women get a look in during BLAM!'s seventy-five unrelenting minutes? No. Well, maybe in the love scene with the water cooler—a robotic lover, not flesh and blood—keep it uncomplicated, this is after all an all-male show, humour its saving grace.
Your humble female scribe did chuckle at these boyish antics, especially at the comic book silliness of it all, the simple male child imagination. And she did admire their brawn. Trapeze stunts on the fluorescent strip lighting—is this the new hanging off the chandeliers?
Kristján Ingimarsson, Janus Elsig, Lars Gregersen, and Didier Oberle's physical skills, parkour, circus, mime, slapstick, drive a narrative with the charming guilelessness of Pingu and the nonsensical satire of Spike Milligan.
When the dyspeptic boss isn't looking three office clowns, the Jack Lemmon nerd, the top dog, the silent one start fooling around with stick-it notes, pencils, staples, folders—small gestures, little pranks that grow in ratio to their stimulated resourcefulness.
The boss muscles in on the game. A bit of tension is always good for the scenario. Spot the action movie follows, as Pixar lamps become guns, and hand-held cameras—for those angle(poise) shots, you know; coat stands become machine guns, and the boys become more and more ingenious with the use of office props.
Now I'm not the right demographic for action movies, but even I spotted the Hulk, Hannibal Lecter, Wolverine and Iron Man. ET too and other aliens. There was plenty of recognition from the audience.
Bits ripped off the photocopier do for Lecter's face mask, Iron Man comes clad in paper folders, pencils between fingers are Wolverine's claws, and the dynamic grows with each self-delusional bigging up.
But, where would Danish Neander theatre company be without Svend E Kristensen's cinematic soundscape, its low hum of office life rising to the crescendo of an arena blockbuster with AC/DC's heavy rock Highway to Hell blaring out?
And Lee Curran's brash lighting design? Kristian Knudsen's set—remember the office in The Apartment—has a flexible depth. This show looks deceptively homemade, but is more complex than first meets the eye.
The planning and timing razor sharp, hidden technology—the floor tilts to make a wall for the Jackie Chan acrobatics—joins forces with Kristján Ingimarsson's creative flow.
'Creator, producer, writer, and performer' Ingimarsson founded the physical theatre company Neander in 1998, and they have been wowing audiences all over the world, premièring at the Edinburgh Fringe this year to fantastic reviews.
Their advertising has been everywhere: good marketing skills as befits office workers with vivid imaginations, I'd say. Naturally, office parties are targeted—there is even a chance to win your office a night out (deadline 30 October).
So, shake off that office torpor and give it a go. Neander take 'silent movie' goofy physicality and marry it with twenty-first century 'pop' culture. Not for everyone—I can imagine it going down well in Edinburgh, as it did. London is always a tougher nut to crack.
I cracked. Not completely. I did groan, but I did smile, too. Even though buddy movies don't normally do it for me. But mime and physical theatre do. And the boys, Clark Kents transformed into Supermen, are fabulous in BLAM!'s flimsy homage sketches stretched to their limits.
Reviewer: Vera Liber