[BLANK]
Alice Birch
Clean Break
Donmar Warehouse
–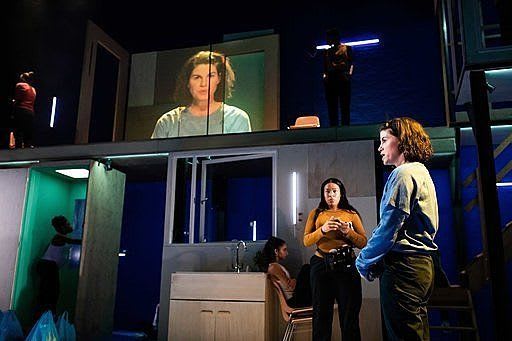 There is literally very much more to [BLANK] than meets the eye. Visitors to the Donmar will see Maria Aberg's two-hour-long production, which comprises 25 short scenes.
However, the published text includes no fewer than 100 flexible scenes, suggesting that the running time for the full play could be in the region of eight hours. These need not be played in a specific order and include no fewer than 45 designed for children alone and another 10 for adults and children.
The play has been developed with Clean Break, the company that has made its name over the last 40 years by working with women "with criminal justice experience". As result, the chilling and often depressing authenticity of much of their output is beyond question.
Although the all-female cast at the Donmar is large, it can be limiting since scenes involving (typically violent) men have to be reported rather than shown on stage.
There is still much material to challenge the performers and their audience during an evening in which the characters take on the names of their respective actors.
Several of the short scenes connect, for example those building stories around destructive junkie Zainab (Hasan), so desperate for money to feed her habit that she will sell her body or rob her mother, and inadequate mother Kate (O'Flynn), whose lies are so convincing that she can even deceive herself.
The decision to use the actors' names for their characters can confuse, since it takes some time to realise that, rather than the miraculous beneficiary of a resurrection, the Zainab who appears in the scene towards the end just happens to share her name and actor with the drug addict.
While many of the shorter scenes are powerful, moving and, in some cases, shocking, the key to the success or failure of this 25% selection from the full version will rest on a lengthy dinner table scene that is around 10 times longer than anything else and comes towards the end of the evening.
Ostensibly, this is intended to be a realistic depiction of a girls' night in during which insecure criminal lawyer Kate introduces her new partner, teacher Shona (Babayemi), to what she describes as an extended family.
They are a strange band, showing many of the tendencies that would have been characterised as hippie a few decades ago.
The home team comprises Jackie (Clune) and Thusita (Jayasundera), dual earth mothers. Every one of their friends seems outgoing and, to a degree, eccentric. Despite refusing point blank to consider ordering in food, they are happy to call in takeaway cocaine, not fazed in the slightest by the presence of either a police officer who happily snorts with the best of them or someone's 12-year-old daughter (who thankfully doesn't).
What becomes an increasingly tedious event packed with in jokes seems to be going nowhere, until the latest member of the "family" carries out an emperor's new clothes type analysis of her humourless lover's friends with explosive consequences.
With so much material to pick from, the long dinner scene drags and adds little to the overall impression so might better have been replaced by one or even 10 others.
[BLANK] is a raw depiction of the difficulties faced by women who have found themselves on the wrong side of the law in today's Britain. It is unlikely to make many viewers laugh but could well cause some to cry.
Reviewer: Philip Fisher