Blest be the Tie
Doña Daley
A co-production with the Talawa Theatre Company
Royal Court Theatre Upstairs
(2004)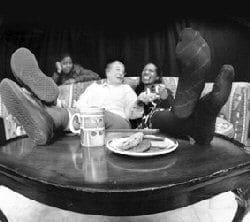 Blest be the Tie is a play set on a very small scale. It compares and contrasts two cultures and value systems. Florence is a Jamaican widow living in a small council flat in Clapham, semi-surreally created by designer Libby Watson who also has great fun with costumes. She has been there for over thirty years and is settled and reasonably happy.
Florence, played by Lorna Gayle, may have reached the stage of life where it is time to re-evaluate. When her sister arrives from the homeland, there is no choice.
Ellen Thomas' outgoing Martha is now a flashy hairdresser who has just won the world championships. She averages a change of clothing every ten minutes and all are as bright as the chunky jewellery that she favours.
She does not fit in too well with the comfortable life that Florence enjoys and attempts to wreck the close friendship that she has with Eunice. Marion Bailey plays the spunky Yorkshirewoman who even after 34 years of marriage to a black man is still an outsider.
Within this structure, Doña Daley is able to explore the alternative lives that Jamaican women would live at home and in England. She also builds the personal conflicts that are necessary before the three women are able to vocalise love and hate and reach first truce then acceptance.
All three actresses have their moments but there is little original about Blest be the Tie and the characters are unpredictable to too great an extent. The main pleasure is in the love that the two British residents feel for each other and that is only realised when the gritty catalyst arrives from across the water.
This review originally appeared on Theatreworld in a slightly different version
Reviewer: Philip Fisher