Bliss
Olivier Choinière, translated by Caryl Churchill
Royal Court Theatre Upstairs
(2008)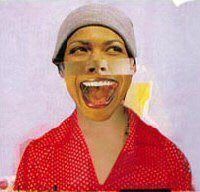 Bliss is far from it. This French-Canadian import, translated by Caryl Churchill, puts together a number of loosely-connected stories for around eighty minutes, varying from light comedy to horror, with the latter much more memorable.
A false tone is set, as audience members are required to wear Wal-Mart staff bibs (or more pretentiously tabards) complete with smiley faces on their backs.
Jeremy Herbert's set, seen in widescreen, represents the grimy staff toilets in one of the global company's less salubrious outlets. There, in Classical Greek style, three staff members address the audience face-on telling stories, while a fourth snipes from the wings.
For close to half an hour, the Prozac-happy trio eulogise Céline Dion, initially with some irony. The curtain rises at the end of a concert that we hear closing with her rendition of Jennifer Rush's The Power of Love and then we move to her home where she lies pregnant, loved by all.
Just as this is getting too much, that tale begins to lose shape and we drift into the horror story pre-figured by a Francis Bacon screamer on the script/programme's cover.
This is the tale of catatonic Isabelle, kept alive by her worship of the iconic Céline. It takes time, but eventually, we learn that while Isabelle might be terminally ill, she is also horribly abused, to the point where she has a nightmarish desire to swallow herself up, all too graphically described.
With other strands following a downtrodden Wal-Mart employee and possibly another sick young woman, Bliss becomes a ruthless look at the power of celebrity but also the way in which society now fails the sick and needy.
Joe Hill-Gibbins' production is well served by his cast: Neil Dudgeon, Bríd Brennan, Justin Salinger and especially the Oracle, Hayley Carmichael, when speaking for Isabelle, all doing their bit in a number of different styles.
Sadly, in that stories of abuse within families feature almost daily in the media, perhaps an evening highlighting the issue should be welcomed.
Whether London needs a determinedly grim drama about Céline Dion may be questionable and a little more clarity would have been welcome. However, Bliss has the feel of a play that while having a limited impact in the seeing, will haunt many viewers for days afterwards.
Playing until 26 April
Reviewer: Philip Fisher