Blithe spirit
Noel Coward
Lee Dean, Theatre Royal Bath and Jonathan Church Productions
Festival Theatre, Malvern
–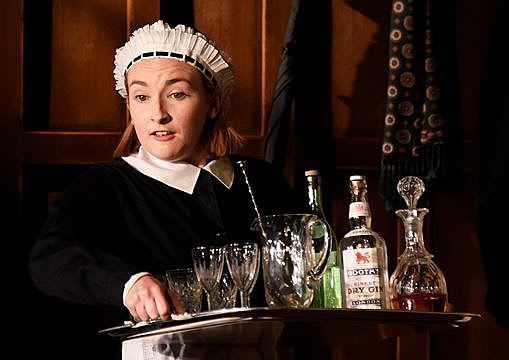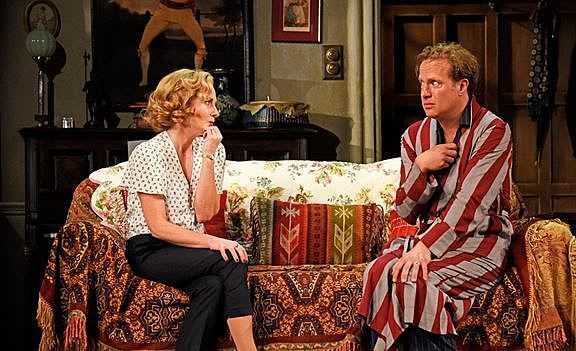 There's no doubt why they'd come. The name of Jennifer Saunders was enough to sell out the first night to the extent that an usherette sat on a jockey seat in the aisle.
The AbFab star is making a stage comeback after the critical disaster of her Spice Girls musical Viva Forever, having had encouraging reviews in 2018 for a part in Oscar Wilde's Lady Windermere's Fan and with a summer 2020 London casting due alongside Whoopi Goldberg in Sister Act.
One could feel a collective intake of breath as she came on as the medium Madame Arcati that would have translated into applause had we not been very British. Saunders, as a tweedy sort of gypsy, limp-skips across the stage and settles legs akimbo like a huntswoman who has unaccountably lost her horse.
There's an earthy make-of-me-what-you will about her, as she fans the lower parts with her skirt, polishes the crystal ball on an ample bosom and tucks into the tuck with gusto. She's a canny old bird too, not to be taken in by dodgier forms of the occult arts—or the relationships of the family that has invited her.
If the facial gestures betrayed a rather close acquaintance with the legacy of Margaret Rutherford and the little idiosyncrasies of the medium's craft seemed rather forced, there was nevertheless a wonderful deadpan delivery on lines like, "my first ectoplasmic manifestation was when I was five-and-a-half." For Saunders fans, that was enough.
Madame Arcati is the most colourful character in the play, but in a sense not its central one—rather the means for the miscommunication and rivalries between Charles, originally played by Noël Coward himself and here by a puppy-dog Geoffrey Streatfeild, Lisa Dillon as his wife Ruth and Emma Naomi's Elvira, his first, deceased wife.
There's also a lovely cameo performance by Rose Wardlaw as the over-eager maid Edith.
By today's standards, this 1941 piece dashed off by Coward in just a week, is at best polite, inoffensive frippery, but with elegant cross-chat maintained at a smart pace here by director Richard Eyre and a lavish book-stacked set by Anthony Ward.
The Sunday Express, no less, dismissed the author's flippant England at the time as something that had passed. True, but charming nevertheless, and something to raise the spirits in every sense.
Reviewer: Colin Davison