Blithe Spirit
Noël Coward
Gielgud Theatre
–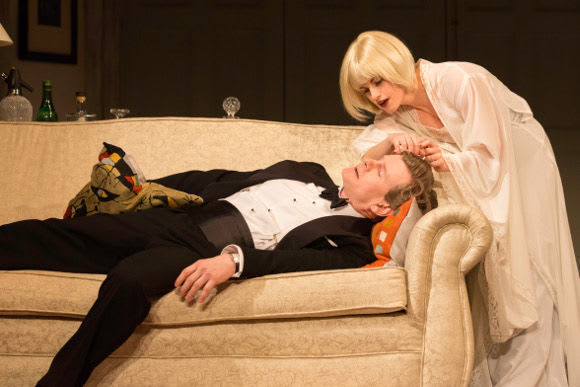 There will be two distinct audiences attracted by Michael Blakemore's revival of Noël Coward's classic ghostly comedy. Many visitors will be desperate to see Angela Lansbury on stage for her first West End appearance in 40 years, while others will want to enjoy a suavely witty evening penned by a master that always feels fresh.
If the opening night performance is anything to go by, both groups will be delighted by 2½ hours of great fun delivered by a classy team of actors that is far from a mere supporting cast to a star fondly associated with Murder She Wrote, Bedknobs and Broomsticks or even Gaslight as far back as 1944, depending on age.
For those that are not familiar with the play, the dramas take place in the eclectically furnished living room of Charles and Ruth Condomine.
Charles Edwards gives his novelist namesake an air of frustrated sophistication, while Janie Dee is arch and somewhat temperamental in the role of its long-suffering wife.
The fun only really starts when Miss Lansbury, reprising her Tony Award-winning Broadway success, bicycles in as Madame Arcati, a psychic medium whose eccentricity is politely described as "dotty".
In a séance organised for research purposes by a quartet of professional cynics, she gaily wafts around as if auditioning for acting school, which is no mean feat for an actress who will be celebrating her 90th birthday next year.
The veteran is absolutely charming and will win even more hearts with an outstanding performance that entirely belies her age, although she does appear to benefit from all of the aids that technology can provide.
Though the old lady might be a charlatan, somehow she manages to assist Elvira, Charles's delightfully mischievous first wife to materialise in the white-clad form of a suitably ethereal Jemima Rooper.
The comedy that develops from that point on is a pure, unadulterated delight, with Coward's wonderful ability to structure a play complemented by many highly amusing lines. These are greatly helped by the actors' impeccable comic timing and Michael Blakemore's original vision, which ensures that the script is mind for every nuance that the writer had in mind and quite probably a few more.
Despite the delicious Condomine triple act, the evening is almost stolen by Patsy Ferran playing Edith the hapless maid, a typical Coward creation, whose every move and word seem designed to generate belly laughs.
However, most of the plaudits are likely to be directed at a lady who could well be the first 89-year-old to collect a bevy of major stage awards.
This really is one of the best and most enjoyable London productions seen to date in 2014 and comes unreservedly recommended whether for personal consumption, business entertainment or a family treat.
Reviewer: Philip Fisher