Blonde Bombshells of 1943
Alan Plater
Oldham Coliseum Theatre
–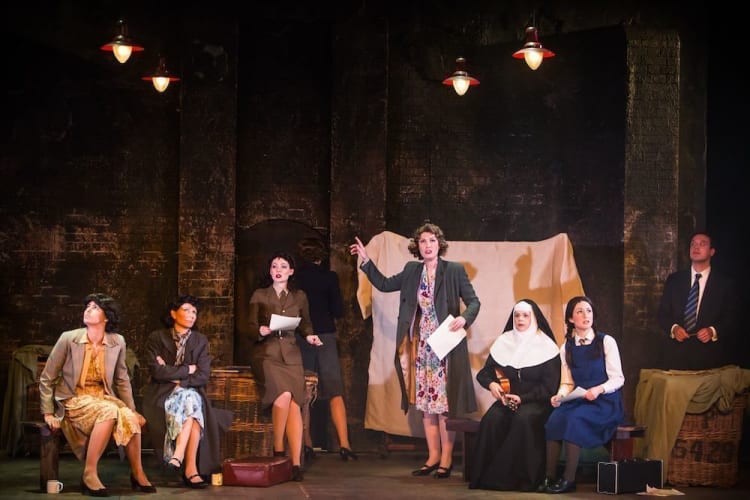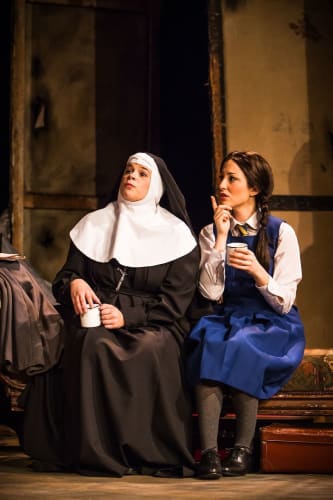 After the Octagon in Bolton had a great success with it in 2006, a production that went on to tour the country, Alan Plater's all-girl dance band the Blonde Bombshells plays Oldham Coliseum in a new production directed by artistic director Kevin Shaw.
Two thirds of the way through the Second World War, Betty's troupe of female musicians has thinned a bit after visits to American army camps and encounters with GIs, and so she is auditioning quickly for new members before broadcasting on BBC radio from a secret location that same night.
First to audition is schoolgirl Liz—her granddaughter, played by the same actor, introduces and ends the play looking back from years later—followed by jolly nun Lily, who sings suggestive George Formby songs that she doesn't understand, and upper-class army girl Miranda. The only drummer to audition is a bit too... well, male—but they manage to find a way around it.
They rehearse between air raids and there is a moment when some members talk of those they have lost to the war, but largely this is an extended comedy sketch with lots of great one-liners and a concert at the end—a bit like Stepping Out, which the Coliseum produced in 2011, but with even less of a plot. The jokes and the music do manage to sustain the interest over a couple of hours, but it can't be said that this is a play with much substance or social comment.
Director Kevin Shaw uses his extensive pantomime directing experience to make the most of comedy that may be a little more realistic but often isn't any more subtle than panto. Designer Foxton has created a very impressive set of a bombed-out theatre for the first scene, which is later transformed into an air raid shelter and the glamour of the BBC radio sound stage for the final concert.
The ensemble cast all get chance to shine both musically and acting-wise with this odd collection of distinctive characters: Georgina White is bossy bandleader Betty, Carla Freeman and Katharine Moraz make a great duo as naïve schoolgirl Liz and nun Lily respectively, Suzi Power is snooty Miranda, Chris Grahamson is sole male Pat, Marianne Benedict is pianist May and Sarah Groarke and Natasha White deliver some well-timed, acidic put-downs as Vera and Grace.
Arranger Howard Gray and choreographer Nicola Bolton conjure up the era with some very well-observed harmonies and movements. There is something odd going on acoustically so that sometimes the vocals are drowned out and sound as though they are coming out of speakers echoing from deep in the wings, but this is a minor quibble.
So, plenty of good gags, lots of 1940s music played live, all well-performed—a great night's entertainment that should be very popular with Coliseum audiences.
Reviewer: David Chadderton