Blue Heart
Caryl Churchill
Orange Tree Theatre and Tobacco Factory Theatres
Orange Tree, Richmond
–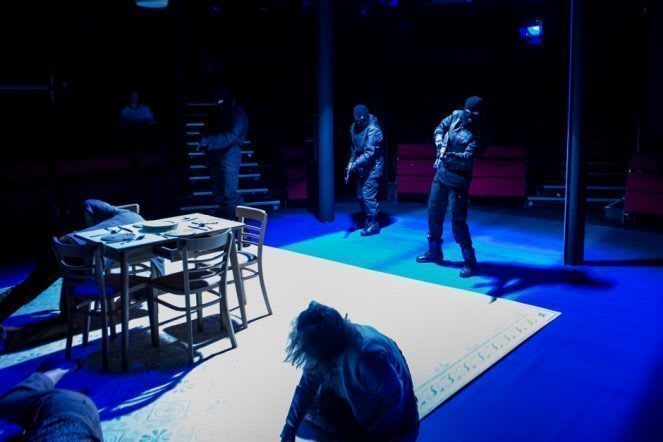 Even for Caryl Churchill, who has never been afraid to experiment with text and form, the two short plays that comprise this 95-minute evening are surreal and absurd in equal measure.
Even though the only previous major productions at the Traverse and then Royal Court took place close to twenty years ago, anyone who saw them will have vivid memories of a unique theatrical experience.
Pleasingly, this co-production with the Tobacco Factory Theatre in Bristol, assuredly directed by David Mercatali, is just as intoxicating as Max Stafford Clark's original version for Out of Joint.
Heart's Desire
The opener very deliberately stutters into existence as scenes packed with non sequiturs are repeated ad infinitum with more variations than Bach found in Goldberg.
The underlying story could not be simpler: Andy de la Tour and Amelda Brown are an irritable old couple who, with a mad aunt played by Amanda Boxer, eagerly await the return of their long-lost daughter from Australia.
Without spoiling too much of the fun, their efforts to complete the five-minute event break down and restart at various points in different versions, usually the wording varying but sometimes events too.
Some highlights include acceleration, primary school children, an unexpected lesbian lover and terrorists but there is much more to delight.
Literalists will have a nervous breakdown long before the end, while those willing to go with the flow should have a great time, punctuated by many belly laughs and the odd reflective moment.
Blue Kettle
After the interval, the shorter Blue Kettle is equally unusual but a little simpler in concept.
Alex Beckett's Derek is enjoying a reunion with the mother who had put him up for adoption at birth forty years before.
This is a touching scene. So much so, that when it is repeated with four other birth mothers in different circumstances, it still seems moving.
Derek is at least honest enough to admit to his girlfriend Enid, played by Mona Goodwin, and Gillian Axtell as Mother (number 6 but the real thing) that his motivations are entirely dishonourable, i.e. to make money from a series of lonely old women.
The short scenes are all rather fun with Janet Henfrey's Mrs Vane and Maroussia Frank's University Don perhaps the most convincing solo efforts, while the meeting between Mrs Oliver and Mrs Plant, Amelda Brown and Amanda Boxer, is by far the funniest.
As if this was not enough, Caryl Churchill throws in some other verbal googlies (curveballs if you are reading this in America) that readers will discover if they trip along to make the most of this absolutely silly but highly enjoyable evening.
Reviewer: Philip Fisher