Blue Ridge
Abby Rosebrock
Atlantic Theater Company
Linda Gross Theater, New York
–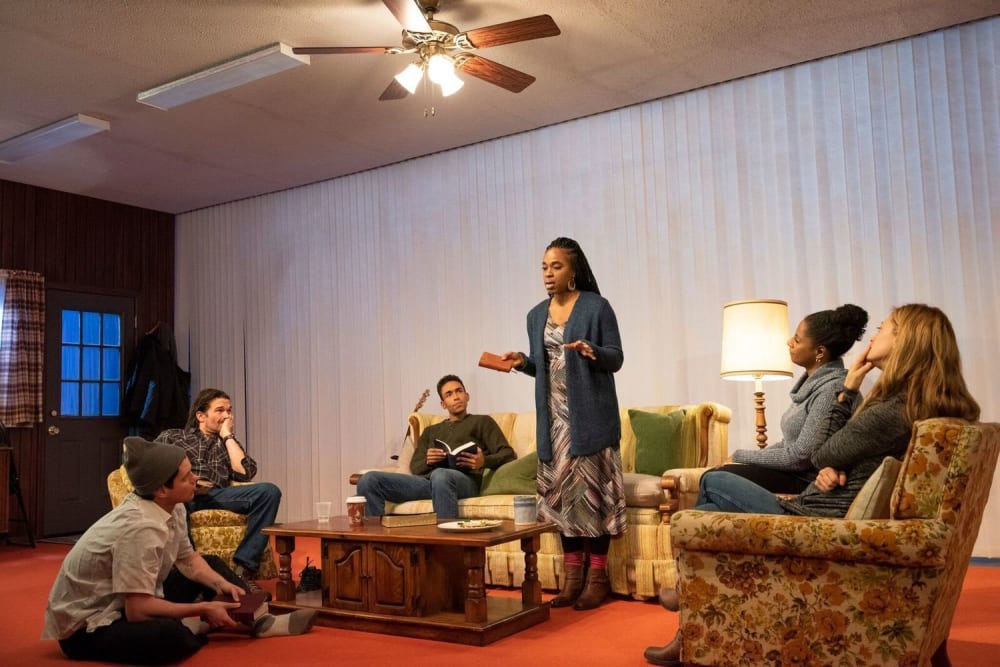 This new play, directed by Taibi Magar on the Atlantic Theater Company main stage, is typically gritty, following events at a halfway house somewhere in the southern Appalachian Mountains, in North Carolina.
St. John's Service House run by Chris Stack's intense, Bible-bashing Pastor Hern and the calmer, more generous Grace, Nicole Lewis, is the kind of place where misfits who barely escape potential imprisonment go to try and recover and re-normalise their lives.
At the centre of a series of dramatic events is the newly-arrived Alison, seemingly a well-adjusted, experienced schoolteacher brilliantly played by stage and screen star Marin Ireland.
At first, it is difficult to see why Alison has been consigned to the care of the do-gooders. She interacts particularly well with her fellow residents on arrival, joking with Wade and Cherie, respectively played by Kyle Beltran and Kristolyn Lloyd. They are also highly educated and cultured but each has been struggling with addiction, not to mention underlying psychological problems.
As we discover from their initial conversations, Alison has been guilty of a rather novel form of road rage. After an affair with the school's headmaster went awry, the embittered mistress (in both senses) who subconsciously seems to identify with Blanche Dubois took revenge on his car with an axe in an explosive eruption of anger that must have been terrifying to behold but also has its comic side when reported.
The English teacher now seems able to control the incipient rage a little better, although at the expense of great personal angst to the extent of literally beating herself around the head.
Anger was also at the heart of the problems faced by far less well-adjusted Cole, Peter Mark Kendall playing a character who bottles up his emotions and can be laid-back but also reeks of danger.
The two-hour-long drama largely plays on the interactions between these characters, some predictable, others more surprising. It centres on the behaviour of the ever more complex Alison, who is desperate to return to normal life but seems destined to repeat the errors of the past.
Blue Ridge can be a difficult and uncomfortable watch that is largely redeemed both by an outstanding performance from Marin Ireland and its ability to get under the skin of her character, although some of those surrounding Alison are less well fleshed out.
If there is a message, it is probably that we are all flawed but some of us manage to control and avoid making the same mistakes over and over again, while others seem addicted to them.
Reviewer: Philip Fisher