The Blue Dragon
Robert Lepage and Marie Michaud, translated by Michael Mackenzie
Ex Machina
Barbican Theatre
(2011)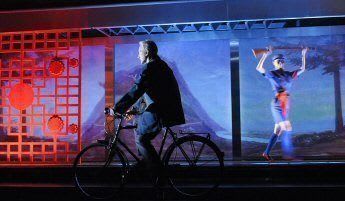 In an interview in the programme, Robert Lepage tells Mark Fisher that The Blue Dragon is "a spin-off rather than a sequel" to his epic The Dragons' Trilogy, which was originally created (note the verb carefully chosen for arch-auteur Lepage rather than "written") in the mid-1980s.
The Blue Dragon is set in China and the creative team, Lepage's Ex Machina company, do a wonderful job in evoking the country.
They achieve this with a mixture of projected imagery, built set - for the most part bars and a minimalist loft apartment - music and dance. The last is both performed and choreographed, equally beautifully, by dancer/actress Tai Wei Foo. By the end of the evening, viewers will take away a series of lovely images that combine to complement the simplest of stories.
The plot centres on Pierre Lamontagne, a 50 year old French-Canadian played by Lepage himself. Lamontagne is a man who cannot face up to problems, so much so that he has crossed the world in his efforts to enjoy a quiet life.
This doesn't work out for a number of reasons. First, his apartment and the whole district are about to be razed to the ground in the interests of communist capitalism with overtones of globalisation.
In addition, he receives a visit from an old friend, co-creator Marie Michaud's Claire, a successful advertising executive. Her biological alarm clock has been ringing for too long and she has come to China to adopt a baby, who turns out to be almost two.
What Pierre initially hides from us, but more significantly from his girlfriend Xiao Ling (Tai Wei Foo), is the fact that he and Claire not only married as students but never quite got around to divorcing.
For two hours, The Blue Dragon - named for Pierre's back-sized tattoo - explores every variation on these themes. So keen is Lepage to experiment with the ideas that, French Lieutenant's Woman style, he even presents his audience with three equally plausible endings.
When he is on form like this, Robert Lepage is sublime. One strength is the ability to amuse with his deliciously wicked sense of humour. However, he can also move viewers, demonstrating great sensibility and the knack of tapping into emotions with uncanny sureness.
In traditional Chinese fashion, The Blue Dragon tells the simplest of stories but explores them in great depth and then relies on the abilities of the creative team to make them into something special. On this occasion they really have.
Reviewer: Philip Fisher