The Blue God / The Firebird
Diaghilev Festival - Les Saisons Russes du XXIe Siècle
London Coliseum
(2011)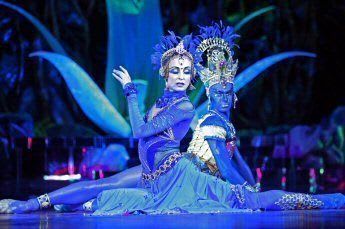 Andris Liepa, artistic director of the Maris Liepa Foundation, named after his father the Bolshoi dancer who had worked with Diaghilev, personally introduced this short season of seven reconstructed Diaghilev ballets. And profusely thanked participants and sponsors (not least Gazprom). Oscar awards ceremony? No, but the evening does have an LA / Las Vegas feel.
Founded in 1990 the Kremlin Ballet Theatre brings with it 'stars' of the Bolshoi and the Mariinsky theatres. And who wouldn't want to see 'Diaghilev' ballets, especially after the wondrous exhibition of Diaghilev and the Golden Age of the Ballets Russes 1909-1929 at the V & A museum last year with its electrifying designs? Sadly the evening was less than electrifying.
How often do eagerly anticipated events fall short of expectations? The Blue God (Le Dieu Bleu), a UK premiere, dazzles with crowd scenes: blazing colours, gorgeous blues, purples, green, yellow, magenta, appliquéd on to white; exotic décor, giant snakes hanging from the rafters, Vrubel-style carved heads in the mountainside, Leon Bakst's set and costume designs dripping in gold and pearls reworked by artist restorer Anna Nezhnaya, but the choreography is lost.
Wayne Eagling took on the unenviable task of re-creating Fokine's dance from remaining images and posters. Tableaux and posturing poses take the place of dance choreography. Bolshoi 'star' Nikolai Tsiskaridze, camp poseur par excellence, has none of the erotic magnetism that Nijinsky was supposed to exude on stage as the Blue God ascending from the temple's holy spring (here from behind the set) to rescue a lovelorn maiden (this was Karsavina's role) from a horrid death in the clutches of monsters (here replaced by a giant red-eyed cobra and a laser show - Holy Cobra!), but at least Natalia Balakhnicheva can dance. The rest wander the crowded stage disorientated as clumsy children in a school play.
Is this jet lag, under-preparation, resting on laurels, or indifference? Nikolai Tsiskaridze is a lazy, indolent, weary God, Ilze Liepa, as the Lotus Goddess who intercedes on the behalf of the girl, is supple and loose-limbed, and Vegas slinky, but impact there is little in this tale of temples, neophytes, rajahs, priests, holy pilgrims, yogis, bayadères (with peacocks on their shoulders), musicians, and all sorts of bearers of offerings to the gods, a preposterous Cocteau libretto.
On the advice of conductor Alexander Titov, Andris Liepa has chosen the first part of Scriabin's Divine Poem and the whole of his Poem of Ecstasy as a substitute for the inadequate original score, apparently reminiscent of Massenet and Delibes, by Reynaldo Hahn (incidentally, lifelong friend and sometime lover of Marcel Proust).
One can see the misplaced logic of choosing Diaghilev's contemporary, the symbolist and theosophist Scriabin, who once planned a multi-media work to be performed in the Himalayas, to replace the original music, which apparently was never right in any case for this pseudo-Hindu-Eastern idiom of Leon Bakst and Cocteau, but it doesn't do the ballet, a museum piece, any favours either.
On 13th May 1912 Diaghilev opened his seventh saison russe in Paris (fifth according to others), and his third at the Châtelet theatre with L'Oiseau de feu, Le Spectre de la Rose, Prince Igor and Le Dieu Bleu. There was no acclaim for the Blue God then, though Robert Brussel of Le Figaro apparently liked it. Fokine's staging was more dance theatre than ballet. Spectacle, which Bakst's lush designs provided, personalities, and expression were what mattered to carry this piece of hokum. Karsavina and Nijinsky had that in abundance.
The Russian Firebird fairytale further exemplifies Richard Buckle's observation that these were ballets not of virtuosity but of local colour. Based on designs by Alexander Golovin and Leon Bakst, not on Natalia Goncharova's 1926 designs, which the Royal Ballet production uses, this Firebird lives up to Cyril Beaumont's June 1912 response to its London production as 'stagy' and 'too obvious'.
Based on the original sets, which the Tretyakov Gallery in Moscow still possesses, this reconstruction of The Firebird is, again, visually striking in its surely Bilibin-inspired design. Ilya Kuznetsov with little dancing to execute as Prince Ivan emotes dramatically, Alexandra Timofeyeva acquits herself well as the Firebird, and Natalia Balakhnicheva is truly lovely as the Princess, but the twelve princesses (in white dresses and blond wigs) lose a grip of their apples, and Kashchei the Immortal and his bizarre creatures have difficulty in synchronising with the orchestra. Stravinsky's music saves the evening.
A ragged restless evening that promised much is a stunning spectacle for the eyes, but not the soul. Programme Two promises Thamar and Schéhérazade, whilst Programme Three Le Pavillon d'Armide, L'Après-Midi d'un Faune, and Bolero.
Appetite unwhetted, yet a glutton for the Diaghilev legend (apparently he wooed critics with champagne and caviar at the opening of Thamar), one longs to believe that riches will follow this inauspicious start to the short season of his former glories. Diaghilev's company performed at the Coliseum in 1925 (the poster is still here); the Maris Liepa Charitable Foundation has brought a cast and crew of 170 - much is invested in this season.
Till 17th April 2011
Reviewer: Vera Liber