Blue Moon Over Poplar
Rebecca Lenkiewicz
National Youth Theatre
Soho Theatre
(2006)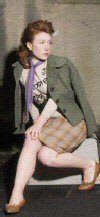 Michael Croft founded the National Youth Theatre in 1956. To celebrate its golden jubilee, it has commissioned six well-known writers to create hour-long plays representing each decade of its existence.
The 1950s play is Blue Moon Over Poplar by Rebecca Lenkiewicz. This looks at a group of teenagers struggling to achieve maturity against a background of rock and roll and sadness.
Judy and Peter Lawrence are twins whose lives had been blighted by the suicide of their elder brother, Eddie. He was a conscientious objector during the war and had never really recovered from a period in prison and the difficulty of resuming normal life thereafter.
Peter played by Mark Finbow is handsome enough to have the pick of the lasses but combining a mean streak and immaturity wants all and none of them.
Despite the attentions of the tiny Betty (Laura Sykes) who inexplicably worships him despite his constant insults, he is more interested in tall Jamaican immigrant Margaret, played very convincingly by Zawe Ashton. At one point, Peter even has a dart at his sister Judy (Becky Smith Williams).
Rebecca Lenkiewicz is best when conveying the period with many references to events of the time. She also does a good job of conveying the insecurities of youth.
However, this does not feel like a fully realised play, in part because the plot is not strong enough to allow for detailed characterisation, particularly in the minor parts.
Reviewer: Philip Fisher