Blues in the Night
Sheldon Epps
Kiln Theatre
Kiln Theatre
–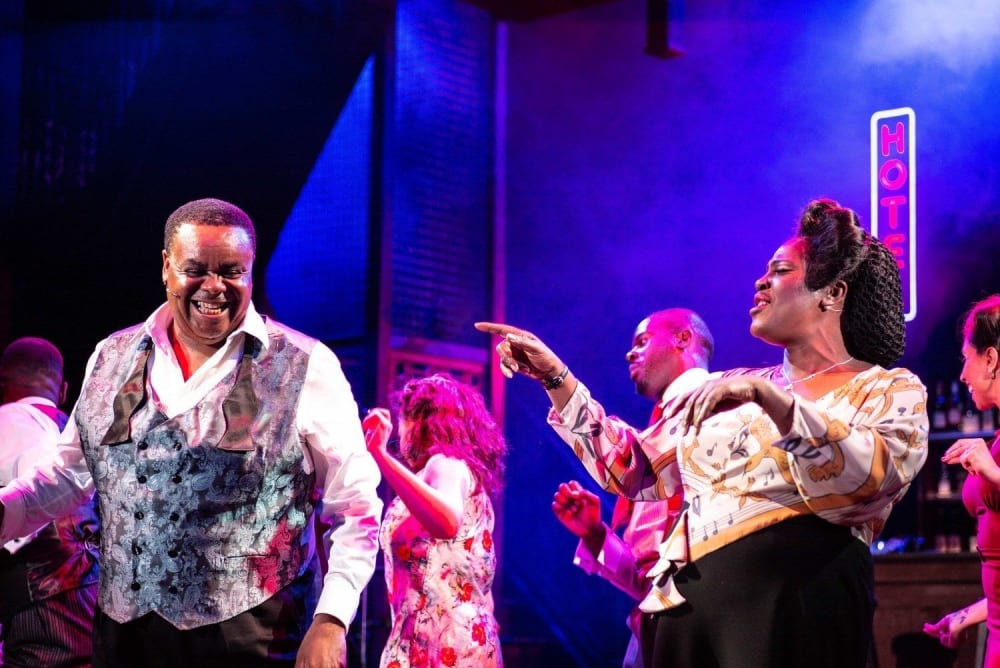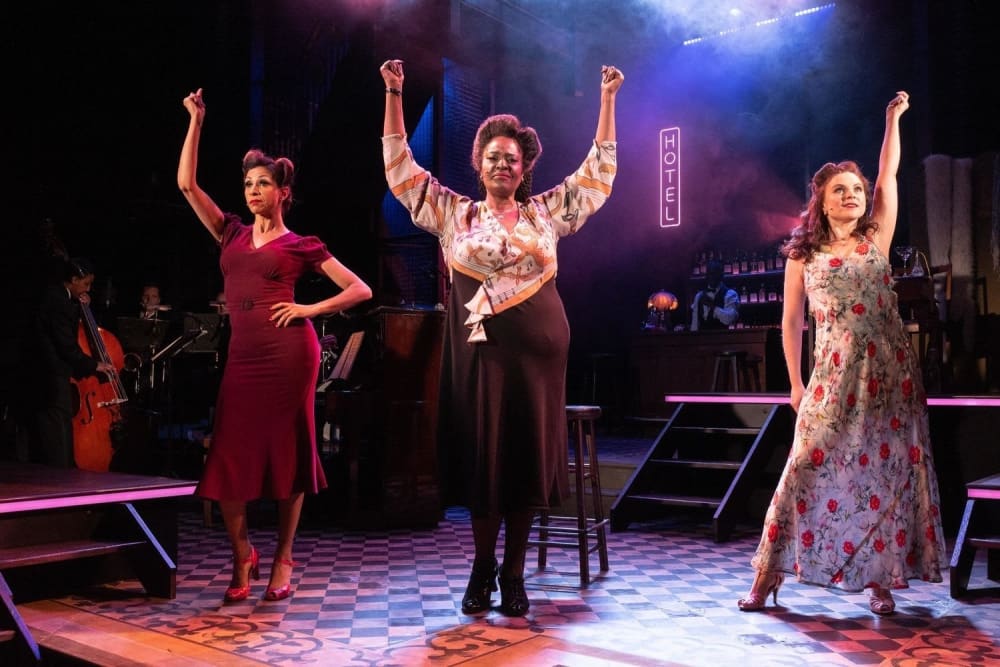 Although it has always been marketed as a theatrical production, Blues in the Night might more accurately be described as a glorified cabaret performance.
For those interested in history, the show first saw the light of day in 1980 and has played with star casts on both Broadway and in the West End over the years.
Director Susie McKenna has worked with designer Robert Jones to utilise a set recreating a seedy Chicago hotel in the jazz age, from the programme notes 1938. In various locations, a five-piece band, Oscar and the Strollers, plus a quartet of singers and a couple of underused dancers play, prowl and wait for something good to come along. Their histories may be different, but the four featured characters are all down on their luck with no realistic hope of redemption. Instead, they sing their lives away, revelling in tunes composed by some of the greats of the jazz and blues era relating tales of lost love and failed opportunity.
The singing styles are notably different, which greatly enhances the experience. Sharon D Clarke portraying a stage star left behind by racist producers sounds as hard as nails and is at her best when singing songs from Bessie Smith. Her character has a natural antipathy for the MC played by Clive Rowe, who reciprocates but also tunefully sings his soul out.
Debbie Kurup portrays a perennially intoxicated, smoky chanteuse who can turn on the power when it is required, while Gemma Sutton has a higher pitch but can also pluck at heartstrings as the latest and youngest arrival at the hotel, the one still imbued with quite possibly unfounded confidence that life might offer something better.
Although there is a vague story that pokes through on occasion, ultimately this is a high class cabaret performance, which showcases the talents and voices of the stars and their supporting musicians. The songs almost always work, whether solos including highlights such as "Wild Women Don't Have the Blues", "Kitchen Man" and "Nobody Knows You When You're Down and Out" or collective efforts, the best of which is song that takes us into the interval, "Take It Right Back".
It is a shame that, following the current vogue, both singers and musicians are heavily amplified. As a result, some of the lyrics get buried, while voices arrive via speakers from unexpected locations. Given the undoubted skills of all involved, this not only adds cost but reduces the impact of what might otherwise have been a more enjoyable evening.
Devotees of jazz and blues will happily accept mood in place of drama and should race to the Kiln to catch a show that will undoubtedly excite them.
Reviewer: Philip Fisher