By the Bog of Cats
Marina Carr
Wyndham's
(2004)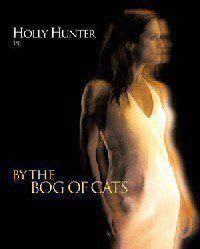 Yet another Hollywood superstar actress is on the loose in London. Afer Mary Elizabeth Mastrantonio's debut at the Donmar earlier in the week, Holly Hunter is reprising her performance as black swan Hester Swane, originally given in San Jose.
This spunky Irish heroine is bound to draw comparisons with Euripides' Medea. Had that tragic heroine been created by Martin McDonagh under instructions to emphasise her feminist side, she might well have come out looking like this Hester, who is, like her namesake from The Scarlet Letter, the mother of a much-loved illegitimate child.
After an opening in which Darren Greer as a mysterious Ghost Fancier arrives early, thereby informing the heroine of her impending death, By the Bog of Cats takes a long time to get going. Indeed, after an hour very little seems to have happened, apart from firmly locating the play amongst strange people in the Irish bogs. This has always been fertile ground for Irish playwrights.
After the interval, the drama suddenly becomes tense and gripping. We are at the wedding of Hester's former lover and the father of her seven-year-old daughter Josie, who is beautifully played by Ellie Flynn-Watterson.
Carthage McBride, played by Gordon MacDonald, is a proud man but, like Jason in the Greek original, will never manage to escape his lover and destiny, despite his optimism regarding a marriage to the much younger Caroline Cassidy (Denise Gough).
The wedding breakfast is attended by a horrible collection of the weird and wacky. The Greek symbolism continues as there is a blind seer played by Brid Brennan who, while named Catwoman, could hardly be further from the vision conjured up by the gorgeous Halle Berry on the silver screen.
The lucky couple's surviving parents do not help. Carthage's mother, played by Barbara Brennan, is both very vain and very drunk, while the bride's father (Xavier Cassidy) is a mountain of a man. Pleasingly, he gets his comeuppance in an excellent scene where, despite the fact that he is well over twice the size and weight of the heroine and carrying a shotgun, she betters him effortlessly.
Dark family secrets inevitably emerge and without a truly tragic and bloody ending, this would still have been a terrifying tale. As it is, it almost approaches ancient Greek proportions as the excellent Miss Hunter goes down fighting.
By the Bog of Cats only really comes into its own in its second half, which is well directed by Dominic Cooke. He is greatly assisted by his designer, Hildegard Bechtler, who has an eye for unsettling beauty. In particular, a scene where Hester and Josie dance in the moonlight, in front of their jet-black tinkers' caravan, will remain in the mind for a considerable time.
It is likely that the majority of the audience will have been attracted by the name of Holly Hunter and by her film performances. They are unlikely to be disappointed as, if one ignores the Irish-American accent that passes for authentic on the other side of the Atlantic, she is clearly well cast in the part of a vengeful modern day Greek heroine.
This review originally appeared on Theatreworld in a slightly different version
Reviewer: Philip Fisher