Bold Girls
Rona Munro
Theatre by the Lake
York Theatre Royal
–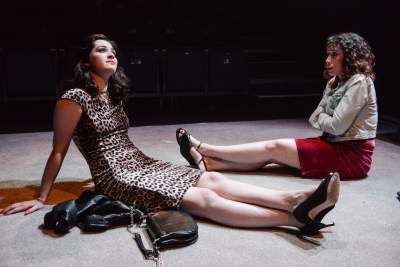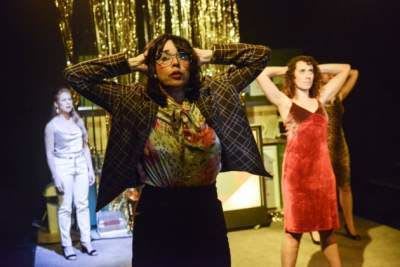 Bold Girls sticks out like a sore thumb in Theatre by the Lake's two-week season for the York Theatre Royal. Not only is it the most contemporary play the company has programmed—at least in terms of setting—but its dark subject matter is a far cry from the sophisticated comedy of Sense and Sensibility and Single Spies.
Set in West Belfast in 1991, Rona Munro's breakthrough play focuses on the lives of four women during The Troubles. Despite mourning the loss of her beloved husband, single mother Marie (Sarah Kempton) is a beacon of warmth and calm amidst a sea of violence and political unrest. She's kept company by her best friend Cassie (Alice Imelda)—who dreads her husband's imminent release from prison—and Cassie's widowed mother Nora (Christine Entwhistle), a good-natured busybody.
The appearance of a ghost-like young woman, Deirdre (Lydea Perkins), results in upsetting revelations that will permanently alter the other characters' relationships.
Despite being set in The Troubles, Rona Munro's play is not overtly political. She is far more interested in exploring the day-to-day struggles that women experienced during this period, not least the blight of extreme poverty.
As a study of female friendship, Bold Girls is highly effective. Munro does a fine job of capturing the easy intimacy that exists between close friends. That being said, I was slightly less impressed by the melodramatic revelations that emerge in the final act.
Despite some wandering accents, the four performers make the most of their roles. As with Sense and Sensibilty in which she played Elinor Dashwood, Sarah Kempton manages to work wonders with a character whose calm surface masks a reservoir of inner pain. Similarly, Alice Imelda imbues Cassie with the same passion and vivacity that she brought to Marianne Dashwood.
Christine Entwhistle gives a lovely performance as Nora. The scene in which she laments her shattered dream of reupholstering her front room achieves a surprising poignancy. Finally, Lydea Perkins strikes the right balance of vulnerability and mystery.
Louie Whitemore's set is pleasingly detailed, even if the venue felt slightly overstuffed with furniture. Jon Nicholls's sound design conjures up the offstage shooting and bombing that form part of the four women's everyday reality. Tim Mascall's lighting intensifies the drama, particularly during the characters' monologues.
Bold Girls is a powerful piece of theatre that speaks to the indomitable spirit of women and allows us to remember the horrors that the Northern Irish endured over decades.
Reviewer: James Ballands