Single Spies
Alan Bennett
Theatre by the Lake
York Theatre Royal
–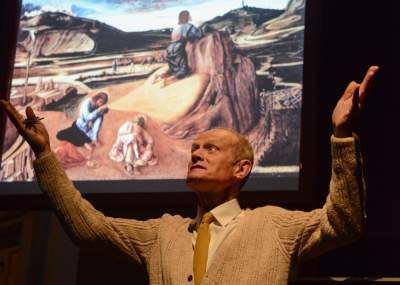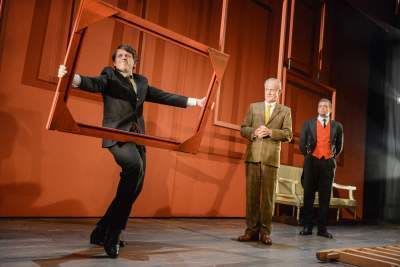 Alan Bennett has been well represented on stage this year. A few months ago I had the pleasure of watching Talking Heads in Leeds and The Habit of Art in York (still touring). Just recently, a new production of The Madness of George III, starring Mark Gatiss as the titular monarch, opened to ecstatic reviews.
Single Spies, a double bill of short plays first staged at the National in 1988, is the second show in Theatre by the Lake's two-week residency of the York Theatre Royal. These two mini-dramas represent Bennett at his finest—witty, intelligent and piercingly sharp.
The evening begins with A Gentleman Abroad, which is based on a bizarre real-life encounter between the notorious spy Guy Burgess (Theo Fraser Steele) and the Australian actress Coral Browne (Karen Ascoe) while she was performing in Moscow in 1958.
When Burgess turns up to the theatre drunk, hoping to see his old Cambridge cohort Sir Michael Redgrave, he finds himself swiftly rejected. After vomiting in Browne's dressing-room sink, Burgess invites her back to his dreary flat (a beautifully shabby set from Louie Whitemore) where he complains about the state of Russian dentistry (among other things) and she berates him for betraying his country. After measuring him for some new suits, Browne kindly agrees to place his orders at an exclusive London tailor when she returns to London.
The situation is delicious and Bennett turns it into scintillating drama. He's not overly interested in exploring the dark recesses of Burgess's soul—if anything, the infamous traitor seems bewildered by all the fuss his actions caused—but he deftly captures the character's inner contradictions and paints a moving portrayal of an exile stagnating in a foreign land.
The acting in this production is wonderfully rich. Theo Fraser Steele is superb as Burgess, whose camp, bumbling exterior hides a mysterious centre (possibly even a hollowness). Kare Ascoe is also very good as Coral Browne, her directness and lack of pretension contrasting nicely with Steele's evasiveness.
Whereas An English Abroad is primarily a two-hander set in one locale, A Question of Attribution is a baggier affair with more characters and locations. Although it lacks the tight focus of the earlier play, A Question of Attribution is more intellectually playful, allowing Bennett to explore one of his abiding preoccupations: the hidden meanings of art. The discussions of painting are utterly absorbing and genuinely revelatory.
Set in the late 1960s, the play focuses on the art historian Sir Anthony Blunt (James Duke), who—rather mystifyingly—was allowed to work at the Royal Palace despite being a known traitor. Blunt's meeting with an MI5 officer, Chubb (Theo Fraser Steele), oscillates between interrogations and art history lessons, and there is a famous scene—memorably performed on TV by James Fox and Prunella Scales—in which Blunt talks to the Queen about her art collection.
James Duke gives a splendid performance as Blunt, skilfully rendering his intelligence and ironic humour. Karen Ascoe captures the Queen's otherworldliness and suggests a level of perception that our monarch is rarely given credit for.
Tom Littler's intelligent and unfussy direction allows the writing to speak for itself, and Single Spies represents Alan Bennett at the height of his powers.
Reviewer: James Ballands