Bones
Jane Upton
Fifth Word Theatre in association with Nottingham Playhouse
Derby Theatre Studio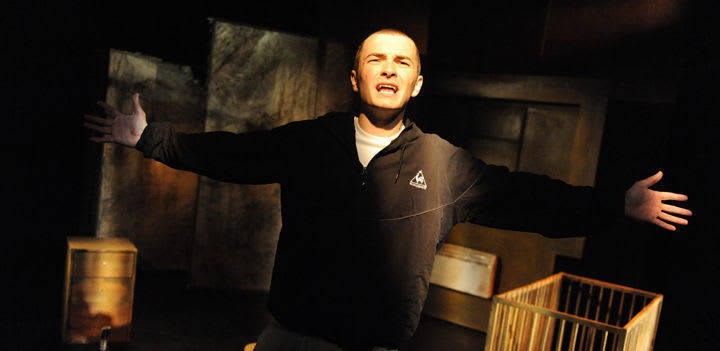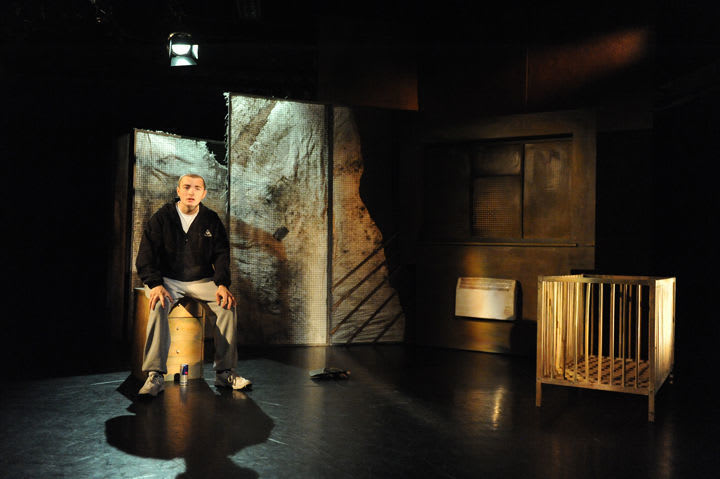 Nottingham 1988: 19-year-old Mark is trying to find himself as he struggles to come to terms with living in a deprived, inner-city suburb.
His situation isn't helped by the fact that his mother, a drug addict, has recently given birth to a baby who continually cries and does his head in.
He thinks about killing the baby—but he's been inside before and doesn't want to go back there. So would he be able to get away with it?
This is the opening of Jane Upton's first play which went to Edinburgh in 2011 and is now on a 19-date tour presented by Fifth Word in association with Nottingham Playhouse.
Bones is a realistic, gritty look at a teenager's attempt to come to terms with his life which has had more ups and downs than a rollercoaster in Skegness where he's experienced his only holidays.
There's a combination of a revealing script by Upton—you'll be discussing the significance of several topics afterwards while the ending is entirely unexpected—and an excellent performance by Joe Doherty.
He plays Mark, the only character in the play, and Doherty seems destined for a big future. I first saw him three years ago when the Nottingham-based actor appeared in Laura Lomas's play Wasteland at Derby's Assembly Rooms.
On that occasion he tended to garble his lines and didn't project sufficiently.
Here he has improved immeasurably. He confidently commands the stage and is eminently capable of sustaining the show over a compelling 45 minutes.
Dressed in a dark-coloured hoodie, grey tracksuit bottoms and trainers and sporting a skinhead hairstyle, Doherty looks the sort of person you wouldn't like to meet in a narrow alley after dark.
But he skilfully teases out the character's good points as well as the bad so that Mark becomes a hoodie whom you really feel you ought to hug.
Doherty received a nomination for best solo performance in Edinburgh and this touching portrayal shows it was well deserved.
For much of the time he refers to the baby as "it" yet towards the end shows love and compassion as he acknowledges he's actually holding his sister.
The actor and playwright present a vivid image of Mark's mum—although we never see her—who has contributed to many of the teenager's problems: she's not the usual Delia Smith-type of mother who cooks roast dinners on Sundays, nor does she iron clothes "like proper mums".
Laura Ford and Angharad Jones, joint artistic directors of Fifth Word, direct with sensitivity and panache while Nathan Rose's set is simple enough for any venue on the tour yet is strikingly effective.
There's a small amount of video projection which doesn't appear necessary—sound effects add a chilling-enough dimension.
Bones is at times funny, brutal and scarily honest. Not everyone will enjoy it because of its controversial subject matter and graphic language.
But it's a gripping study of some of the frightful situations certain youngsters have to face every day of their lives.
Watch out for both Jane Upton and Joe Doherty; both could go far.
Reviewer: Steve Orme