Boom
Rick Miller
Kidoons and WYRD Productions
59E59 Theater, New York
–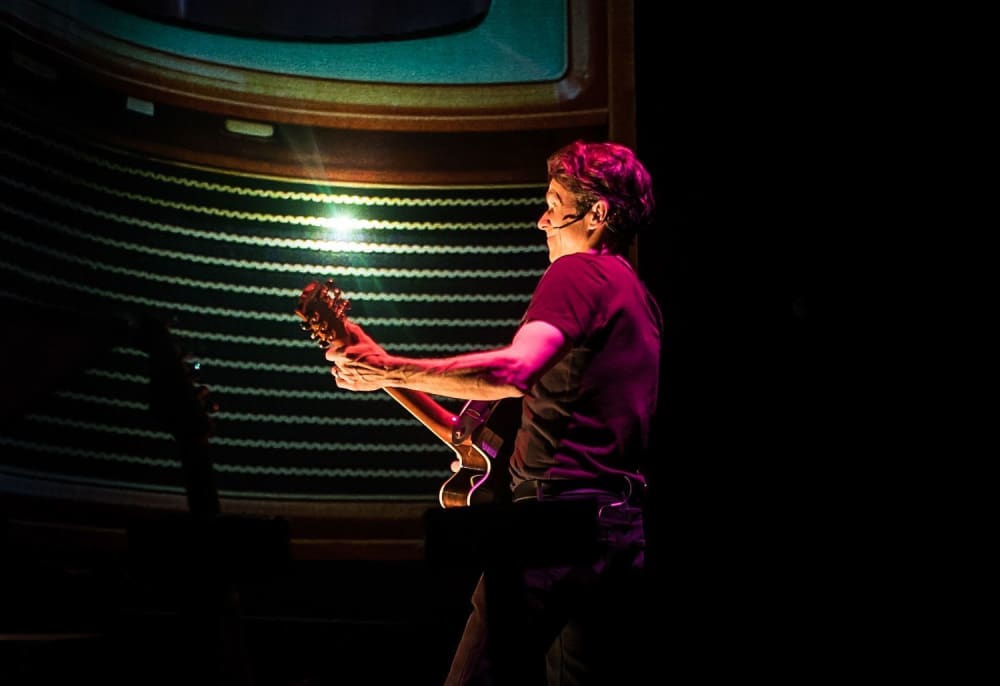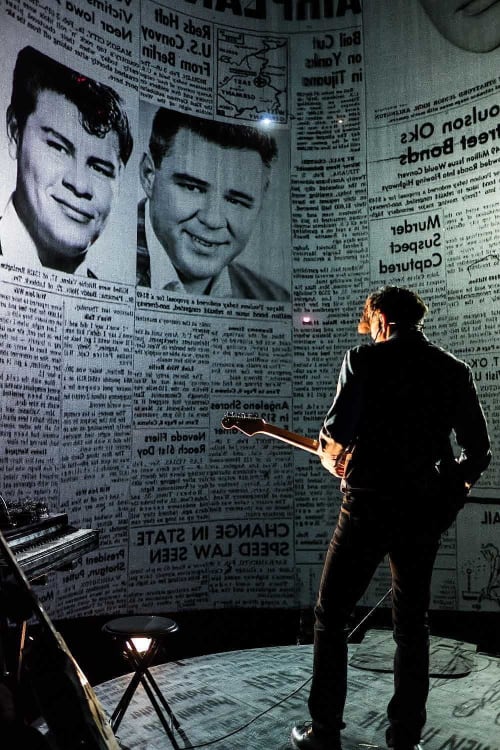 Love it or hate it, the only person who can take responsibility for this whistle through the baby-boom years is Rick Miller. Like a true megalomaniac, not only has the versatile Canadian written the piece but also performs and directs.
It is very rare for any show to have quite as specific a target audience as this one. Rick Miller defines baby boomers as those who are now in the age range of 50 to 75. However, in that his show covers the years from 1946 the 1970, those a little older and youngsters desperate to wallow in parental nostalgia might also enjoy the experience.
Structured year by year, that experience consists of a breathless race through world history, often with an American or Canadian slant, personal recollections of three individuals and snippets of pop songs. The music tells its own tales, developing from crooners such as Perry Como circa 1949 through rock 'n' roll introduced by Bill Haley and the Comets to the advent of British bands that could make girls scream with delight such as the Beatles and the Rolling Stones, progressing to closure with the moon landing and David Bowie's "Major Tom".
On stage, Mr Miller takes on numerous personas, supported by a curved screen onto which are projected excerpts from pop shows, film and news clips, supplemented by anything that will help to illuminate his canter through history. The narrative is held together by extracts from interviews with three individuals. One is immediately identified as Miller's mother, Maddie, another is an Austrian refugee who emigrated to Canada and the third an African-American who made a similar journey to escape the draft during the Vietnam war.
Only as we reach the end of a packed two-hour presentation does it become apparent why these three were chosen and how their lives ran in parallel and overlapped, as well as intersecting with that of the writer.
For better or worse, and viewers may fall into either camp, rather than delivering the history and music straight, it is very much the Rick Miller show. This energetic performer dons wigs and pieces of costume to imitate the great and the good from the worlds of politics, sport and music. In addition, he plays instruments and sings karaoke fashion.
This is the kind of show that may contain the occasional historical inaccuracy, leaves you wanting more from musical favourites that often disappear within 15 or 20 seconds and, inevitably, is very selective in its provision of information and accompanying songs. It is also the start of a trilogy, with versions covering Generation X and then, together, Generations Y and Z promised.
However, it is definitely going to be a popular crowdpleaser that has already done well in Canada, will inevitably do the same in New York and seems set to reach British shores in the not too distant future.
Reviewer: Philip Fisher