Booth
Karen Joy Fowler
Serpent's Tail
Released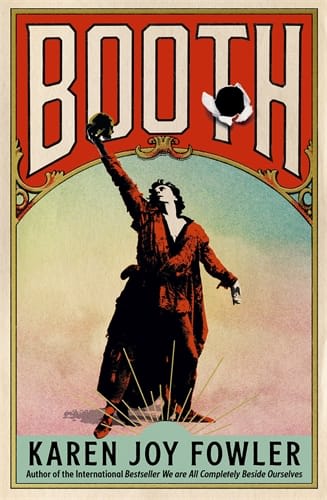 For her latest novel, Booker-shortlisted author Karen Joy Fowler has looked back into her native country's history during the troubled years of the middle of the 19th century through the eyes of one of its most extraordinary families.
The patriarch of a veritable acting dynasty was Junius Brutus Booth, one of the foremost Shakespearean actors of his day and a character, in every sense of the word.
Like so many members of his family, the vegetarian humanist Booth lived up to the somewhat derogatory description of actors as rogues and vagabonds, addicted to alcohol, plaudits and the drug of performance.
Having started life on the English stage and struggling to win a commercial and artistic duel with Edmund Kean, he decamped for the New World, settling in and around the country's second city at the time, Baltimore, Maryland.
Not only was the thespian leaving the English stage behind but by decamping with his dedicated, self-effacing wife and starting a family that would eventually number 10, though four died in infancy, Booth also left behind a scandal that came back to haunt him with highly publicised accusations of bigamy.
For the most part, the tale of the consistently unconventional Booth family is told through the eyes of three of those children, career spinster Rosalie a.k.a. "Poor Rose the invalid sister", Edwin, a shy introvert who eventually became such a fine actor and impresario that he achieved fame and fortune as "America's Hamlet", and combative sister Asia, a real handful but always loving beneath the bluster.
In many ways, the second generation were all chips off the old block, mostly loving their drink, wasting money whenever it appeared but often able to make more thanks to their unique popular skills.
For them, theatre and particularly Shakespeare was a driving force, everyone throwing out Bardic quotes as casually as youngsters today might utter "likes" and "you knows".
Although he is rarely the central focus, another son, Johnny, is constantly nipping at his siblings' heels, desperate to become an actor even though he hasn't the skills of father or several brothers, and enthusiastically throwing himself into every activity, including the beds of far too many women.
Karen Joy Fowler convincingly depicts the childhood adventures of the family members but at the same time keeps an eye on history in a country where slavery is causing dissension, generally by periodically focusing on the activities of an upcoming politician, Abraham Lincoln.
The slavery itself is brought down to a personal level by observation of those who work for the Booths, not slave owners themselves but still willing to utilise the services of those who are.
One doesn't need to have detailed knowledge of American history to know that before the end of the story, Abraham Lincoln and John Wilkes Booth will take centre stage with devastating consequences for all involved.
Booth manages to combine its interests with great skill, depicting slavery and all of its horrors accurately, while also showing the political consequences as those in the Union tentatively seeking abolition, while south of what would become the Mason Dixon Line, many were willing to fight to the death for the right to own what they regarded as barely human labour.
We also get a rounded picture of life on the stage, through watching the trials, tribulations and successes of Junius Brutus Booth and a trio of sons, who tried their luck in his shadow with varying degrees of approbation.
Anyone with an interest in American history, family life 150 or so years ago or the stage should relish a book that brings all three together in a dramatic story that is both informative and enjoyable throughout.
Reviewer: Philip Fisher