Border Tales
Conceived and directed by Luca Silvestrini
Protein Dance
The Place London
–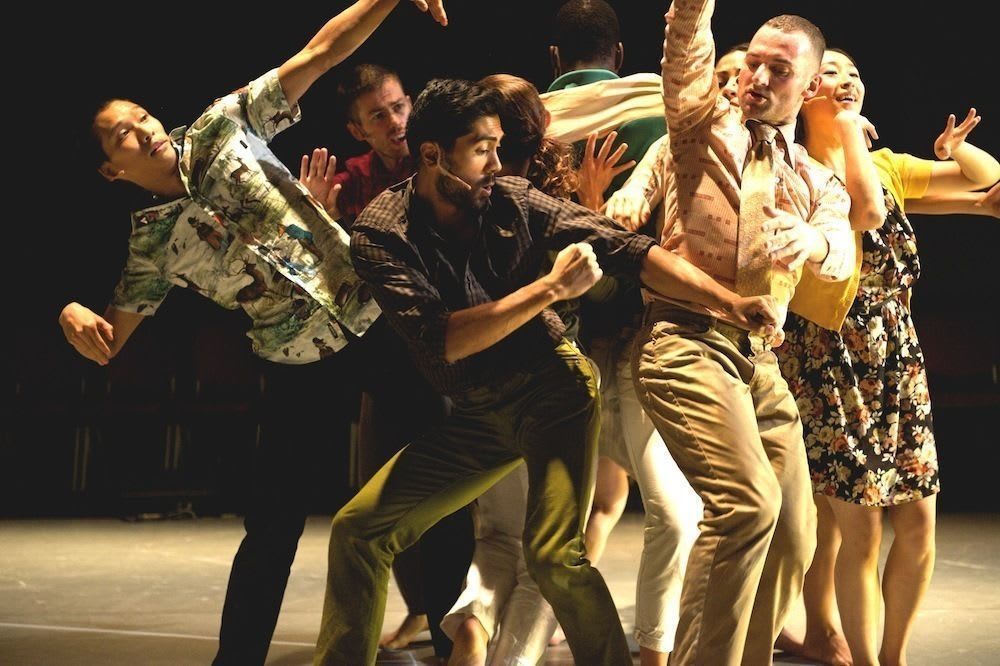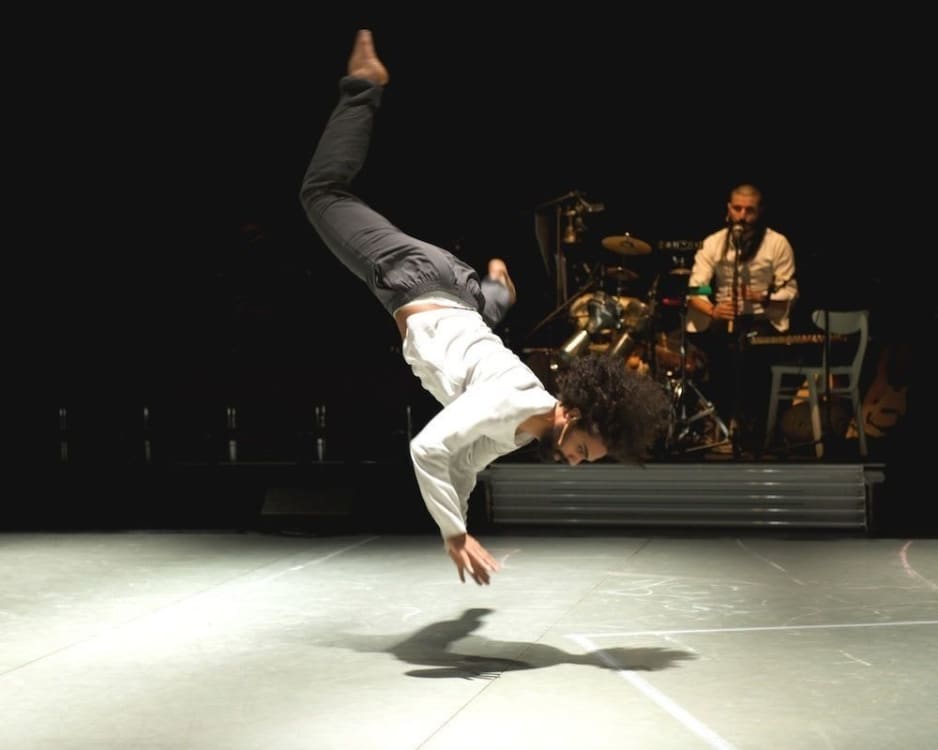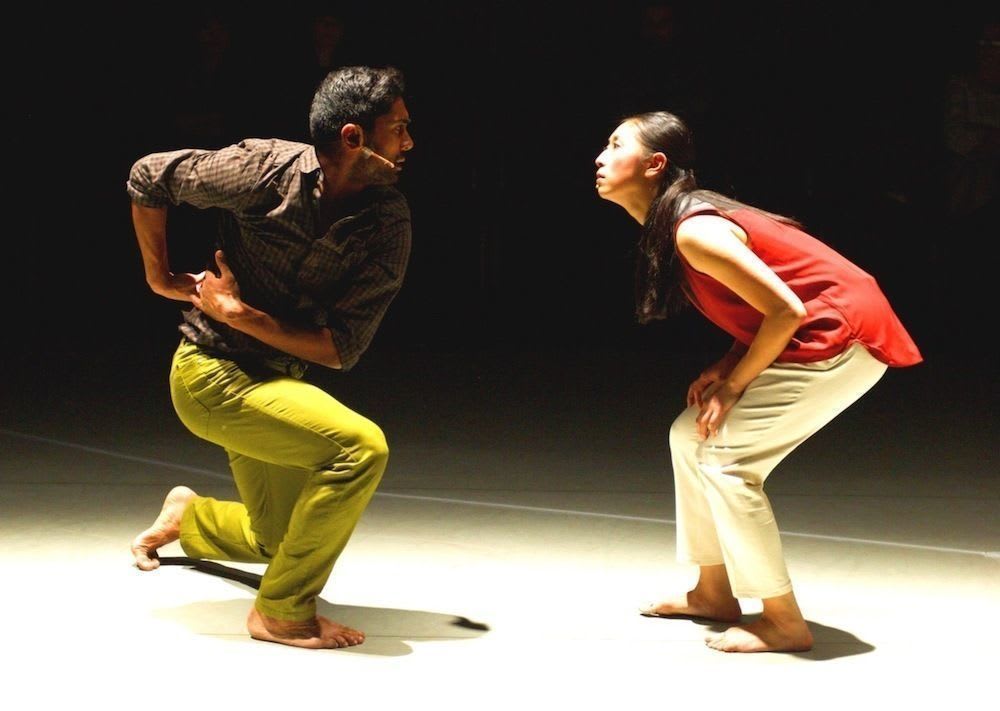 Luca Silvestrini's new work, Border Tales, would serve well as a jumping off point for sociological, psychological, philosophical and political discussions in schools and colleges, or as a TiE outreach project. Its simplistic satire of reprehensible irrational human behaviour slips down all too easily.
A bare stage dissected by a jagged line, in imitation of Doris Salcedo's Shibboleth—remember that crack in Tate Modern's Turbine Hall, which she said represented 'borders, the experience of immigrants, the experience of segregation, the experience of racial hatred. It is the experience of a Third World person coming into the heart of Europe.' Spot on.
Add lighting by Jackie Shemesh, a few chairs and a collaborative student piece emerges. The seven multiracial lead dancers devised its content between them. Well, we all have stories to tell. And we all judge a book by its cover, even if we know we shouldn't.
Salah El Brogy, Eryck Brahmania, Kenny Wing Tao Ho, Stephen Moynihan, Femi Oyewole, Yuyu Rau, all of them miked, extrapolate generalities from personal experiences. Weave them into dance—with the solo English dynamo Stuart Waters as the earnest welcoming party—and yes, English boys do have rhythm.
Perceptions and preconceptions, presumptuous assumptions, ingrained bigotries, national stereotypes and stereotyping, cultural idiosyncrasies, traditions, and the barriers we erect in fear of 'the other'. It is and was ever thus.
Why is a black man always either a stud or a thug? Is Egyptian Salah El Brogy part of Africa or the Middle East? Is a brown man an Indian or a Filippino—maybe he's both. And why does he have a posh English accent? Why is someone with almond eyes immediately thought of as Japanese? And docile? Why is a Muslim with a backpack to be avoided?
What about the children of two cultures? Are they deprived or enriched, confused or overcompensating? Imagine a Tower of Babel school playground of immigrant children from all corners of the world. Too much babble is the trap Border Tales walks into eyes wide open.
Value judgements are trip wires, but we rush headlong into them anyway. Even when we mean well. Especially when we mean well. Appearances matter—colour of skin, accent, religion, food, culture, hairstyle, clothes. It's the law of the jungle this sizing each other up—the soundscape pinpoints that bit.
How easy it is to get things wrong. To make faux pas. We do it all the time. And wrong the dancers do get it (in my case so off the mark I'd say it's in the sexist ballpark) when they try to provoke the audience, arranged in close proximity in-the-round. But that's the point. If they get it right it proves the same point as getting it wrong. Prejudice.
We politely smile and don't resist. Resisting would make for a better dynamic, but this is not Pina Bausch Tanztheater. 'You think I think…' is a faintly challenging and amusing mantra, but is it accurate or merely convenient? Difficult not to fall into the trap of cliché when exposing clichés. But it's good-natured fun. That's what they all say.
Buoyed by composer Andy Pink's music, wonderfully executed by Columbian musician Anthar Kharana on a range of instruments from around the world—percussion from the Middle East and South America, drums from Africa, Spanish guitar, hammer dulcimer from Thailand, flutes from China—Border Tales is entertaining enough for the first hour.
The dancers / actors are a pleasure to watch, saddled as they are with speaking whilst dancing—not an easy thing to do—but, though the subject matter is close to my heart, I begin to flag in the last half hour. Ninety minutes is a bit of a stretch, interesting though these individual stories are.
I'd have preferred more dance less chat. The dancers are great movers with individualistic styles: Eryck Brahmania I've seen in Rambert pieces, Salah El Brogy in Akram Khan's, Femi Oyewole at the Linbury Studios. Someone has imbibed Hofesh Shechter, too, I see.
Silvestrini has taken their different routes and journeys into dance and combined them in a unity of purpose, bringing in extra dancers—Eleni Papaioannou, Amanda Dufour, Sofie Burgoyne, Rosamaria Cisneros-Kostic on the night I'm there—to add to the international cacophany.
Preaching to the converted perhaps. 'I'm an alien, I'm a legal alien, I'm an Englishman in New York'. We're all aliens somewhere. Young audiences love him, and on Saturday night—not a press night—London's multiculturally rich audience gives Border Tales a standing ovation.
This year Silvestrini is celebrating Protein Dance's 15 years of association with The Place—his works have encompassed confessional television, psychoanalysis, booze culture and social Darwinism, consumerism and obsession with body image. One to treasure.
Reviewer: Vera Liber