Born in the Gardens
Peter Nichols
Theatre Royal, Bath
(2008)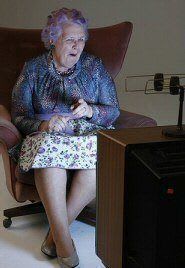 Peter Nichols wrote Born in the Gardens in 1979 for the two hundred year anniversary of the Bristol Old Vic. It's every bit a local play which delights in the old sights and sounds of the city as much as it lingers over the comfy insularity and the toxic prejudice of the era.
As Maud (Stephanie Cole) dusts around her husband's open coffin in the wood-panelled living room of a crumbling mock-Tudor villa, her bachelor son Maurice (Allan Corduner) languishes in a slovenly haze of jazz and Victorian erotica. Home for the funeral are Maurice's siblings, his Califorian-chic twin sister, Queenie (Mirander Foster), and his elder brother, Hedley (Simon Shepherd), a Labour backbencher.
They are at once an uneasy and unlikely family. Shepherd's Hedley is ill at ease with the house and all that it represents. It becomes clear he has shares none of the pleasant childhood memories his mother and siblings dredge up. He remembers only the weary shame of his father's alcoholism, something his mother seems to have re-written as entirely harmless: "he liked a drink, bless his heart". Queenie is equally troubled, and alludes to an incident of abuse by her father, which Maud accounts for with typical detatchment, "Ah you were always his favourite." Maurice himself, old before his time and content in the conservatism of his life with his mother, admits to a twice weekly sexual tryst with a married couple.
Nichols' seems almost to have created more caricature than character, and yet here Cole's batty and idiosyncratic Maud, clinging stubbornly to her delusion of family, gels them all together into an uneasy whole. Cole anchors this cast: without her on stage the others don't always convince. The whiff of incest between Maurice and Queenie, for example, is clunky, untethered and unlikely. Nevertheless when Cole is with them they become a family, however dysfunctional and damaged.
The only disappointment is that Cole's Maud has none of the menace one feels she needs: she is, after all, a vain and adulterous wife and an emotionally disconnected mother who turned a blind eye to her alcoholic husband's abuse of their children. She clings to her batty conservatism as a way of fending off the painful business of admitting her short-comings, accepting change and embracing progress. Her performance is endearing and very funny, but she has no hard edges. When Hedley finally breaks her veneer, she dissolves into tears rather than revealing any hint of that cold vanity alluded to in the text.
"Born in the Gardens" is in rep with "Portrait of a Lady and "The Doll's House" at the Theatre Royal, Bath until 9th August
This production was reviewed by Sheila Connor in Guildford and by John Thaxter in Kingston
Reviewer: Allison Vale