Botticelli in the Fire
Jordan Tannahill
Hampstead Theatre
Hampstead Theatre
–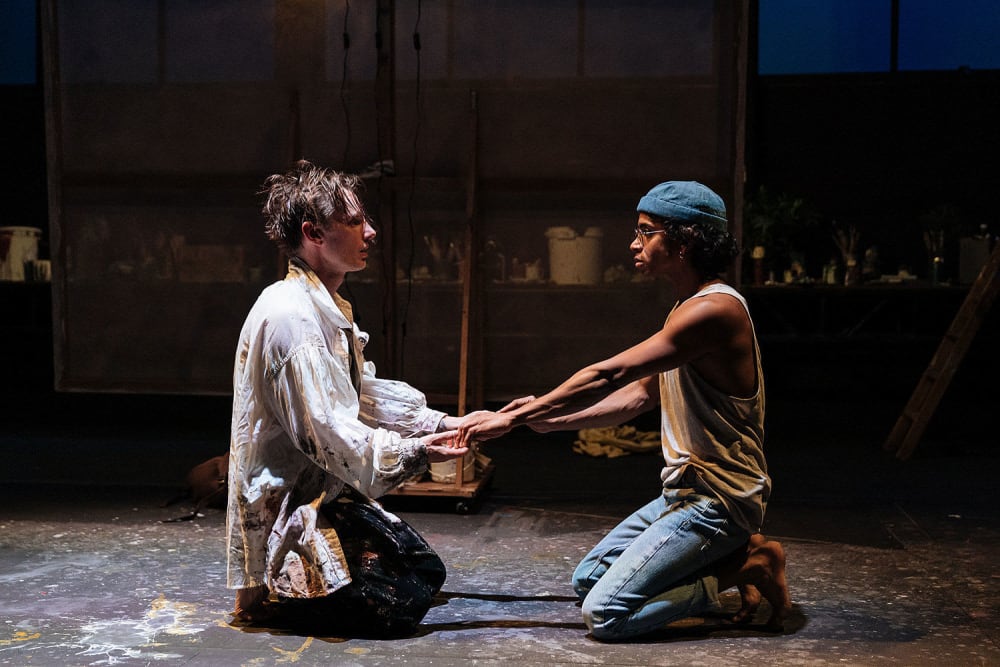 It may always have been the case, but there does seem to be a current vogue amongst artistic directors for choosing plays that are either classics or take on historical themes and then presenting them in an anachronistic, ultra-modern style.
Canadian playwright Jordan Tannahill does exactly that with a story set in Renaissance Florence towards the end of the 15th century, as the all-powerful Medicis attempt to come to terms with intrigue, plague, (homo)sexual excess and the parallel blossoming of artistic genius.
The tone of Blanche McIntyre's production was probably set by her decision to cast performance artist Dickie Beau to play Sandro Botticelli. Dressed in leather jacket, lively shirt and distressed jeans, his opening address, directed through the fourth wall to the audience, could easily have come from a camp cabaret performance.
The actor then blends into the historical surroundings, portraying the artist who has been commissioned to team up with Sirine Saba as Lorenzo De Medici's wife Clarice Orsini in creating the Venus for which Botticelli would still be renowned half a millennium later.
In addition to painting the wife of Florence's ruler, the sexually rampant and pluralist artist takes her to bed (more specifically floor), in doing so inevitably firing the ire of Adetomiwa Edun's Lorenzo, a man already troubled by the plague's ravages and with a reputation for neither patience or charity.
An additional complication arises in the person of Botticelli's new apprentice, a callow boy named Leonardo da Vinci, blessed by genius and played by Hiran Abeysekera.
In no time, as "Leo" begins to improve the masterpiece, his boss falls head over heels in love with the young man, which proves to be bad timing since homophobia has already become a diversionary tactic of the Medicis, desperate to find something to take the citizens' minds off the ever rising body count, symbolically depicted through the back window of James Cotterill's remarkable set.
This is fronted by Botticelli's gigantic 21st-century studio, complete with mobile phone etc. but also utilises the glass backdrop to create a series of striking images that mirror iconic artworks of the past, most memorably when Leo is tortured, and leads up to a final vignette that might well have been influenced by the art of Gilbert and George.
After the interval in an evening that runs to 2½ hours, the stakes are raised when Botticelli is forced to enter into a Faustian pact with an unusual Mephistopheles, Howard Ward taking the role of controversial cleric Savanarola.
The issue that neither Jordan Tannahill nor Blanche McIntyre satisfactorily resolves is the culture clash between a fascinating historical and artistic story and the decision to present the drama in a manner that combines 21st-century queer cabaret and something considerably more realistic.
There is every possibility that in programming this play, Hampstead's new Artistic Director Roxana Silbert was looking to bring in a young, gay audience. The more typical habitués of this north London venue might well be little more wary of a piece that can be both entertaining and shocking but, as such, lies far from the mainstream.
Reviewer: Philip Fisher