Bottle Universe
Simon Burt
Bush Theatre
(2005)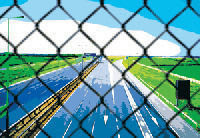 Simon Burt is a playwright to follow and he has a cast and production that really highlight his ability to get into teenage minds.
The Bush Theatre's Artistic Director and a fellow Yorkshireman, Mike Bradwel, has been a great supporter of the young man who spent a year as Writer in Residence at the theatre.
Burt's third play, set amongst the youth of the playwright's home town, Wakefield, brings to mind his first, Untouchable. This time, he focuses on teenagers who are, like the two slightly older girls in that play, beginning to undergo the seemingly unbearable traumas that will eventually lead them into the relative sanity of adulthood.
In Bottle Universe, his protagonists, David and Lauren, are fourteen-year-olds who seemingly have little in common beyond the same school uniform and the devoted support of a teacher, Mr Richmond, whose character on occasion brings to mind Robin Williams in Dead Poets Society.
Swaggering, ginger-haired "Cock Dave" has a suicidal mother and a father who doesn't care. The boy is an outsider whose sole ambition is to become the school's biggest lout, his Nirvana a solitary prison cell with a TV.
He gets his kicks from messing around at school and inviting himself into solitary detentions with veteran teacher Richmond whom he identifies as a father figure, though he'd never admit as much.
Pretty, blonde Lauren is too clever for her own good. She is bullied so much in class that her first meeting with David occurs when she literally has a noose around her neck. Burt's eye for black humour has the belligerent would-be suicide verbally defending herself whilst fighting the rope that she is unable to remove without help.
From this unlikely beginning and despite the constant insults that indicate teen mock-bravado, the pair begin to bond and become the closest of friends.
Street-smart David helps Lauren to value life through a game of chicken on the motorway (a cheaper rush than drugs). She returns the favour by giving him the friendship that makes life seem worthwhile and a wider view of the world, symbolically taking him to the top of the town.
Throughout, they receive quiet support from Richmond who has a soft spot for each of them. It is much needed, first as Lauren is transferred to a "posh" school where the inverted snobbery that she is used to merely loses the inversion and then when David's mother finally succeeds in killing herself.
The Bush seems to specialise in junk yard sets at the moment and Bob Bailey's symbolic climbing frame of rusting metal, topped with a leather sofa minus the guts, is a challenge to its actors, who will do well to complete the run unscathed.
Director Sue Dunderdale keeps up the pace and is rewarded by strong performances from Jessica Harris as Lauren and Drop the Dead Donkey's Jeff Rawle as the teacher.
However, Mikey North whose career to date has largely been with the National Youth Theatre shows that he could be destined for greatness. His portrayal of David is remarkable as he exudes pent up frustration both with an inability to remain still and through a whole gamut of generally pained facial expressions, broken by the odd ray of sunshine.
The plot speeds up a little too much towards the end but leaves little doubt that Simon Burt's career is still on the up. He takes us into a world rarely seen on a London stage with his northern teenagers and strange teen language - soz, minging and monk for example. His combination of raw comedy (from an absolutely cracking first line onwards) and pathos is hard to beat.
Reviewer: Philip Fisher