Bourgeois and Maurice's Insane Animals
George Heyworth and Liv Morris
HOME Manchester
HOME Manchester
–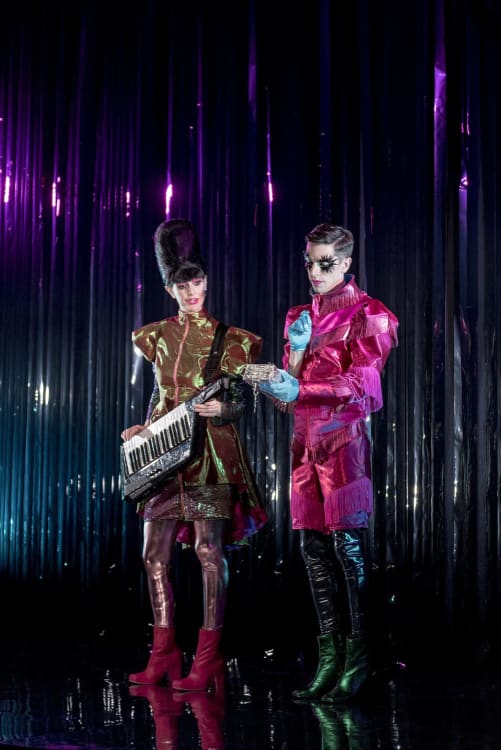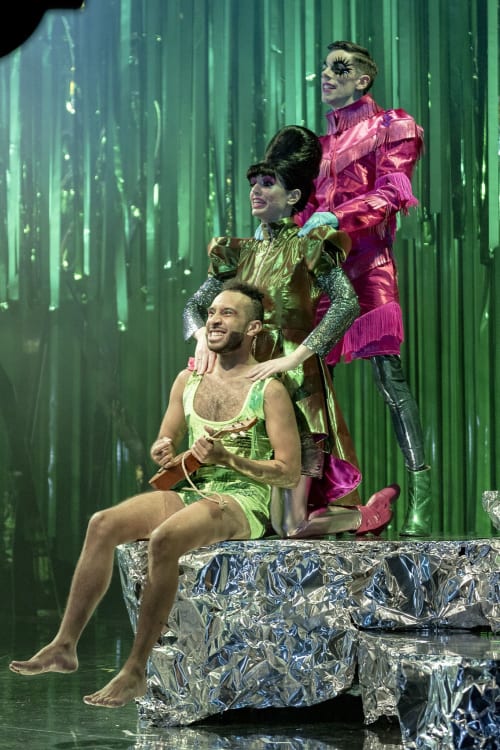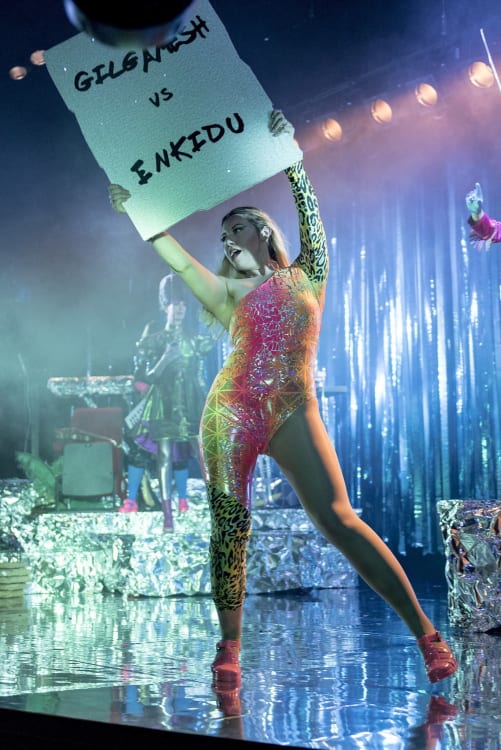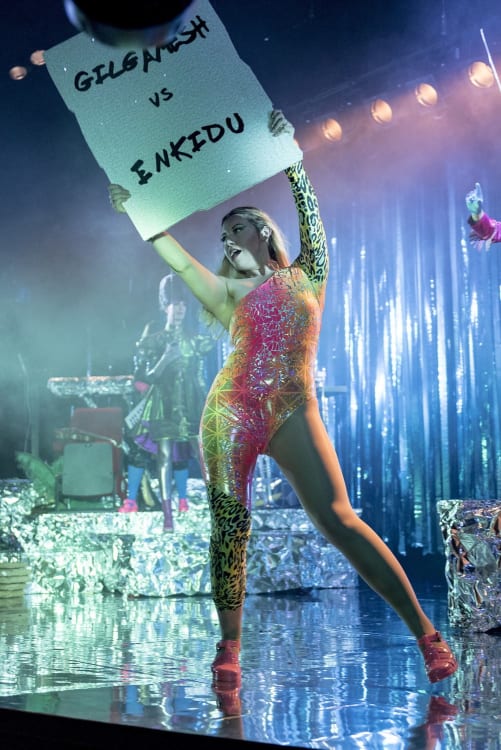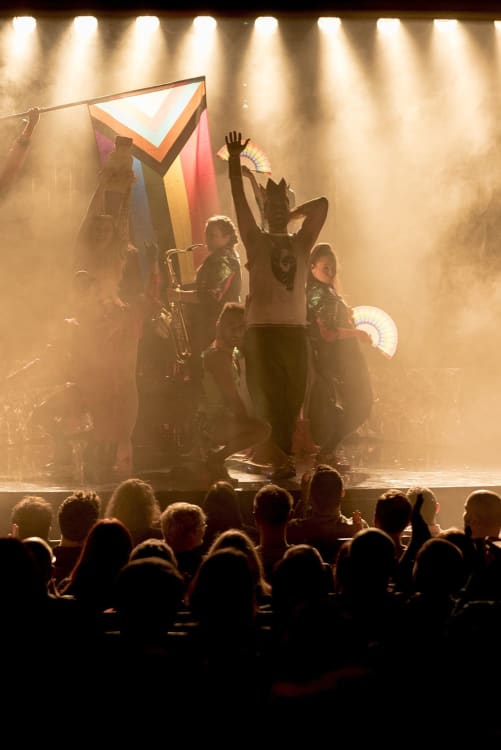 Billed as "the first ever musical commissioned and produced by HOME" (although musicals were frequently produced by Library Theatre Company from which HOME was partly formed), the Manchester venue has brought in George Heyworth and Liv Morris, who have performed as musical comedy duo Bourgeois and Maurice since 2007, to write their first ever musical involving other actors.
The show has its roots firmly in cabaret more than it does in musical theatre, with the whole show revolving entirely around the writers as the characters they usually perform. Here, they come to us as aliens who have noticed that things aren't going too well here on earth and that humans are—as the opening song appears to be saying, although sound issues on press night meant that most of the lyrics were inaudible early on—on the "Brink of Extinction". Bourgeois wants to help us see the error of our ways, although Maurice thinks they should just eradicate the humans so the planet can recover by itself.
The way they intend to do this is to retell the 4,000-year-old Epic of Gilgamesh with a bit of audience participation. There are some well-performed surprises around how this is set up which I'm not allowed to reveal, but if you saw Filter's A Midsummer Night's Dream at the Royal Exchange in 2012 you may guess. B&M become gods who read the story from very light stone tablets (or perhaps they're just very strong) of King Gilgamesh, who gets a wise woman / prostitute to seduce the wild man Enkidu, who was created by the gods to try to stop the King from oppressing his people.
The two men fight but are equally matched so end up respecting one another; in this version they become lovers ("Gay For You"). However when they kill a 'monster' who was the guardian of the forest, the gods punish them by killing Enkidu. Gilgamesh, distraught, seeks the secret of eternal life, which in this telling involves B&M transporting him to the future, where he could be digitised into a modern version of a tablet and freed from his "Meat Machine". The narrative thread is much weaker in the second half; there are some interesting metatheatrical ponderings on mortality, the nature of performance and the fakery of playing a role, but very little of substance about saving the planet. However it ends with an uplifting explosion of ego as B&M sing "Thank God for us" before a closing title song.
The show owes a lot, I would say, to Rocky Horror Show—Bourgeois and Maurice come across as a 21st-century Riff Raff and Magenta—but it isn't anything like as radical as that earlier show looks even now, let alone in 1973, and it's satirical quips don't have the same stinging insight as Rocky sequel Shock Treatment. The songs are well-written with lyrics that are functional rather than great, varying in style from the '80s synth pop opening to Enkidu's happy-clappy number to '50s sci-fi film music (complete with theremin played by remarkable musician and MD Victoria Falconer). There are lots of quirky little twists in the witty script, although many are diversions from the plot rather than integral to them.
Michael Hankin's scenic design and Julian Smith's costumes hark back to old sci-fi as well, with shiny costumes (and lots of jelly sandals) and a tinfoil-covered set, with the musicians arranged around the stage in a way that reminded me of Return to the Forbidden Planet. The cast, who all play multiple roles and multiple instruments, aren't assigned roles in the programme (so I'm not sure why it was thought that handing out programmes before the interval would spoil any surprises—there aren't even cast photos with the biographies), but apart from B&M they are Lockie Chapman, Emer Dineen, Victoria Falconer, Evie Jones, Kayed Mohamed-Mason and Jarrad Payne.
The questions about saving the planet it raises are only very superficially handled and any references to issues in the real world are just treated as an excuse for a quick gag, but it seems to be selling well, and there were plenty of people around me laughing a lot more than I was, so it is finding its audience.
This camp, brash entertainment may be an extended cabaret act with an larger cast and a big budget thrown at it (and, according to Company Stage Manager Jamie Byron on Twitter, "the longest technical week ever") but it's good fun and never dull, if longer than it needs to be (almost two and a half hours).
Reviewer: David Chadderton