Boys
Ella Hickson
Headlong
Soho Theatre
–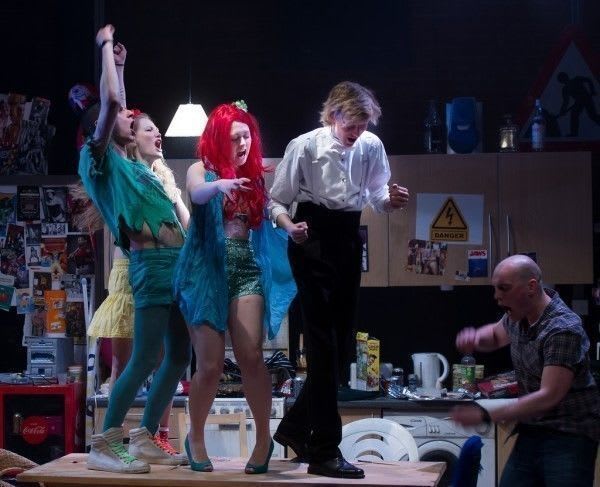 Ella Hickson is one of the hottest young writers around and in Boys shows flashes of brilliance without developing them into a satisfying whole.
Drawing on her own fairly recent experience, one imagines, she sets the 2½ hour tragicomedy, originally produced by Headlong at this year's HighTide Festival, in the kitchen of a student dive that will bring back mixed memories for many viewers.
This is one room in the Edinburgh home of four Boys, which is visited regularly by a couple of young ladies. The two students of the house are about to graduate, as the lease runs out, making this a watershed and time to reflect on the last few years.
A collapsing bank sign proclaiming that student years are "The best days of your life" ironically symbolises what has been and is to follow.
The first half can be fairly predictable as the lads surface from yet another party desperately trying to remember what they might have to boast about.
They are a mixed bunch. The central figure is tubby killjoy Benny, a freezer-top voyeur played by Danny Kirrane who has just been awarded a first but struggles to crack a smile even at this great news. His antithesis is the ultimate hedonist, Tom Mothersdale's Timp, a heavily tattooed, 30-year-old sushi chef.
The household is completed by the only local, Lorn Macdonald as violin prodigy Cam and viciously confrontational Mack, Samuel Edward Cook. If this is what Benny's best friend is like, one would hate to meet his enemies.
Like the archetypal students and escapists that they represent on stage, this quartet will party hard without considering the consequences.
When the girls arrive, they do their best to fit in although, as Alison O'Donnell's Laura intuitively points out, their brains are not wired in the same way as the boys. She is attached to promiscuous Timp, which is a relationship always likely to involve, if not actually end in, tears.
The trickiest pairing on the surface is that between well-spoken Sophie, played by Eve Ponsonby and the determinedly monosyllabic Mack, with whom she unbelievably once managed a nine hour long conversation.
What seems like an elongated and updated version of The Young Ones takes on a rather different character just before the interval when Benny reveals that not long before, his brother had committed suicide in the very kitchen where the permanent partying is going on. This explains one or two earlier plot confusions but also changes the nature of the evening.
At times, the ensuing drama can seem almost like An Inspector Calls, as the audience is given the opportunity to speculate on what or who drove a bright 23-year-old to forsake his promising future.
What the students are feeling inside, the Rome of the North is representing a wider scale, burning after a police van explodes on Princes Street to exacerbate an edgy atmosphere created by piles of uncollected rubbish resulting from a council strike.
There is a much for visitors to get their teeth into although the script is far from perfect. At times, Ella Hickson delights with her wit, complemented by some nice flourishes from director Robert Icke, and fascinating left-field philosophical meanderings.
The characters are generally hard to identify with, partly because they are all a little too close to ciphers for comfort. The plotting also tends to get lost in strange byways, which might be a deliberate ploy to replicate the haphazard, intoxicant-fuelled experiences of the flatmates.
The overall conclusion must be that Boys would have benefited from a good dramaturg and some judicious cutting, which might well have sharpened up the ideas and storytelling in a play that promises much but doesn't quite manage to deliver.
Reviewer: Philip Fisher