The Birthday Party
Harold Pinter
Lyric, Hammersmith
(2008)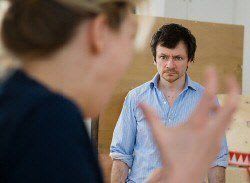 In a way, David Farr's production marks a double celebration. Not only does the evening centre on Stanley's birthday party but on May 19th the play celebrates the 50th anniversary of its London debut at the same theatre.
At the time, with every critic bar Harold Hobson in The Sunday Times giving the rookie playwright the thumbs down, nobody can have guessed that this play would have survived, let alone its writer become a Nobel Laureate and all round icon.
The official anniversary production takes place in a shabby, peeling kitchen parlour that designer Jon Bausor has shrunk at the back but exploded outwards, mirroring the drama.
This is the cosy (a euphemism for small) dining area of a seaside B&B run by Sheila Hancock and Alan Williams as Meg and Petey, a slow talking couple who might well have spent their lives in an institution, in those far off days before care in the community became de rigueur.
The only lodger in this worst imaginable of guesthouses is Justin Salinger's Stanley, another candidate for state care. He is an out of work, end-of-the-pier pianist who seems consumed by fear of something unknown. He spends much of his life wading through a slow motion dream, only occasionally getting angrily animated generally at the fondnesses of his doting landlady.
There is at least a possibility that the whole of his birthday nightmare takes place in the poor man's head. Certainly, what happens defies logic and does not easily offer up clear meanings.
The domesticated mood changes to sinister with the arrival of Goldberg and McCann, looking like a pair of undertakers or possibly masons. Nicholas Woodeson makes Goldberg intensely threatening, if only intermittently Jewish, while Lloyd Hutchinson's Irish thug willingly acts as his far from bright henchman.
The party of the title makes nobody happy, as the hostess can remember nothing, next door neighbour Lulu (Sian Brooke) undergoes a fate worse than death and, after a game of blind man's buff, the catatonic Stanley might as well be dead.
As an introduction to the sinister world of Harold Pinter, The Birthday Party works well, prefiguring some of his interests and of sessions over the following half century. Whether this slow-based production will be remembered for as long might be more questionable.
Reviewer: Philip Fisher