Brassed Off
Adapted by Paul Allen, based on the screenplay by Mark Herman
Octagon Theatre Bolton, York Theatre Royal and the Touring Consortium Theatre Company
Octagon Theatre, Bolton
–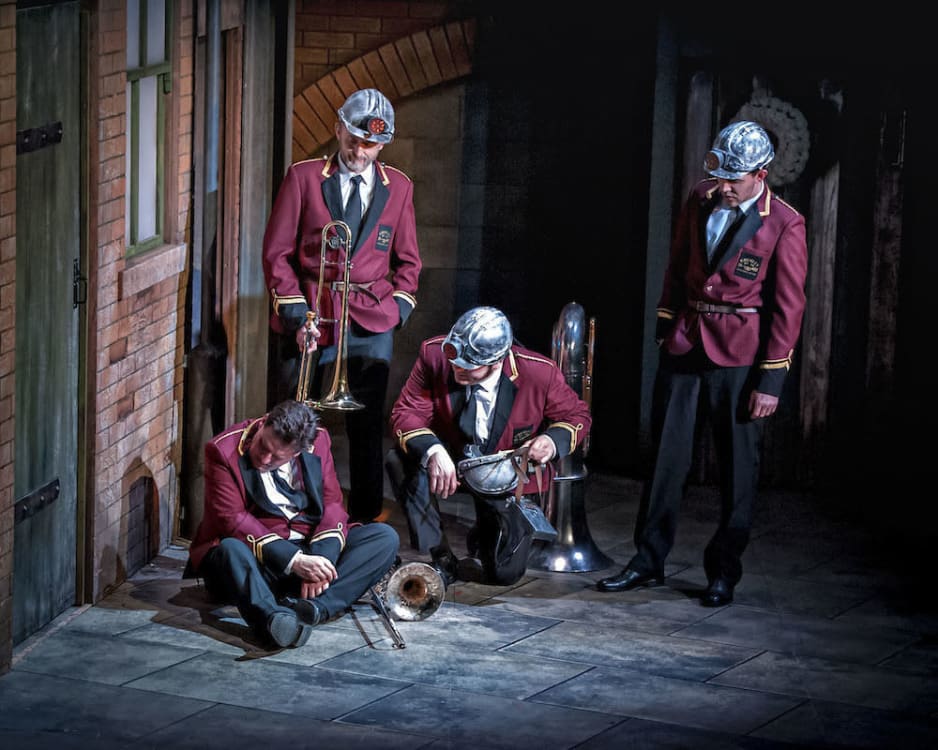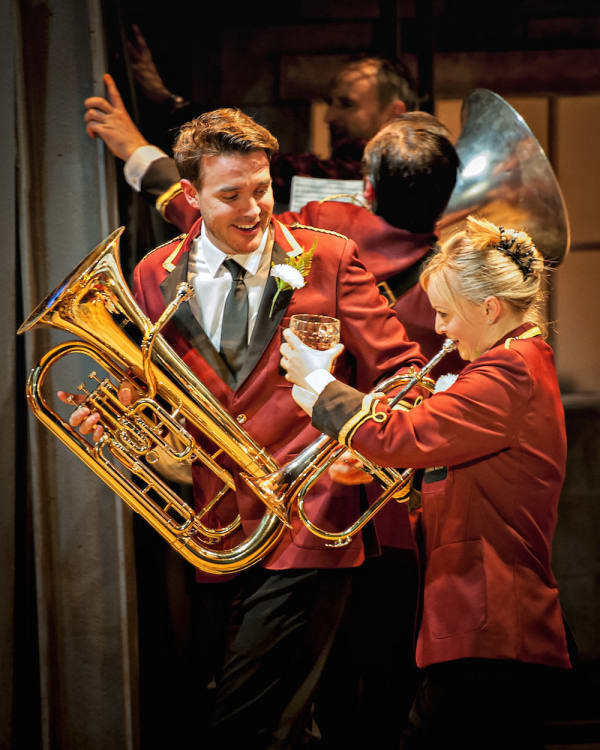 In the last decade of the twentieth century, three hit British films portrayed working class people trying to survive and express themselves artistically against the backdrop of former industrial communities devastated by Thatcher's battles against the unions.
All three of these—Brassed Off, The Full Monty and Billy Elliot—are now very successful stage shows, indicating that there is still a great deal of interest in the stories they tell.
Mark Herman's screenplay is set ten years after the famous 1984 miners' strike when the Conservative government set out to smash the power of the unions, whatever the cost to British heavy industry. The colliery is still open in Grimley—a fictionalised version of Grimethorpe in Barnsley—but consultants have been brought in to see whether the mine is profitable and the men have been offered a bug redundancy payout.
In a community still paying off debts from the strike ten years earlier, £23,000 is a very tempting offer, but admitting to voting for the money is still dangerous in this deeply-divided community where memories of the strike are like memories of the war to earlier generations.
The men's diversion from the troubles (although there are women in the on stage band, something I suspect we are meant to ignore, otherwise it would confuse a few elements of the plot) is the colliery brass band, run by retired miner Danny. Victory in the band contests is a way the men can achieve something of which they can be proud, although some use it as an excuse to get drunk.
The script cleverly weaves together many different issues affecting this community. Danny is coughing black dust into his handkerchief, while his son Phil spends money on a new trombone just as his furniture and house are reposessed.
Andy's childhood love Gloria returns to Grimley and even joins the band, but it turns out that she is the surveyor looking at the mine's feasibility and she becomes an outcast. Andy tells her that the owners want to close the mine anyway but she doesn't believe him, until she turns in a report full of promise for the mine's future and the mine is closed.
There is the classic structure of these kind of stories in that there is a big performance at the Albert Hall that the men are working towards, then they all decide to pack in the band and not go, then... Well I don't want to throw in any spoilers, but I'm sure you can guess what happens as it's pretty much the same as the end of The Full Monty but fully-clothed and with brass band music.
Paul Allen's stage adaptation is faithful to the original and works pretty well, but there are some stage conventions introduced that aren't really necessary. There is narration from someone who was a young boy in 1994 looking back, which adds nothing to our understanding of the story and I believe the play would be better if this were removed. The monologues work a bit better, but again they aren't in the film so it is questionable whether they tell us anything we don't learn more effectively elsewhere.
Damian Cruden's production visits Bolton at the end of a tour, but it still seems fresh and alive with plenty of energy. There are excellent performances from all, with an affecting performance from John McArdle as Danny and a superbly detailed depiction by Andrew Dunn as his son Phil opposite Rebecca Clay as Phil's long-suffering but loving wife Sandra.
Clara Darcy, who has appeared as an actor-musician on the Octagon stage several times before, shows off her acting and playing ability once more as Gloria opposite James Robinson as Andy. On press night, it was Wingates brass band whose sound impressively filled the Octagon's auditorium.
The ending gives a speech to Danny on the stage of the Albert Hall, but still in the shadow of the great colliery wheel in Dawn Allsopp's design, that stands comfortably alongside the recent This May Hurt A Bit as a political rallying call to save those parts of our society that still serve a useful purpose, even if they don't fit the profit-conscious motive of current politics.
This is theatre that is fun and funny as well as being unashamedly popular and unashamedly political while largely avoiding sentimentality, managing to keep its political ideals where Full Monty's were watered down by broad acting and drowned out by the whooping of drunken hen parties.
I would recommend it, but the whole run at the Octagon was sold out before it opened.
Reviewer: David Chadderton