This May Hurt A Bit
Stella Feehily
Out of Joint
Octagon Theatre, Bolton
–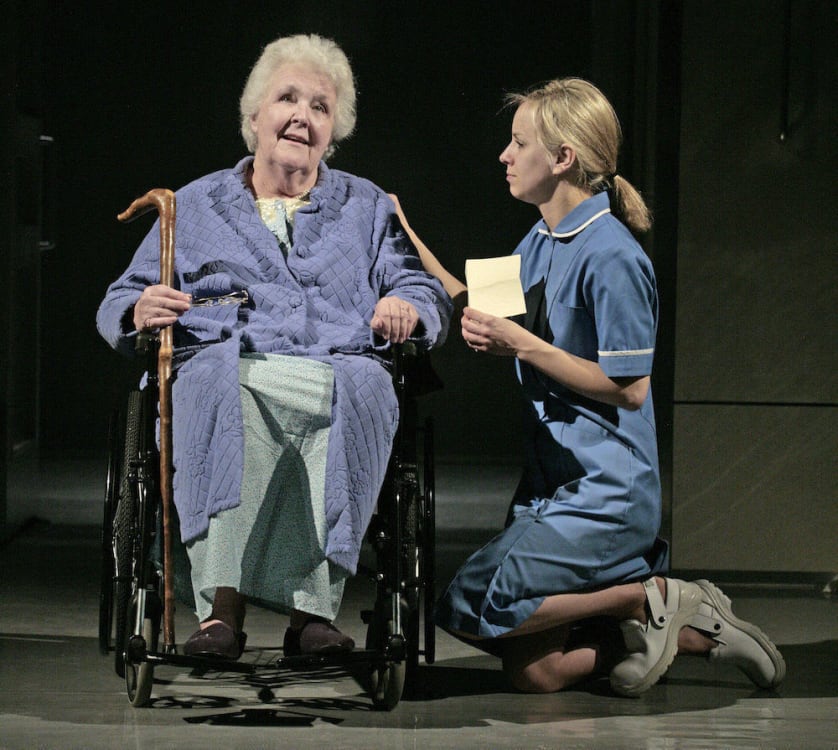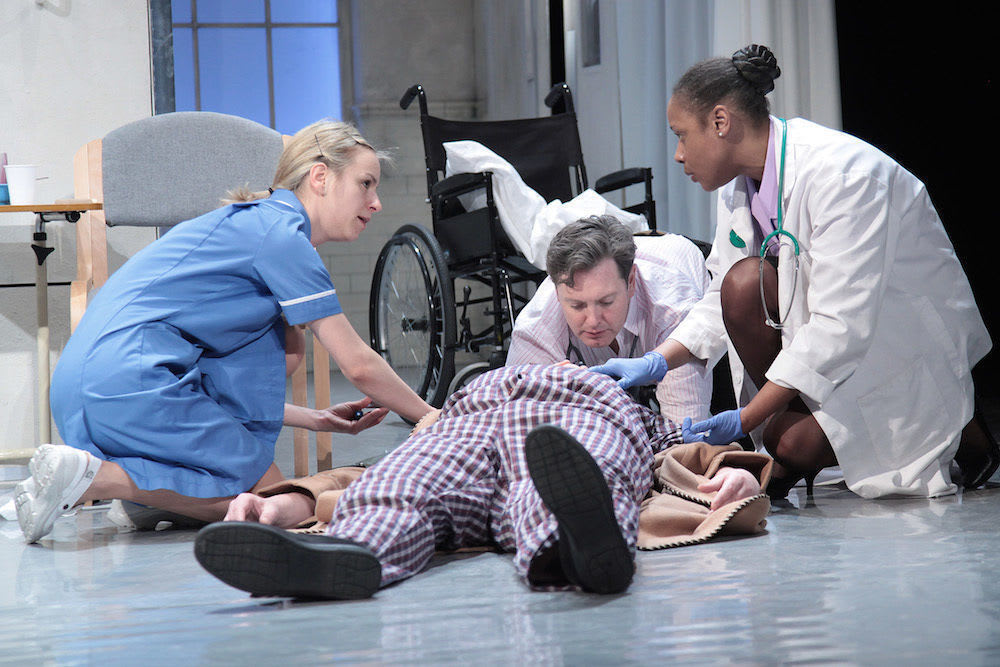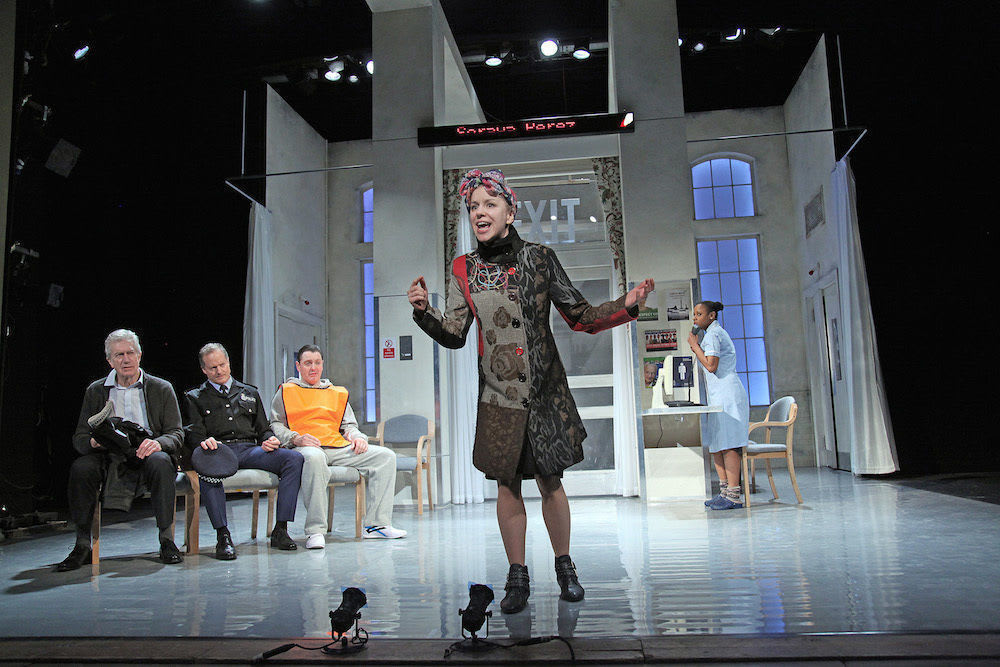 Just as the British show that is still the most successful at emulating Brecht's combination of the political with the popular—rarely achieved even in British productions of Brecht's plays—is celebrating its fiftieth anniversary over at Stratford East, the latest Out of Joint production suggests that playwright Stella Feehily has been investigating Brecht's style.
This is unapologetic political theatre, a polemic against the privatisation of the NHS by stealth. At a time when politicians complain about political apathy but probably really prefer being left to get on with running the country without voter interference, there should be more theatre like this. Much more.
The play begins in the style of Fears and Miseries-era Brecht, with a series of scenes without any obvious links of narrative or character. Aneurin Bevan addresses the House in 1948 about the upcoming launch of the NHS, then there is a Yes, Prime Minister-style discussion between an unnamed Prime Minister and a senior civil servant in 2011. Another Brechtian touch is the scene titles on an Oh What A Lovely War-style display over the stage.
A 65-year-old woman is brought into the Harrington Hospital who turns out to be a personification of the NHS, discussing her relationships with various prime ministers. Meanwhile, we have been introduced to some characters who will form a more continuous narrative: Iris and her two grown-up children, Nicholas and Mariel.
Iris comes across as an old-school socialist with an intellectual understanding of left-wing politics. Nicholas is of the same mind but more argumentative, whereas Mariel agrees with her rich American husband Hank that the American system of private medical insurance is better.
Iris falls ill and is taken to the Harrington, which allows Feehily to show the stressed staff working flat-out to do their best for their patients while enduring the all-too-visible effects of funding and staff cuts. Iris flatly refuses Hank and Mariel's offer to pay for her to go to a private hospital that is fully-staffed and doesn't have blood on the ceiling.
While there is an emotional pull to the more naturalistic scenes, the political arguments are reinforced by changes in style. Bevan and Winston Churchill suddenly appear in Iris's living room, there is a lecture delivered directly to the audience about how the PFI scheme is crippling the NHS financially, a weather girl shows NHS cuts across the country on a map and there are songs and dances with a deliberate banality and profanity to the lyrics reminiscent of Jerry Springer the Opera, or perhaps London Road.
There are very strong performances from this 8-strong cast. Only Stephanie Cole as Iris plays a single role; her comic timing, as expected, is spot-on, but she also creates some particularly moving moments in a finely-detailed performance. She is supported well by Brian Protheroe and Jane Wymark as her son and daughter and William Hope as her son-in-law.
Natalie Klamar gives a particular impressive performance as put-upon geriatric nurse Gina as does Tristram Wymark as stroke victim John, with other parts covered impressively by Frances Ashman and Hywel Morgan.
The problem with agit-prop theatre is that it tends to preach to the choir rather than convert anyone to its point of view, but it can act as a rallying call to those who may sympathise with its message but who may not have thought through the issues fully or considered taking action.
There are moments of good comedy and touching pathos, there are messages and statistics to provoke anger and Stafford-Clark, who himself suffered a stroke only a few years ago, coaxes some great performances from his actors, but it certainly isn't perfect.
It is clear that there is passion and commitment to the cause from the writer, but the arguments are lacking in depth and rigour. We hear statistics and we see some emotional scenes caused by lack of resources on the front line of hospitals—which I've witnessed first-hand with close family members—but we aren't given strong arguments to fight what we see happening.
Hank's view that the US system is superior is dismissed rather than being challenged, and even the appearance of Bevan and Churchill is more for historical detail than intellectual, political argument.
It is certainly a piece worth seeing. It may help to open up the issue to debate and to encourage some to find out more, but it is also entertaining and very well performed, although the fact that the published script was available on the first night suggests that it may not adapt to react to changing political events as some of the best political theatre is able to do.
Reviewer: David Chadderton