Bread and Butter
C P Taylor
Tricycle, Kilburn
(2004)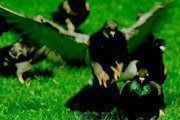 Bread And Butter is a political play set amongst Jewish families in the tenements of the Glasgow Gorbals across the middle of the last century. This production forms the conjunction of two very worthwhile and cheering projects.
Artistic director Nicolas Kent has chosen three plays for the current season that focus on the Tricycle's core communities, Irish, Jewish and Black, and explore politics from a microcosmic point of view.
Award-winning young director, Mark Rosenblatt originally directed Bread And Butter at the Southwark Playhouse some three years ago and has stuck with the project ever since. Now in conjunction with Dominic Dromgoole's Oxford Stage Company, it has completed a successful Scottish tour and moves back to a larger stage in London, bringing its original two male actors with it.
The play explores the lives of two contrasting Jewish couples in Glasgow, commencing in 1931 when they are full of hope, energy and, in some case, ambition and takes them through to old-age in Harold Wilson's Britain of the mid-1960s.
Michael Wilson's Alec, is a good natured, unambitious man who lets life happen around him and draws much pleasure from simple things such as feeding pigeons. His wife, Miriam is far stronger, both directing him and plunging much energy into money-saving schemes that suit her innate meanness.
Quite how they became friendly with idealistic, selfish Morris, played with vigour by Gerry Lepkowsk, is unclear. The sparks that fly around when they are together constantly entertain. Morris is an ideas man who wants to change the world, but, like so many of his ilk, is wholly impractical with his head forever in the clouds.
In 1931 when the play opens, as the son of the factory owner, he cannot persuade the unions to let him become a member. For an avowed Communist, this is both frustrating and insulting.
As the play develops into wartime, Morris finds a wife, the quiet Sharon (Jayne McKenna) and starts to spawn children. He also continues to pursue his political dreams, dragging Alec in his wake, while periodically disappearing to enjoy expensive prostitutes.
Through the Fifties and early Sixties, the two men debate life as Alec soldiers on, ultimately losing Miriam to pleurisy caused by her own meanness, while Morris somehow becomes a pillar of the local community. He also eventually accepts the Judaism which he had been so keen that to noisily repudiate at his wedding but, characteristically when faced with reality, failed to do.
Eventually, watched over by their own Jewish patriarch, Serocca, they view life from a park bench and attempt one final defiant gesture that inevitably comes to nought.
Mark Rosenblatt once more draws good performances from his actors, particularly those playing the "Bread" characters, Miriam and Morris, together with the buttery Alec. Ultimately, it is Gerry Lepkowski who shines, as much as anything because his character gets all of the best lines.
These views of politics through the eyes of ordinary people form a very important part of theatrical tradition. This revival and, indeed, the whole season are greatly to be welcomed and it would be good to see them inspiring contemporary playwrights to follow suit.
Reviewer: Philip Fisher