Breakfast Plays: B!rth – Q&Q
Liwaa Yazji
Traverse Theatre
–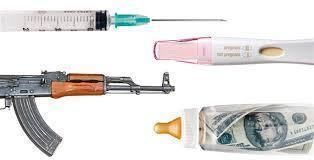 Where the experience leading up to and following birth in Britain is largely enjoyable and in India a challenge, for Syrian women, it is fraught with pain.
Q&Q features a triple interrogation. On one side are women who have or wish to have children. On the other are Syreeta Kumar and Abdul Salis playing representatives of the authorities and charities at a refugee camp in Calais.
The three women portrayed by Tessa Parr, Neshla Caplan and Jamie Marie Leary are respectively an aid worker, a prostitute and someone who has literally lost her husband, most likely dead in the civil war that has blighted their lives and those of millions of others.
Each has a story to tell, that can then be multiplied up for their fellows.
The aid worker was raped and suffers from anxiety, the prostitute was seduced and kidnapped, forced into her work, while the third woman comes from a village where Daesh ruled and is suspected of being a terrorist.
This is chastening and provides a sad reflection of how the world is still far from civilised, meaning that ordinary day to day life can be impossible for so many.
Reviewer: Philip Fisher