Breakfast Plays: Youthquake - Grout and Old Enough
Ella Hickson and Laurie Motherwell
Traverse Theatre Company
Traverse Theatre
–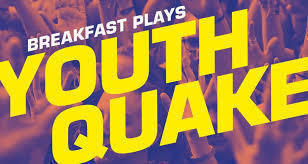 Apparently "youthquake" was the OED's word of the year in 2017. As such, it seems a reasonable theme for this year's Breakfast Plays, always a Fringe highlight, which pair experienced writers with tyros in three programmes.
Grout by Ella Hickson
Grout tangentially looks at differing attitudes between old and young. It starts with an accident in which a 6-year-old is badly hurt when a driver knocks him off his bike.
This brings Joanna Tope as a woman in her sixties who witnessed the accident together with two strangers.
Rehanna Macdonald is a young woman who believes that she has witnessed an example of second sight involving the child's mother. In that light, she is keen to prove her thesis. The woman is grudgingly helpful, while Christian Ortega's young man is more interested in his phone, thereby telling a cogent tale about youth today.
Love also threatens to impinge, but only if the phone can be quieted.
Old Enough by Laurie Motherwell
Old Enough works off a brilliant concept.
In order to protect the young, the age of consent for anything vaguely enjoyable is to be raised to 25.
On the eve of the big day, 20-year-old Jo and Poll, six years her senior, get together for a night of passion and debauchery before she ceases to be of age.
Their debates about life, love and sex, booze and fags are insightful though feel a little stretched to last a full half hour.
This short piece announces Laurie Motherwell as someone with a fresh authorial voice and great promise.
Reviewer: Philip Fisher