Breakfast Plays: Youthquake – The Things I would Tell You (By Some Young British Muslim Women) and Lurker
Sabrina Mahfouz and Natalie Mackinnon
Traverse Theatre Company
Traverse Theatre
–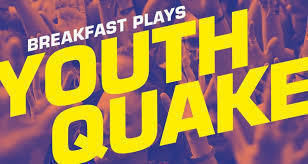 The final pairing sees Sabrina Mahfouz mentoring Natalie Mackinnon in contrasting plays.
The Things I would Tell You (By Some Young British Muslim Women) curated by Sabrina Mahfouz (including work from Aisha Mirza, Aliyah Hasinah Holder and Nafeesa Hamid)
In only half an hour, drawing on performance poetry, history, metatheatre and philosophical thinking, Sabrina Mahfouz has compiled a complex but insightful portrait of young Muslim womanhood today.
This is wide-ranging and informative for those that do not come from this culture or age group.
Lurker by Natalie Mackinnon
The companion piece is a more traditional play.
It focuses on Anya, who decides to investigate when a young blogger disappears off the face of social media.
The Verity Project is intended as a rescue mission but where concern dips over into stalking becomes a central theme in yet another example of the talents being nurtured by the Traverse Young Writers' Group.
Reviewer: Philip Fisher