Breakfast with Mugabe
Fraser Grace
RSC New Writing Season
Soho Theatre
(2006)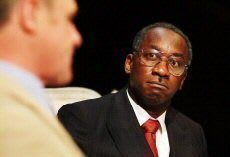 Robert Mugabe has become one of the biggest bogeymen of his time. He is reviled in his own country, Zimbabwe, and renowned as a mass murderer around the world. In Britain, he has not helped his cause by banning our media and, in particular, what he delights in calling the Blair Broadcasting Corporation.
Unlike American presidents and British prime ministers, he has chosen not to understand that, in this day and age, offending the media is the cardinal sin.
In Breakfast with Mugabe, the latest offering in the RSC's new writing season, Fraser Grace has based a play around a neurotic President who has his own bogeyman or ngozi to worry about.
Comrade Bob is so fearful of this ghostly spirit of Tongogara, a man who might have been president, that he calls in the help of a senior white psychiatrist from the local hospital, Dr Andrew Peric.
David Rintoul in this role is first seen in a discussion with the second Mrs Mugabe, played by Noma Dumezweni. She was the President's secretary and mistress until her predecessor died and she has become the most powerful woman in the country but is still aware that she must bow to the whims of an unstable husband 40 years her senior.
The doctor is an amazing man, laying down the law before agreeing to work with his distinguished patient. Having survived for so long as a white man in a black community, he has built up a reputation that is second to none for working with and understanding the mentality and background of the Shona locals.
His relationship with the President was always going to be difficult, though, as Mugabe both wished to be rid of his demon and to retain as much privacy as he could manage.
As the play develops, he becomes a kind of African Macbeth, a role already assigned to the late Idi Amin of Uganda. The spirit that haunts him, as he becomes an increasingly manic dictator, is that of a former comrade, who might have been president instead of either the Reverend Canaan Banana whose downfall resulted from his homosexuality or of Mugabe himself.
It is unclear from the play whether Mugabe was responsible for the car crash that ensured that Tongogara would never make it to the highest position in the land but perhaps we are intended to come to this conclusion.
As the therapy continues, we are allowed to learn something of Mugabe's mentality and what has made this man into a tyrant hated by so many of his own people and much of the world.
Perhaps the key defining moment during his eleven years in prison as a political victim of Ian Smith was the death of a three-year-old son whom he had barely seen and whose funeral he was not allowed to attend. An action like this could drive anybody mad and lead them to seek vengeance even many years later.
This is a very wordy play and on occasions, the text lacks clarity, as it attempts to portray an evil man, well played by Joseph Mydell who even looks the part.
By the end, the good doctor who has tried so hard to cure his patient is shown to have ulterior motives. Even so, his final demise is awful to behold, even if it does allow David Rintoul a high point in a strong performance under the accomplished direction of a man better known for his acting and writing, Sir Antony Sher.
Breakfast with Mugabe provides its audience with an intense ninety minutes, by the end of which they will probably both understand and hate comrade Bob even more than they had before they arrived at the Theatre.
Reviewer: Philip Fisher