Breaking into Song
Adam Lenson
Salamander Street
Released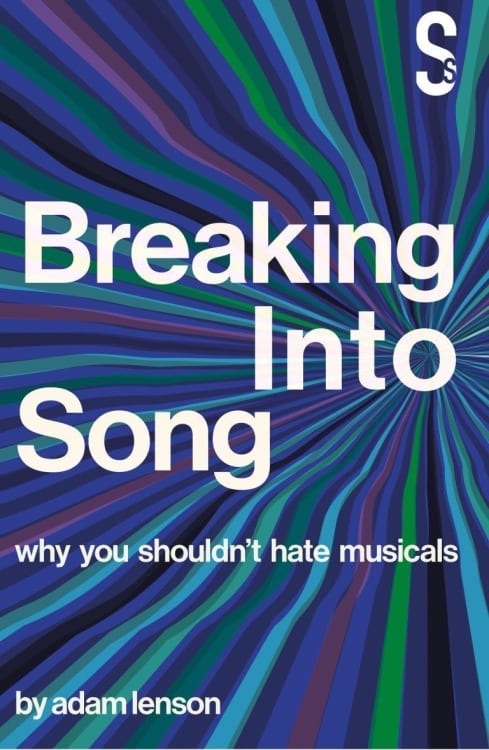 It could be argued that the subtitle for this elegy to musical theatre is, like some of the songs and productions that it glorifies, even catchier than the headline.
Adam Lenson is an evangelist for musicals as becomes obvious when you read that subtitle: "why you shouldn't hate musicals". Ironically, for someone attempting to support this message, towards the end of the book he comes clean. "So, musicals can be very good, but they can be very bad. And let's be honest. They are very bad a lot more often than they are very good."
Therefore, this book is far more than a desperate plea to those whose back was already turned to the form after watching too many of those very bad musicals. Regardless of the author's wish, it is a fact of life that Breaking into Song is much more likely to be read and enjoyed by those who are already converts to the cause to which this director devotes himself with such enthusiasm and fervour.
His best hope on the evangelising front might derive from fans who purchase copies for friends and loved ones with phobias about the medium in the hope that they can be persuaded to become musical theatre companions in future.
Nobody could fault Adam Lenson's commitment to his passion in what is effectively a manifesto for what he describes as "disruptive musicals". At times, his mission can go a little too far. For example, there is a chapter in which it is suggested that one reason why musicals are not regarded as akin to high culture is the fact that they mix two separate artforms. The proposition is that this will immediately be looked down upon by those who define culture. Without wishing to appear too argumentative, many would regard opera, the combination of music and drama and ballet, dance and music as higher forms of culture even than plays and literature. This is acknowledged later in the book.
The central thesis comes down to a distinction between what the man in the street sees as the typical musical, either shallow stories linked by bland songs with the occasional blockbuster or jukebox efforts that have minimal artistic merit, although at least the music is likely to be good. Justifiably, the author strongly believes that there is far more to this format than the flashy, high-profile shows that charge extortionate ticket prices and are loved by a certain element of the public.
For him, the sky is the limit and musicals can be as varied as any other art form. That is the key issue since, as he so readily accepts, far too many shows are bad advertisements for the genre (a term that he hates but still seems to fit the bill). After all, despite his own sterling work, there are still far too few examples of exciting, imaginative and ground-breaking new musicals.
One of the most intriguing chapters, "The Triangle", proposes that in many cases, the reason why musicals fail to achieve their goals is an imbalance between three specific factors, confusingly referred to as form, chronic and autobiography.
Readers will know all about form, while chronic refers to large-scale issues, for example society and the political climate. Finally, autobiography looks at individual or personal circumstances. Far too often, musicals concentrate on dull autobiography rather than being more fully rounded.
At times, in his attempt to convert the unconvertible, Adam Lenson becomes a little too repetitive, making points in which he so strongly believes several times. However, his overall thesis is worth reading and might just make a few people reconsider their opposition, having discovered that the medium is much wider than they ever imagined.
Reviewer: Philip Fisher