Breaking The Ice
Kieran Lynn
A Play, A Pie And A Pint, Òran Mór
Traverse Theatre, Edinburgh
–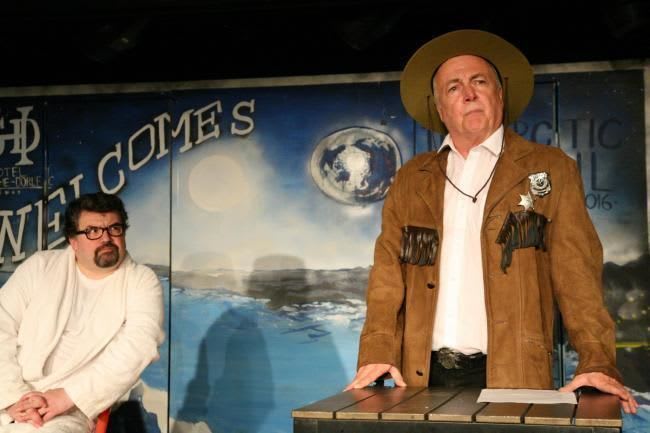 A Play, A Pie And A Pint begins its autumn run at the Traverse with comfort food, beer and entertainment to help us through the darkening days and colder winds.
Breaking The Ice is a global warming satire, giving it a certain similarity to Ian McEwan's novel Solar, particularly as both centre around a middle-aged male scientist and the mishaps which befall him.
The comedy reunites three members of the cast of Thon Man Molière, Liz Lochead's equally satirical piece. Despite very different settings, there is a slight similarity in the tone of the pieces, and there's no doubt all three are well suited to comedy roles.
Frank (Steven McNicoll) is attending a conference in Alaska as a key speaker, only he's lost his speech and lost his suit due to a mishap at breakfast. It is quite a silly play, which definitely doesn't take itself too seriously.
A large part of the humour comes not from McNicoll's bumbling academic but the many faces, or rather voices, of Jimmy Chisholm and Nicola Roy. Chisholm and Roy perform the many other conference delegates and Alaskan locals, giving them a great opportunity to show off an array of international accents.
Chisholm manages to go all around the world with American, Russian and English accents; Roy doesn't get quite as many roles, but does a nice transition between nasty US marine to nice US waitress. The piece could perhaps have pushed the actors further with more switching like in the recent staging of The 39 Steps.
The piece perhaps suffers due to trying to combine a serious message with a lot of light humour, although it is quite possible to successfully combine the two.
McNicoll and Chisholm's going round in circles on their way to the conference was rather drawn out and didn't really achieve the humour intended. A little bit more speed might have helped and that applies to the play as a whole.
The play has a good structure and nice ending and is a great showcase for these three comic actors; it could just do with a little faster pace at times.
Reviewer: Seth Ewin