Breaking the Waves
Music by Missy Mazzoli, libretto by Royce Vavrek, based on the film by Lars von Trier
Opera Philadelphia
Opera Philadelphia
–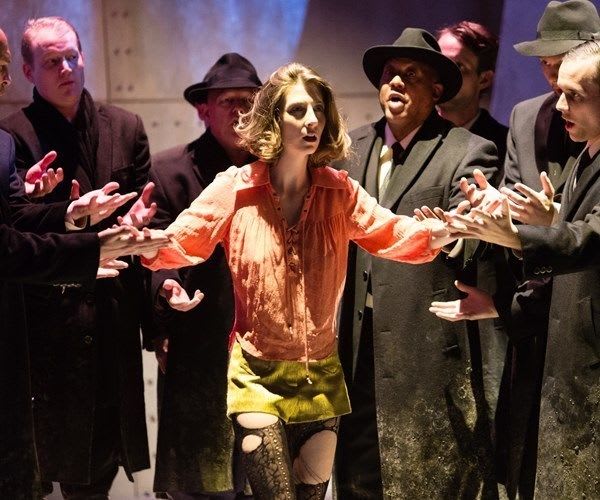 While it is common for creative teams behind stage musicals and plays to base their works on films, the concept is less prevalent in the world of opera.
Even then, rather than selecting a popular blockbuster, composer Missy Mazzoli and librettist Royce Vavrek have chosen to re-imagine Lars von Trier's cult movie from 1996 Breaking the Waves for their 2016 offering, directed by James Darrah and presented in partnership with LA Opera.
The award-winning opera is set on the Isle of Skye 50 years ago and starts with a crescendo, as Kiera Duffy playing Bess McNeill passionately declares her love for Norwegian oil worker "Jan from the rig" in her gorgeous, soaring soprano. By the end of the opening scene, she has wrested permission to marry from the community's elders, taciturn churchmen darkly dressed but encrusted in mud to the waist and very wary of outsiders.
As soon as the helicopter touches down to reveal John Moore's Jan, a rich baritone with the looks and locks of a rock star but also more worryingly a vulpine smile, it is easy to see the attraction.
As mezzo Eve Gigilotti playing her widowed sister-in-law Dodo remarks at the wedding, Bess is almost too good and trusting with "a golden heart" but also a history of mental health issues. This is instantly followed by enforced separation as Jan heads off for a four-week cycle of work, much to the disappointment of his new wife.
Before he can return, Jan suffers a near fatal accident on the rig, as a result of which their lives are transformed. Paralysed Jan can see no future for either of them so, in an attempt to release her, asks Bess to act vicariously on his behalf.
It would be giving too much away to reveal the nature of the work but, after some initial misgivings, she does her best and this appears to have a beneficial effect on her husband's health. However, it also causes the unsettled young woman great distress, which is mirrored by that of the enclosed community. The story plays out to an almost inevitable dénouement, providing much food for thought.
To complement the singers, Stephen Osgood expertly conducts the Opera Philadelphia Orchestra through Missy Mazzoli's discordant, minimalist score during a performance that runs to 2¼ hours.
Breaking the Waves is a very modern opera with dark themes that are reflected in the music and also Darrah's simple, stark production. It succeeds for a number of reasons but primarily thanks to a standout performance by Kiera Duffy, who proves to be as fine an actress as she is a singer, thereby giving a difficult character great depth while at the same time making her wholly sympathetic.
While those brought up on classic operas might initially be wary of 21st century takes on the genre, this is yet another fine offering from Opera Philadelphia that many should find appealing.
Reviewer: Philip Fisher