The Big Brecht Fest Part I
Bertlt Brecht
Young Vic
(2007)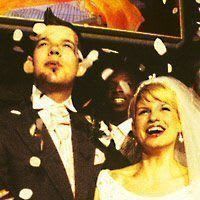 The first two short plays in The Big Brecht Fest (a punning title created by Rory Bremner) could hardly be more of a contrast. What they have in common is imagination and very high production values.
The real surprise is that either is by Brecht, a man renowned for a theatrical style that could hardly be further from these short pieces.
The Jewish Wife translated by Martin Crimp in the Claire Studio
This 1938 play is a moving tale that encapsulates the terror of Nazism, and by extension any other genocide, in little more than half an hour.
Hildegard Bechtler has created an opulent art deco bedroom that is filled with the possessions of a doctor's wife, Judith Keith. After increasing problems for herself, as a Jew and to a lesser extent for her husband Fritz, who finds himself ostracised, she decides to flee to Amsterdam. It is probably far too late and it is implied that she is more likely to end up in a concentration camp.
Anastasia Hille plays "a typical middle-class woman with servants". She perfectly conveys a mood of barely suppressed panic, starting with a silent scene of packing and secreting valuables. A series of one-sided phone calls show that even her so-called friends offer little sympathy to a Jewess, in an atmosphere where her kind are little better than animals. Worst of all is her loss of faith in the limply sympathetic Fritz, whom she largely addresses in his absence.
This short play builds to a final tableau which captures the horror of the time. It is accompanied by the chilling sound of a train that will presumably be carrying Judith and her co-religionists to a horrible death at the hands of "semi-barbarians" who have somehow taken over a country.
Katie Mitchell's direction and Martin Crimp's spare script combine with Miss Hille's acting to offer an amazingly concentrated commentary on a period that now beggars belief.
A Respectable Wedding translated by Rory Bremner in the Maria Studio
When the spring schedules were announced, the eye was immediately caught by the unusual teaming of Bertolt Brecht and Rory Bremner. What next - Noël Coward and Ricky Gervais?
Well - the unlikely pairing works like a dream. Brecht's 1919 play updates perfectly, so that if you were unaware of its provenance, you would instantly accept it as something written by Rory Bremner today.
Ultz has created a boldly-coloured doll's house of a set with tiny living room and kitchen perched precariously on scaffolding and reflected in an idyllic painting that eventually takes on a Dorian Gray quality.
This is where Jemima Rooper's pregnant bride and her groom bring the guests for their wedding night "breakfast". It is also an opportunity for hubby (Russell Tovey) to show off the furniture that has delayed the wedding until his bride's "bulge" is more prominent than might be desired.
To start with, all goes swimmingly, even when Lloyd Hutchinson, playing the bride's Irish dad, starts telling stomach-churning stories of family deaths.
Gradually, like the furniture, the evening disintegrates hilariously but, despite deliberate caricaturing, believably. There is an insulting best man's speech, perfectly delivered by Kobna Holbrook-Smith who later gets his hands on the bride's sister, a blue poem from Tovey's fellow History Boy, James Corden. and a battling couple. This pair suffers from a 7-year-itch and eventually almost come to blows as Doon MacKichan's wife gets overly flirty much to the annoyance of the buttoned-up Martin Savage.
Joe Hill-Gibbins maintains the pace throughout and ensures that the laughs keep coming until a suitably consummating finale that somewhat surprisingly suggests that despite all of the mayhem, this marriage might just have a future.
Reviewer: Philip Fisher