Britain's Got Bhangra
Conceived, written and directed by Pravesh Kumar; music by Sumeet Chopra; lyrics by Dougal Irvine
Theatre Royal, Stratford East, and touring
(2010)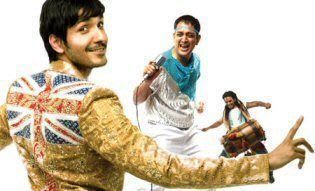 This production, in collaboration with Stratford East and Warwick Arts Centre, celebrates the tenth birthday of Rifco Arts and the company certainly knows how to party. It delighted the audience at E 15.and after a few previews word of mouth is pulling them in.
Bhangra is a British Asian invention that Indian and Bollywood picked up on and Chopra's music recognizes the changing trends in Bhangra music as Kumar's story takes us from the Punjab to England and follows the fortunes of an immigrant with a very individual musical talent.
Twinkle, this central character, is played by Surrinder Singh Parwana (Bhangra star Shin) who co-founded chart-topping Bhangra group DCS back in 1983. He is not exactly the glamorous juvenile you might expect a young girl to fall in love with at first sight as Natasha Lewis's Jussi does, but then, as she says, it is his eyes and his voice she fell for, and Shin's maturity becomes an asset when we have moved on twenty years or more for the later part of the story..
After a slightly awkwardly staged opening behind a gauze that gives us a Punjabi version of 'Twinkle, twinkle little star,' everything kicks into life with Andy Kumar's choreography. In no time Jussi's father is approving a son-in-law who is about to set out for Britain and we are into a wedding scene.
From the sub-continent the action moves to Southall and designer Simon Lima Holdsworth's row of shop fronts from which token setting, furniture or sometimes just actors, can truck out to establish a new location. From one there emerges a successive form of a minibus: the broken down version in which Twinkle drives a load of singing dancing Indian aunties off to work, a highly decorated one that carries his backing group and roadies when he takes off as a singer and the same in its beat up condition when fame has departed.
Unlike the gentle Jussi, Shindie is a bride from whom potential husbands seek to escape. If saris had shoulders hers would be vast: she's a real power lady. Sophiya Haque makes her a charismatic but mean customer and, as her shops and record label companies grow, her machinations, if stopping short of murder, are the direct cause of one.
Key to Twinkle's success is Rocky who may palm him off with a dodgy bus when first encountered but goes on to encourage his singing and provide him with his songs. He's played by Sunil Pramanik, one of the most engaging performers in a cast that is full of talent. There's Rakesh Boury as Twinkle's rapping replacement (were people really saying 'innit' as long ago as this man?), Rina Fatania as Twinkle's mum and a succession of aunties, a bouncy personality who only has to blink to have the audience on her side, and Arun Blair-Mangat as Jason, a boy in search of a father who brings another new sound to bhangra and another twist to the story.
Backing everything throughout is a fine ensemble of which they all become part - Blair-Mangat doubles in drag as one of the aunties, Boury plays not just one but two bride's fathers. It is a company show with great musicians playing traditional drums as well as guitar and keyboards.
Sure, the plot is much less original than the music and the situation of the immigrant, the development of British Asian society and the effect of changing political administrations remain a background that is not explored despite some sharp political humour, but then there is not much time for books, just enough to give us the framework and the motivation for a toe-tapping, shoulder shifting feast of dancing fired by a bhangra beat, and great singing with a vitality that spills over in a final number that erupts into even greater energy through the extended curtain calls the audience demands.
At the Theatre Royal until 16th May 2010, then 24th May - 6th June Warwick Arts Centre, 7th - 12th June Oxford Playhouse, 15th - 19th June Watford Palace Theatre, 21st - 26th June The Lowry Salford Quays, 28th June - 3rd July Theatre Royal Windsor, 12th - 17th July West Yorkshire Playhouse.
Ray Brown reviewed this production in Leeds
Reviewer: Howard Loxton