British Musical Theatre since 1950
Robert Gordon, Olaf Jubin and Millie Taylor
Bloomsbury Methuen Drama
Released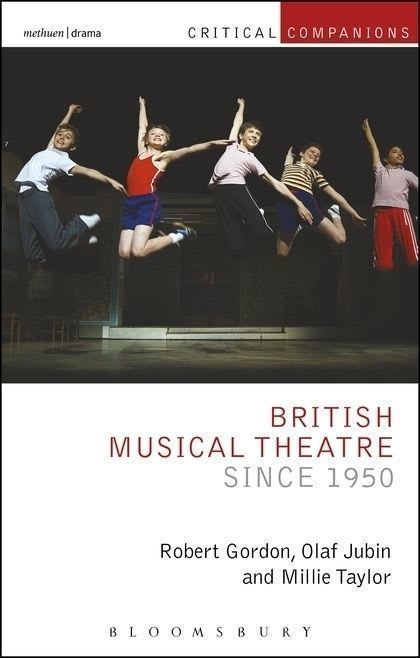 As the authors identify, it is still a rarity to find academic books about musicals. While picture-laden coffee table volumes abound, as well as frothy tributes to stars, there is surely a market for something a little more serious.
Pleasingly, although each of the authors is an academic, they do not wear their learning to heavily and this volume could easily please a general reader as well as students, who are probably the publishers' main target audience.
Each of the writers has their own agenda, Robert Gordon writing about musicals and social change, Millie Taylor, British popular culture and musical theatre and Olaf Jubin taking on narrative and story-telling in the British musical since 1970.
Each of them makes the case for their theory but then illuminates it with a series of case studies, which are almost always insightful and frequently fascinating.
Together, they build up a good overview of this genre covering the last 65 years, during which time the nature of the musical in British culture has changed very significantly.
Despite the inevitable American influence before and just after the war, the typical offerings at the start of the period tended to be lightweight musical comedies from the likes of Sandy Wilson and Julian Slade: think of The Boyfriend and Salad Days.
Indeed, the first section starts with a detailed analysis of Julian Slade and Dorothy Reynolds's Salad Days before identifying the arrival of rock 'n' roll and collapse of the class system while talking about Blood Brothers and Billy Elliot, as well as Matilda the Musical.
Millie Taylor, who is a little more prone than her colleagues to using the kind of impenetrable language that is best kept on university campuses, particularly concentrates on developments in British culture, recognising the impact of minorities, both from outside the British Isles and through gender identities.
In her part, Oh What a Lovely War! is joined by Bombay Dreams, Oliver and The Rocky Horror Show, which together should give a very good idea of this writer's interests.
Finally, Professor Jubin appears to be in thrall to (Sir) Tim Rice and (Lord) Andrew Lloyd Webber, featuring Jesus Christ Superstar and the Phantom of the Opera. However, his chapter extends both to the more serious, Les Misèrables and the advent of the jukebox musical with Mamma Mia.
All in, this is a readable overview of its subject and a welcome addition to the bookshelves of anybody with an interest in British musicals.
Reviewer: Philip Fisher