Broken Wings
Choreography by Annabelle Lopez Ochoa Music by Peter Salem
English National Ballet
Sadler's Wells
–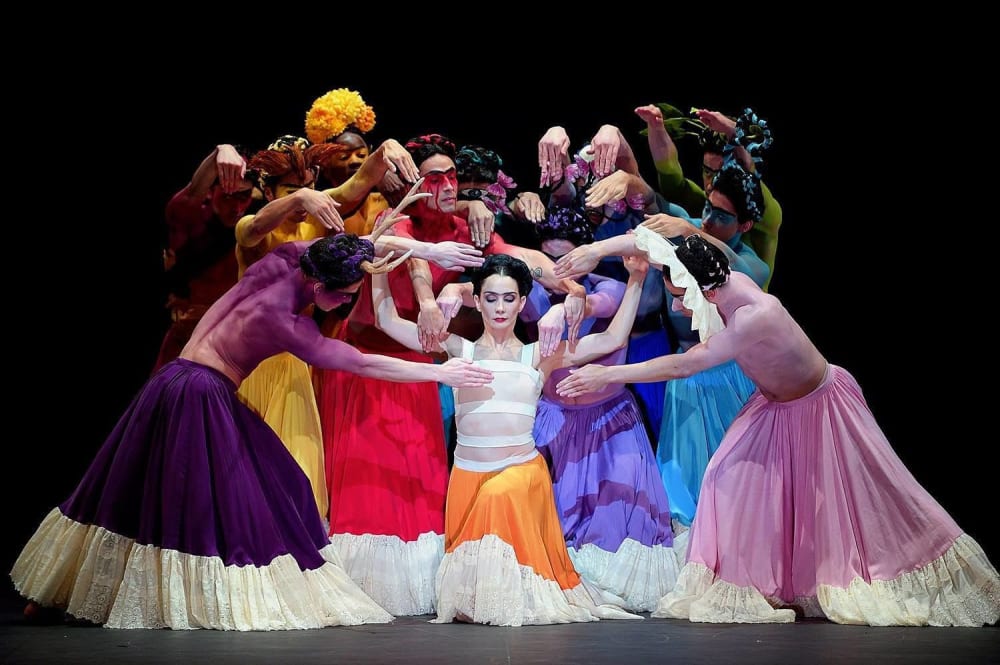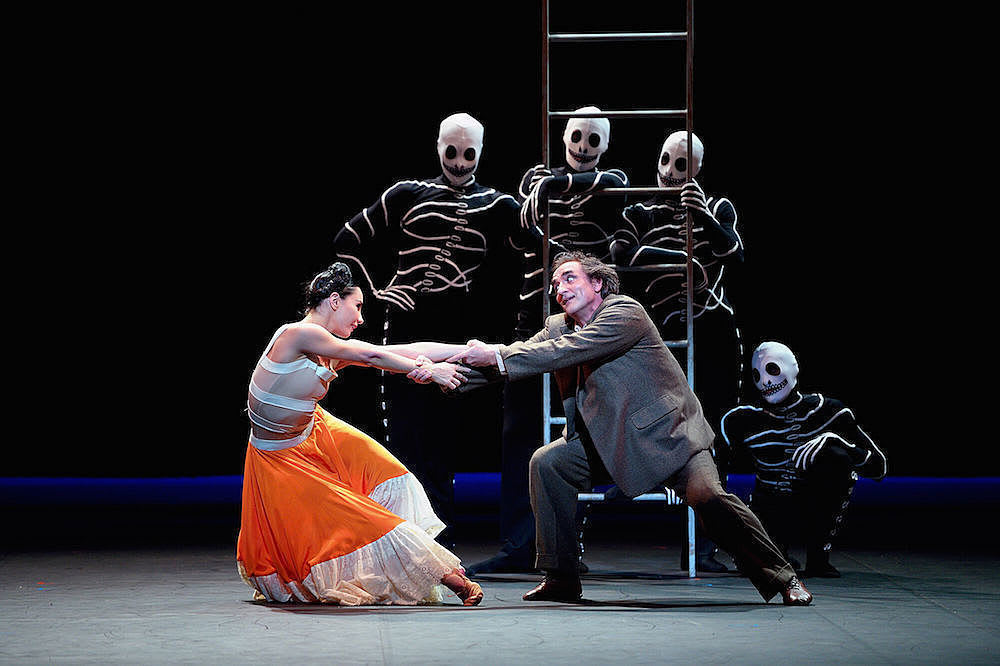 This is a ballet inspired by Mexican painter Frida Kahlo. It was recorded at Sadler's Wells when it premièred in 2016. It is quite a challenge to create a ballet around someone who was very badly injured in a bus accident when she was 18 and spent the rest of her life in pain, enduring several surgeries and wearing a surgical corset, but Colombian-Belgian choreographer Lopez Achoa (with Nancy Meckler as her dramaturge) uses dance to express Kahlo's strength and spirit as much as to present an outline biography.
Peter Salem's score with its Hispanic rhythms, marimba, brass and percussion adds Mexican flavour and he borrows a painfully romantic folksong "La Llorona" ("Weeping Woman"). Dieuweke van Reij's design takes colours and motifs from Kahlo's paintings (Kahlo's core costume, for instance, from her "Broken Column"). Scrawled on the set are the Spanish for Life, Death, Love, Heat, Pain, Rumour, the message "You are killing yourself" and the names of Marx, Engels, Lenin as a reminder of the Communist allegiance of Kahlo and her husband while the skeleton figures of the Mexican Day of the Dead are an integral feature of the whole work, fate figures who control her life.
Annabelle Lopez Ochoa begins her ballet with those skeletons atop a black plinth (which later opens up into a variety of settings). Through a hole, they haul up Tamara Rojo's Frida manipulating the new-born schoolgirl into vibrant activity before lowering her to the stage where a young man (Cesar Corrales) joins her in a lively courtship dance before the skeletons reclaim her and, in a twisting lift and strobe lighting, create the bus crash that leaves her motionless, stripped of school uniform, boxed in, with twisted limbs, in a hospital bed.
It is now just the choreography that conveys the pain and the determination to overcome it that we see now. Even motionless Rojo expresses great feeling. It is pain that is often expressed in her paintings, but there is joy there too and passionate emotion so this broken body can also be airborne.
The skeletons reclaim her and present her with her own reflection, a cue for the entrance of a dozen other Fridas as she turns to art. Dressed in all the colours of her palette, in swishing skirts and exotic headgear, they are her many self-portraits but significantly male dancers, their bare chests and shoulders dusted with colour. While the skeletons can be both sinister and wryly comic, these Fridas are vibrant and joyful; Rojo's Frida can join their freedom.
Diego Rivera is introduced high on the plinth as though painting his murals where Frida and her self-portraits admire him. Irek Mukhamedov, padded to make him more portly but moving beautifully, descends as Diego and appraises the coy Fridas who are controlled by the real one. To "La Llorona", Frida and Diego dance a duet that expresses the complexity of their passionate relationship, interrupted when the skeletons reclaim her to remind us of her broken body and when other women catch Diego's eye.
A sequence that could be read as a miscarriage and more operations leads to a pas de deux for Diego and his mistress, interrupted by an irate Frida. In what is the ballets most disturbing dance a skeleton that is half death half Frida portrait makes her confront reality.
Things become increasingly surreal as the male Fridas return and a figure recalling Kahlo's "Wounded Deer" painting appears followed by exotic birds. Diego returns to the dying Frida and a duet full of desperation leads to an apotheosis.
This is a sensitively shot recording that keeps a sense of the whole stage when it goes in closer but do watch it full screen which may help with the ending which works less well when not surrounded by darkness and an audience to concentrate atmosphere.
English National Ballet plans to present more ballets on Wednesday evenings. They will be available for 48 hours only so put them in your diary. Dancers should note that Tamara Rojo is also presenting a daily class at professional level online from her home every morning.
Reviewer: Howard Loxton