She Said: Broken Wings / M-Dao / Fantastic Beings
Choreography Annabelle Lopez Ochoa; Yabin Wang; Aszure Barton
English National Ballet
Sadler's Wells
–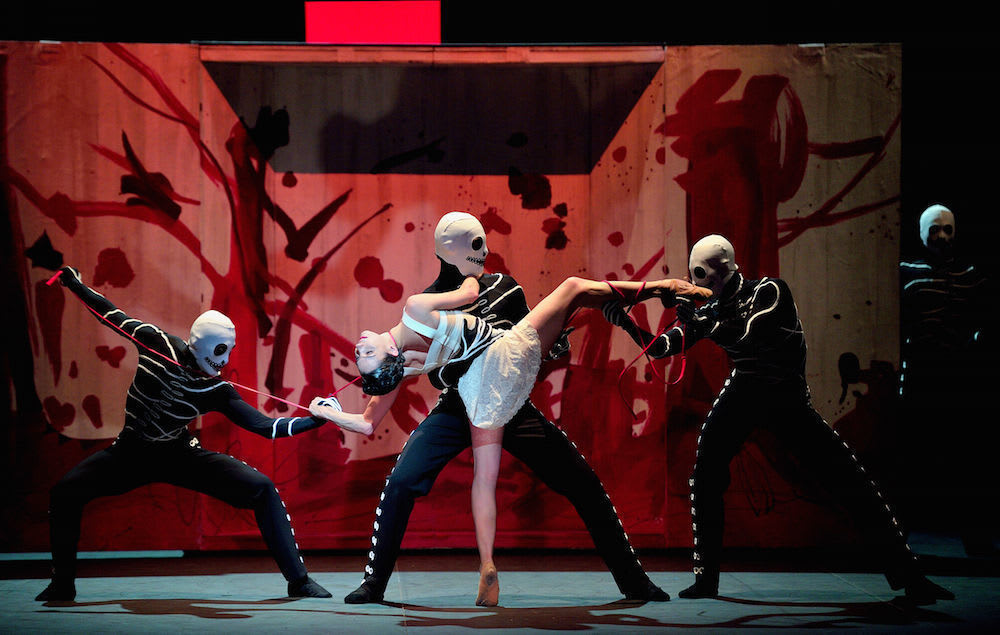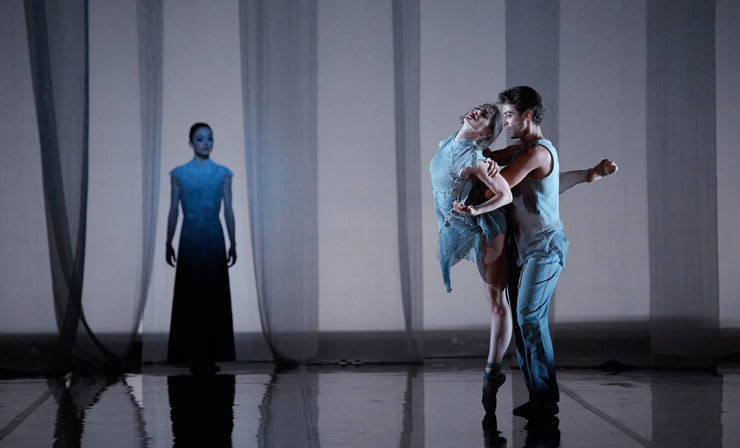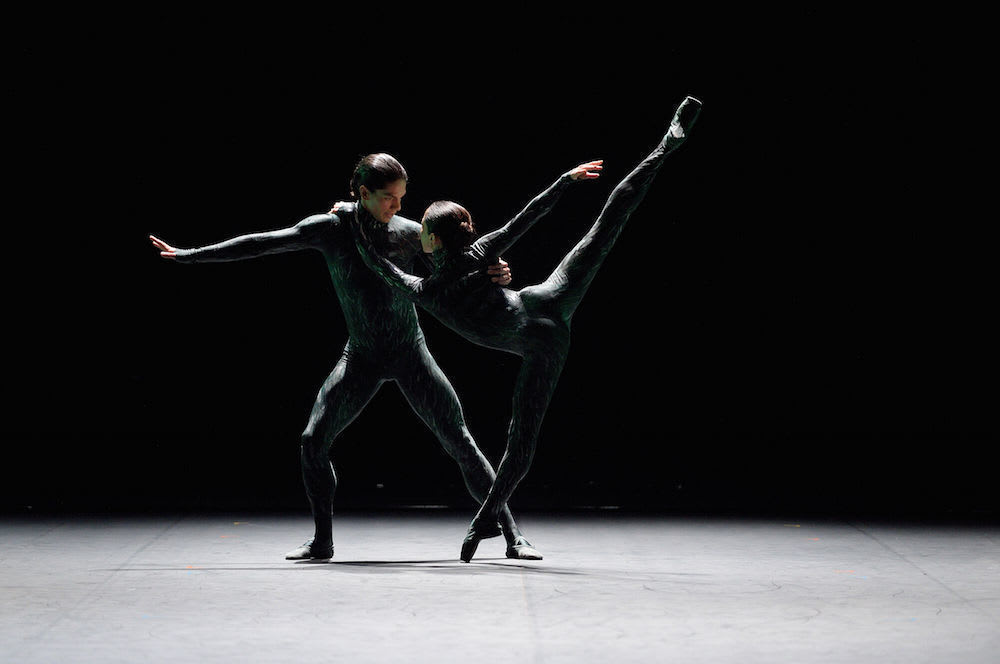 When Tamara Rojo delivers, she delivers—I might be repeating myself, but she really has raised ENB's profile. The expectant buzz of this press night knocks many into a cocked hat.
A world première programme featuring three female choreographers goes some way to redressing the male dominance in that field—but one does not judge quality on gender alone and quality there is aplenty in a stunning evening of variegated dance. English National Ballet, the company she leads, and surely inspires, is ablaze with talent and purpose.
An energy that almost lifts me out of my seat is evident in the commissioned front cloth from Grayson Perry, the music, the set designs, the commitment of the dancers, the playing of the English National Ballet Philharmonic under Gavin Sutherland and above all the three choreographers: Annabelle Lopez Ochoa, Yabin Wang and Aszure Barton.
Broken Wings, the opening number by Lopez Achoa, assisted by dramaturg Nancy Meckler (they teamed up successfully in Streetcar Named Desire for Scottish Ballet), is tailor-made for Rojo dancing Frida Kahlo in a capsule biography of a fiery talent that overcame dreadful injuries, several miscarriages, a turbulent marriage to Diego Rivera, twenty years her senior, to create a unique body of work based on her damaged body and combative psyche.
A row of male Kahlos, a wounded stag, veins painted on bodysuits, the tendrils of life, the birds of paradise, surreal images from her art—set on a Mexican Day of the Dead. But then every day was a day of the dead for Kahlo. Skeletons surround her, carry her, mock her, dictate her life, and Lopez Ochoa makes them tongue-in-cheek jocular as befits a festival and a celebration of a remarkable life.
Kahlo's life opens up in a series of boxes, portable altars revealing interiors, each a new set for her boxed-in existence—Dieuweke van Reij's scenography is an art installation in itself. Peter Salem integrates Chavela Vargas singing the popular Mexican ranchera "La Llorona", a song of love and despair, into his score. Vargas was a friend of Kahlo and Rivera's and legend has it that Kahlo had an affair with her.
Passionate life pulsates through the choreography: Rojo is astonishing, anguished, dramatic, teasingly playful with Irek Mukhamedov in padded suit as Rivera, his face dancing with expression. She is hardly off the stage in fifty minutes. This piece would have been enough for me.
What follows has to be a comedown, or an in between dish sorbet, the shortest piece, only twenty-five minutes, but long enough. In a different key, a minor key, Yabin Wang (recently in collaboration with Sidi Larbi Cherkaoui on Genesis) explores the mind of Medea in M-Dao, not in the way one would expect.
Quiet exterior with hidden turbulent depths, Wang tries to show Medea's gentler side, not the angry avenging creature of classical myth. Bringing "the elemental forces of Chinese dance" to it, its flowing movement and gentle breath, she reveals a Medea out of kilter in one soft shoe, one pointe.
A wind blows through white drapes, concealing another woman (Madison Keesler) that takes Jason's (Fernando Bufalá) eye as he is still in duet with Medea. Fissures and flames play on the columns of drapery. Masked demons surround her. Enigmatic, self-contained, Laurretta Summerscales takes her very seriously.
A soulful Armenian song of love and loss (Dle Yaman sung by Tanja Tzarovska) is woven into Jocelyn Pook's limpid lyrical score, which also includes a basso profundo voice plumbing the depths. Clouds and sea, life flows and life comes to an end. Medea kills both the man and the woman—are they Jason and his wife or do they now represent her children? The drapes fall, the bodies vanish, she gathers the cloth up in her arms - what has she done...
Azsure Barton's thirty/forty-minutes long Fantastic Beings makes me think of her compatriot Crystal Pite and her recent Polaris at Sadler's Wells. Not as many performers on stage—only twenty—but all in black-green under Burke Brown's dark lighting, individual dancers not easy to recognize from where I'm sitting.
Isaac Hernández, Cesar Corrales, Erina Takahashi, Crystal Costa, Ksenia Ovsyanick, Laurretta Summerscales, Ken Saruhashi, Jinhao Zhang, Fernando Bufalá I think I do distinguish in the gloom, but they all live up to the title, performing not for our eyes alone.
An eye is watching them, these 'Microcosmos' fantastical beings. Bubbles drift and fireflies dart in the blackness, setting off astonishing solo, duet, trio and ant colony cohort moves. Hyperactive magical organisms, some sleek, some in shaggy fur, crouch and leap, stretch and spin in a William Blakean 'Fantasia'.
Mason Bates's evocative 2015 eleven movement symphonic Anthology of Fantastic Zoology, inspired by Jorge Luis Borges, is the spur to Barton's imagination and she fills the music with an overabundance of movement that pushes the dancers to aerodynamic feats.
An amazing evening, exhausting, a little overlong, but I'm not complaining. A moving narrative, a meditation and an exuberant piece of magical realism, not a bad mix: Rojo has just added another feather to her overloaded cap.
Reviewer: Vera Liber