Broken Glass
Arthur Miller
Tricycle Theatre, Kilburn
(2010)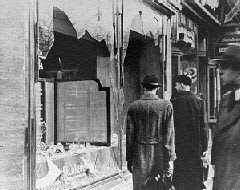 Broken Glass is by far the best play of Arthur Miller's later period, showing him back to the kind of form that brought us Death of a Salesman, All My Sons and The Crucible.
In it, the writer explores his own Jewish identity through the eyes of Phillip and Sylvia Gellburg, a Brooklyn-based couple who have more than a little in common with perhaps his greatest creations, Willy Loman and his wife Linda.
Sir Antony Sher's Phillip is a successful businessman who has assimilated himself into the world of New York, denying his Jewishness to the extent of seeming anti-Semitic at times.
As the play opens in the late 1930s, Sylvia, played by Lucy Cohu, is suffering from a psychosomatic affliction that has left her legs paralysed.
In fact, she seems to have become a self-appointed scapegoat, desperate to suffer for her people as news filtered out of Germany about Kristallnacht and the early stages of what was to become the Holocaust. The more that she hears about devout old men being forced to clean the streets with toothbrushes, the worse she feels.
The family doctor, Harry Hyman who is something of a charmer in the expert hands of Nigel Lindsay, believes that the problem lies deep in the mind. Indeed, he has an ingrained desire to become a Freudian psychiatrist and quickly identifies the Gellburgs' sex life as a likely cause.
By the end of 2½ hours that sex life, or to be more exact 20 years of mutual abstinence, has begun to play as central a role in the death of this salesman and the infirmity of his wife as the Nazis.
The confident, if impeccably straight-laced businessman of the early scenes gradually sees everything that defines him slipping away. His deeply loved wife finally loses patience with him at the same time as his boss and his health. This leads to some serious introspection that is way overdue and, if nothing else, promises some kind of closure.
Sir Antony Sher gives as virtuoso performance as cellist Laura Moody playing soulful solos composed by Grant Olding. Under the taut direction of Iqbal Khan, and with the assistance of his two leading colleagues and also Emily Bruni and Madeleine Potter, he also guarantees that the tension builds through the evening to an absolutely remarkable climax.
This worthy revival is staged on a much smaller scale than David Thacker's original Olivier Award-winning London production starring Henry Goodman at the National Theatre in 1994. Even so, it is a reminder of what a great playwright Arthur Miller could be. Broken Glass will undoubtedly sell out its run at the Tricycle and one hopes that a West End transfer is already in the offing.
Playing until 27 November
Reviewer: Philip Fisher