The Brothers Size
Tarell Alvin McCraney
Young Vic Maria Studio
(2007)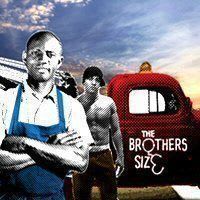 It is always refreshing and generally a good thing when theatres offer something out of the ordinary. For numerous reasons, that description fits The Brothers Size, a co-production between the Young Vic and ATC, whose Artistic Direvtor, Bijan Sheibani takes the helm.
Though it is set in Louisiana, the underlying story is a timeless tale that apparently originates in Nigerian myth though the Greeks would have recognised the storytelling style. It is staged, designed and told with great novelty and charm, helped by a really tight-knit trio of performers complemented by Portuguese musician, Manuel Pinheiro at the side of the playing space.
The audience surrounds and towers above a small, square space without props. There, as an opening gambit, the actors spread a little red chalk and draw a white chalk circle in which they can act - very Brechtian. The action is then related using mime but also stage directions verbalised by the actors, often in the middle of speeches, which has the great effect of involving and intriguing the spectators.
Within this framework, a simple fable is told with tension building nicely towards a dramatic finale that is as heart-warming as it is unexpected.
The brothers of the title were orphaned young and are like chalk and cheese. Ogun, played by Nyasha Hatendi, is a responsible breadwinner who runs an auto repair shop and believes himself to be a perpetual scapegoat.
His younger brother Oshoosi has just been released from jail. Obi Abili plays this laid-back wastrel who has no interest in a job and would prefer to spend the time when he is not lazing in bed driving around and chasing women.
Nathaniel Martello-White completes the trio as Elegba, an almost honorary Size, and like his two acting colleagues trained at RADA. This dubious friend met Oshoosi in the pen(itentiary) and is the kind of ideas man that it is better not to know.
He is trouble waiting to happen and after finding a car that Ogun brings to life, takes Oshoosi on a ride that ends up with the pair in the hands of the racist Black town sheriff and staring at a long spell in prison.
This leads the brothers to a pivotal naturalistic scene that not only features a hilarious Karaoke of Otis Redding's Try a Little Tenderness as they bond and connect but also allows one to make the kind of altruistic sacrifice that you suspect only ever happens in myths and fiction.
Even so, it is a touching finale to a tender but at times very funny production that successfully transports its audience to the Deep South and three lives continents away from their own.
This is the first part of Tarell Alvin McCraney's Brothers/Sisters Trilogy and his European debut. Everyone who sees The Brothers Size will hope that its siblings follow it across the Atlantic.
Runs until 8th December
Reviewer: Philip Fisher