The Bug and the Butterfly
Inspired by the poetry of Federico Garcia Lorca
Devised and created by Peut-être Theatre
Lyric Hammersmith Studio
(2010)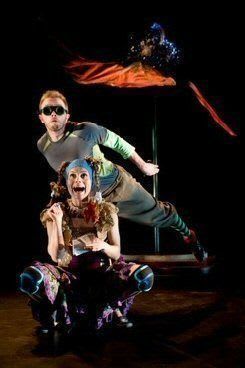 Imagine Lorca for children did you know he wrote The Cricket Sings: Poems and Songs for Children? Which are beautiful, touching, and full of wonder.
And from Lorca's verse writer Rachel Barnett, designer Jenny Hayton, director Daphna Attias, composer Yaniv Fridel and lighting designer Mark Jones have created a thing of wonder.
Peut-être Theatre raises the bar of children's theatre in concept, design, and execution with its 50-minute production of The Bug and The Butterfly.
The Lyric studio is converted simply and boldly into a world where the insect kingdom is larger than life size. Insects appear from behind giant blades of grass or climb the Andrew Logan-esque poppy centre stage. But what is this in the long grass?
A giant book of poetry from under which a lady bug crawls the children are captivated. They sit around it on the carpeted leafy floor, and reach out to the lady bug (not a lady bird) for her cast off bits of paper as she earnestly tries to write a poem about love like the one she has just read.
She has discovered something new - not just poetry but love. What is love? She doesn't know. Her friends the slithery worm, or the castanet-clicking cricket in green goggles (he also plays guitar), or the warrior (Japanese martial arts) bug can't tell her. But then she meets the matador butterfly, and she knows, she knows. Their dance duet is delightful.
But all is not plain sailing. The butterfly's wing is broken. There is "no greater misfortune than being a poet". Even the osteopathic treatment from the warrior stag beetle doesn't help. Love has to be tested. The Tom Waits-voiced spider spins his sticky web and the lovers are trapped. No one escapes from a spider's web.
Love triumphs, thank goodness. The lady bug somehow manages to get them out of the cat's cradle snare. See what love can do. She cares for her butterfly friend. They settle down to sleep, but in the morning the butterfly, wing mended, is gone. Such is life in the insect world.
The lady bug has learned about selfless love, and its transitory nature. And the children? Who knows, but something in this surreal show ("don't try to scratch the moon"; "the sea has no oranges") touched them. They liked the spider's web, but then they all know about Spiderman.
A sophisticated ambitious show for children and adults - this particular adult appreciated the work involved. The acrobatic dancer performers, Maya Politaki, Christian From, and Igor Urzelai are outstanding, as are their imaginative costumes (layers of meaning there), which alone are worth the price of the entrance ticket.
Lorca maintained that he never lost the child inside him - this show accessed and enchanted mine. A bilingual text captures the original flavour, and an international cast and crew its universality.
Till 5 June 2010 then touring
Reviewer: Vera Liber