The Burial at Thebes
Seamus Heaney, a version of Antigone by Sophocles
Barbican Pit
(2007)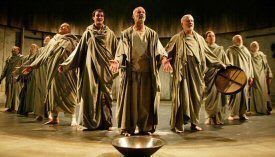 Lucy Pitman-Wallace's radical new production of Irish poet Seamus Heaney's Antigone with a different title was first seen at the Nottingham Playhouse and now gets a brief London showing.
This is good news for those in the capital, who have a chance to see a cast of ten combining to form a chorus but each also projected forward to play a main part in Sophocles' story of a bad King and a loving sister at bitter odds with each other.
Seamus Heaney shows himself to be very much the poet in a translation that includes several folk songs using the music of Mick Sands, who also performs. The language is very visual and often beautiful, using modern idioms to good effect.
Abby Ford plays a low-key Antigone, the last of the tragic line of Oedipus. As the play opens, she insists to her sister Ismene (Sian Clifford) that it is a matter of honour (and religious practice) to bury their brother Polyneices against the orders of King Creon, who was angered by the warrior's opposition and killing of his own brother, Eteocles.
Knowing that her sister will be condemned to death for her humane action, even though she is set to marry Creon's son, Haemon, the emollient Ismene does her best to intercede but to no avail.
Antigone is happy to fight her corner with the newly-crowned King. This is a fascinating verbal joust as the scarily impressive Paul Bentall's proud, angry Creon shows himself to be increasingly deranged, literally shaking with impotent rage as he is first crossed by the girl who is his niece and then by his son Haemon (Sam Swainsbury), who shows far too little filial respect.
The ending is tragically inevitable as three more reported deaths follow on from those as brother killed brother to initiate the plot.
On Jessica Curtis' bare set with a single prop, a silver bowl that has multiple incarnations; and in front of a symbolically holed breeze block wall, the drama remains urgent from a dramatic opening onwards.
Antigone has great contemporary resonance, with its view of a tyrannical dictator of the type still seen far too often in recent years; and the opposition of a seemingly weak but driven representative of reason who eventually prevails by building popular opposition. Would that this could occur in every totalitarian dictatorship.
Steve Orme reviewed this production at the Nottingham Playhouse.
Reviewer: Philip Fisher