Burleigh Grimes
Roger Kirby
Bridewell Theatre
(2004)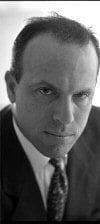 If you don't know how to sell short or need help with hedging, then Burleigh Grimes is for you. It provides a wonderful crash course in the world (and jargon) of financial traders.
The eponymous anti-hero is a New York futures trader with a wicked reputation and a scruples bypass. He would sell his own grandmother short to make a buck or two but he might at least buy her back, if only to make more.
Plays about the world of high finance by those who have been there tend to be dire. In fact, the person who best captured this life is Caryl Churchill in Serious Money over twenty years ago.
Roger Kirby has made a good fist of it. The posters promise Sex, Drugs and Rock and Roll and he delivers all of this and lots of corny jokes too. He also presents an overly complicated plot with stings galore, ultimately involving comeuppance for our lovable rogue, charmingly played by John Guerrasio.
The revenge is perpetrated by an oddly innocent couple: preppy multi-millionaire George, played by Jack Tarlton, and sweet investigative journalist (???) Grace (Joanne Redman). The pair act well but struggle with the accents in a way that suggests they should have followed the lead of Kristin Milward who stuck with her own as the arch Bigley. She is a pivotal character in Grimes' blackmail as she has, and is, the history.
Eventually, Kirby chucks in far too much information and too many plot lines. This is a pity, as Burleigh Grimes is entertaining and well placed for those City wideboys just up the road from the Bridewell.
Director Steven Little seems to have been given a large budget but has invested well. There is live music from Buddy Holly Airlines, the kind of trio that does well at weddings and Barmitzvahs.
The set, designed by Nicolai Hart Hansen, is fantastic. An offset square of Perspex with wooden surrounds provides a playing area and at one stage, even a hidden bed. Above all of this are six Perspex cubes containing among other things, a chandelier and a slice of Mondrian.
If you work in the City, go and see Burleigh Grimes. It is that rare piece a good drama about high finance.
If you don't, then it is worth going so that you can find out what all that jargon on the finance pages really means. You will also find out about The F Factor.
Reviewer: Philip Fisher