Butley
Simon Gray
Booth Theatre, New York
(2006)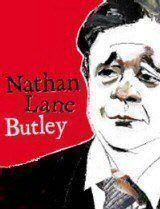 Britain has a long and distinguished tradition of generating literature and drama from within its academic institutions. Butley thus has parallels inter alia with Malcolm Bradbury's The History Man, Sir Tom Stoppard's Jumpers, Willy Russell's Educating Rita and even the novels of Tom Sharpe.
The Americans have also been there with David Mamet's Oleanna being a distant cousin to this bittersweet comedy.
Watching Simon Gray's semi-autobiographical play, gives an opportunity to ponder on the attractions of the genre. First, many writers have had a spell or even a life in academe, which helps to generate the material. They also realise that this is a chance to show the super intelligent and often very witty impressing to varying degrees at their work but, typically, struggling to come to terms with the more mundane aspects of life such as love and simple human interaction.
It may seem odd that a straight (in one sense anyway) play by an Englishman, which, as its anti-hero points out, obeys the Greek unities with no onstage action and a single set, should appear on a Broadway that is in thrall to big budget musicals and can finance little else.
The answer must surely be Nathan Lane's desire to drive the star vehicle of Ben Butley (created by Gray's favourite collaborator, Alan Bates) and show off an English accent that, ignoring the odd overly soft "t", is perfect. Dialect coach Stephen Gabis can feel proud of his charges with just a single exception.
Lane may have felt that his career was building to this, as his performance playing Max Bialystock in The Producers was followed by a role in The Odd Couple, both featuring oddly dependent male/male relationships.
The increasingly obnoxious Butley is a man in free-fall but doesn't entirely realise it. A Cambridge Don, he shares a garret with a younger, homosexual colleague Joey Keystone, played by fresh-faced English actor and star of Foyle's War, Julian Ovenden.
Stuck in a suitably claustrophobic room, courtesy of scenic designer Alexander Dodge, he seems unfazed by the effects of an addiction to Glenfiddich that has cost him his marriage to Pamela Gray's icily calm Anne and the chance to see their six-month old daughter Marina (named after Leontes' daughter in The Winter's Tale one surmises).
His work has gone down the drain but, worst of all, Joey, on whom he dotes, has taken up with publisher Reg (Darren Pettie), whom Butley insists on deriding and calling Ted.
While he can stand all of the other problems and humiliations, it is the loss of his past and intended future catamite (toy boy) that finally sends him over the edge into what might well be a breakdown, sympathetically portrayed by Lane as the final curtain drops.
This all sounds grim but with Simon Gray's great wit, still seen in his diaries and also regularly on the London stage in both new writing and revivals such as last year's Otherwise Engaged, it is extremely funny. That is an obvious compliment to Lane who shows perfect comic timing with both verbal and sight gags, Ovenden's deliberately understated performance as his (not so) straight man; and experienced US director, Nicholas Martin, an academic himself. There is also a lovely character acting cameo from Dana Ivey as the frumpish Edna Shaft.
This limited run may not be obvious Broadway fare but it is certainly selling well over the Christmas period and makes a refreshing change from all of those musicals.
Reviewer: Philip Fisher