Buttons: A Cinderella Story
John Savournin
Charles Court Opera
King's Head Theatre
–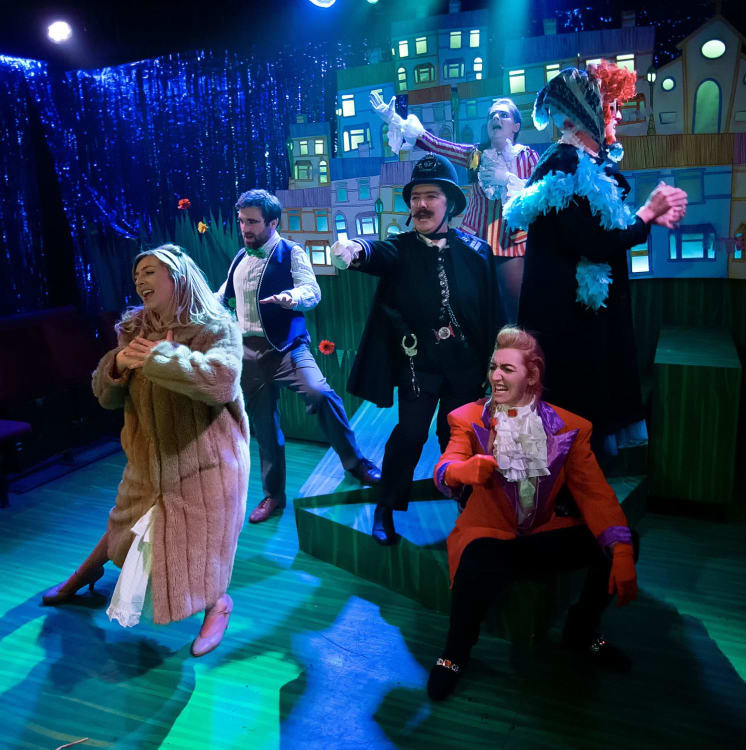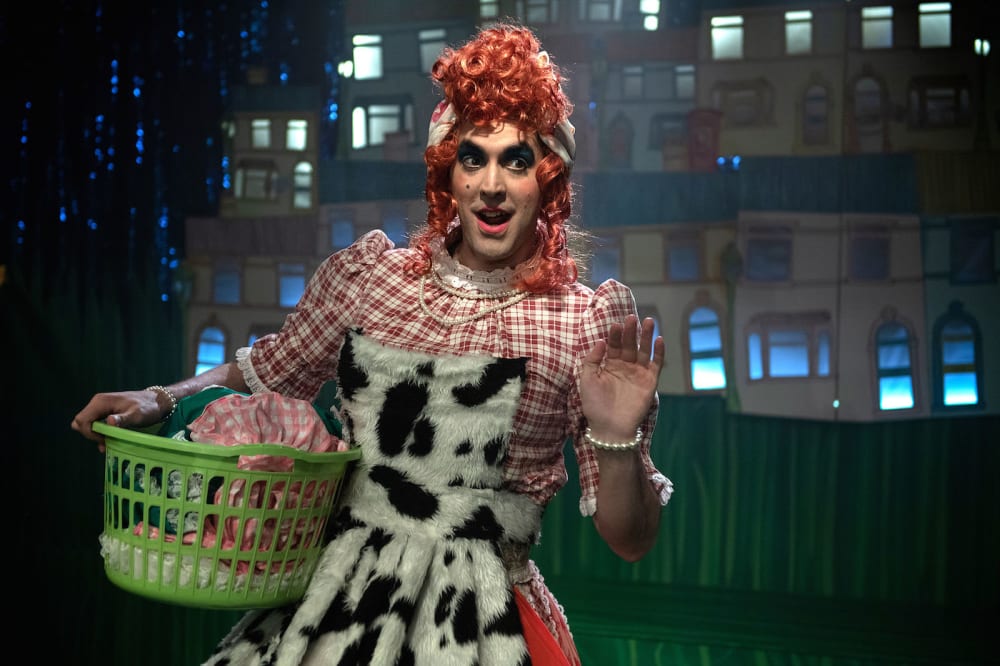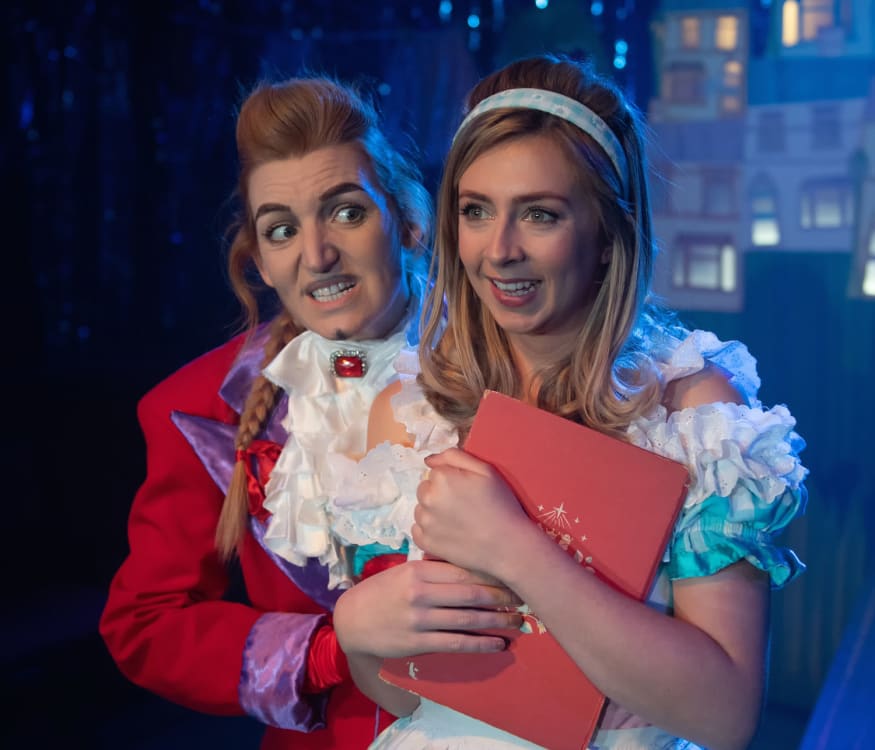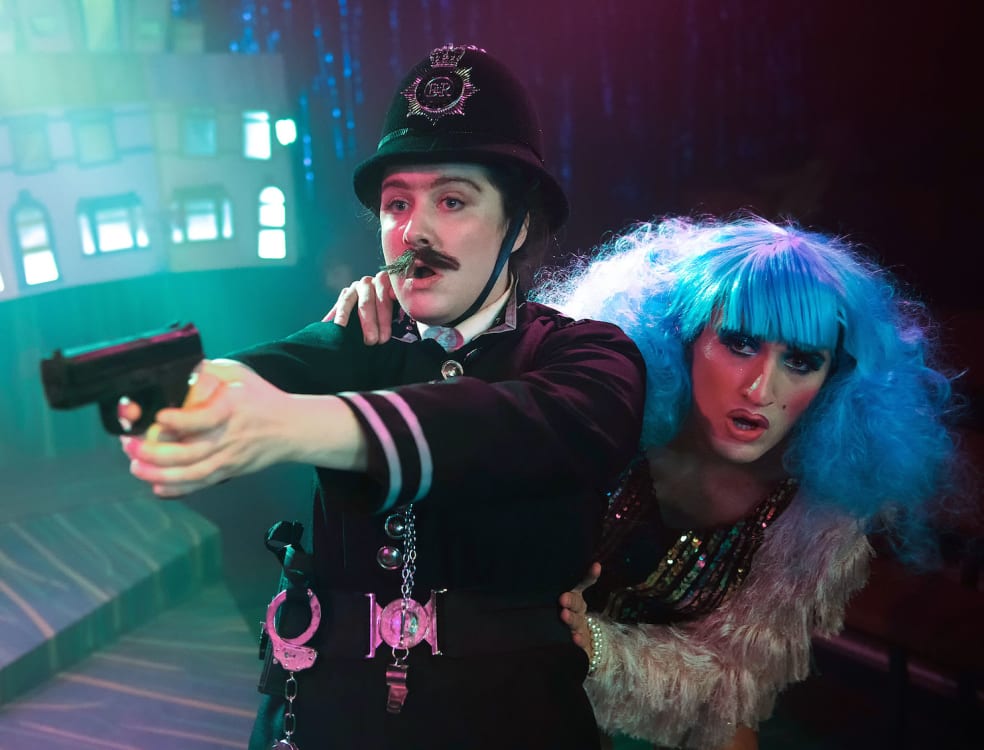 This a new version of Charles Court Opera's 2013 panto given a fast-paced production (well, mainly: there's a sequence in send-up slow-mo). This company's boutique pantos have always been intimate but this time, done almost in-the-round, it is even more close-up.
With walls heavily tinselled and the playing space including a couple of irregular shaped rostra-cum-seating in streaked green, there is a wall-panel townscape but no complex setting which means nothing to slow down the action, for scene changes are simply a matter of lighting.
A dazzle of green light tells us whom to boo. It turns out that it is Gary, the red-coated Prince Charming. Dust from dead fairies hides the fact that he's really the Magic Menace, a homicidal baddie who has his eye on Cinderella. Mind you, he has good taste; Eleanor Sanderson-Nash's Cinderella is charming and sings like a lark.
Can PC Pumpkin track down the magical miscreant and rescue Cinders? Or, more importantly perhaps, can Buttons save her? Buttons is the teddy bear she is also very fond of. Like Pinocchio, he would like to be a real boy so that he could talk and tell her how much he loves her. Luckily, he has a magical fairy godfather who can help with this.
Cinderella and Buttons (Charles Court Opera favourite Matthew Kellett again our hero) are the only roles not played en travestie. The un-charming Gary is deliciously wicked in the hands of Jennie Jacobs with Emily Cairns as his henchman Dandini. With a stuck-on moustache, Catrine Kirkman becomes the brave bobbie (Andrea Tweedale at some performances) and the lady he longs for, Cinderella's mum Betty, is played by company stalwart and writer/director John Savournin (with Jamie Barwood taking over for half the performances). Savournin's particular kind of effrontery and the panache that he brings to performance make his dame a perennial favourite.
Betty sets the pattern for the show's homespun and often risqué humour when she announces that that morning's milking was an "udder failure". Savournin's arch sense of humour set the style but his direction ensures it is combined with a simple sincerity that stops it from being overly self-indulgent and makes the audience entirely complicit in relishing its excesses.
In past years, the company's designers have often contrived scenic transformation with minimal resources but the emphasis here is on the performers and their chorus of glove puppet furry friends are also missing this year, though there is a reprise of the their cake-making slapstick. It fell a bit flat on press night—perhaps it is time to choose another kind of slop scene—but what you can't fault is the splendid singing in a musical range that goes from Abba to grand opera with a delicious take on Queen's "Bohemian Rhapsody" ringing the rafters.
The plot is fairly thin but with David Eaton in charge of the music and at the keyboard (backed by percussionist Dave Jennings), it is carried along on a surge of song with a cast that seems to be having almost as much fun as the audience.
Check which performance is best for you and your friends. As well as cast changes, there are some performances that are decidedly adult and some matinées especially for children.
Reviewer: Howard Loxton